News
American Actress Anna Faris and Husband Chris Pratt Announce Separation Ending The Married Life of Eight Years!
Chris Pratt and Anna Faris, the beautiful couple who has already survived eight years of conjugal life, have finally decided to get separated. The two announced their separation in a joint statement on social media on Sunday night.Pratt's publicist further confirmed the news of the split.
On Sunday night, Chris Pratt took to his official Facebook timeline and shared news of their separation.
A few moments later, Anna also shared the similar news on her Twitter account, which didn't include the last phrase of Chris' post.
The couple's split comes after eight years of being in a marital relationship.
The 38-year-old Guardians of the Galaxy Vol. 2 star Chris shares a child named Jack Pratt with Anna who portrayed Erica in the popular TV series Friends. Their son Jack is about to turn five this month.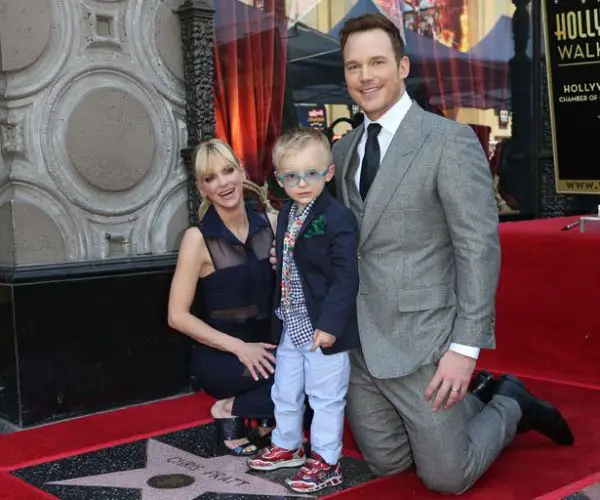 Caption: Chris Pratt with his family at Chris Pratt Hollywood With Star On Hollywood Walk Of Fame on April 21, 2017, in Hollywood, California.
Photo Credit: pinterest.com
There have been rumors regarding the conflicts between the two over the past few years, and in due course, Pratt also got spotted without his wedding ring public.
On the other hand, Anna often seemed unhappy while Chris was away from home, busy with his shooting schedule. She felt the separation in a hard way and even uttered her feelings with her pal and actress Isha Fisher as:
"I think it was a combination of things. I take pride in how great my relationship is with Chris, but having said that, of course in this crazy world where he's off doing movies and I'm in L.A. raising our child, of course I'm going to feel vulnerable, like any normal human would."
However, Chris flaunted his care for the beloved wife and child through a post on Instagram on April 11.
Chris Pratt and Anna Faris, who are now on the verge of divorce, met in 2007 while filming the movie Take Me Home Tonight and made their relationship official with an engagement in 2008. The two then escalated their relationship and got married on July 9, 2009.
Chris Pratt has been previously in a relationship with Canadian actress Emily VanCamp, who is known for her roles on the WB series called Everwood, from 2004 to 2006 while Anna was married to an American actor Ben Indra from the year 2004 to 2007.