News
'It's Official' Braison Cyrus & Girlfriend Are Engaged, Getting Married Soon
Engagement ring says Braison Cyrus can't wait to get married!
Musician and actor, Braison Cyrus is engaged to visual merchandiser girlfriend, Stella McBride. The 24-year old model "can't wait to marry" his girlfriend after popping the question in his native land, Nashville over the Thanksgiving.
Miley Cyrus' younger brother gushed over Instagram on 23 November 2018 mentioning that "she said yes."
Related To Cryus' family:- Is Brandi Cyrus Dating Now; Or Parents' Divorce Affected Her Personal Life?
Sharing an intimate picture with his new fiancée in Nashville, he expressed that he could not wait for more to get married. Further, he added that his life has taken many twists and turns this year but regarded falling in love with Stella is the most amazing one.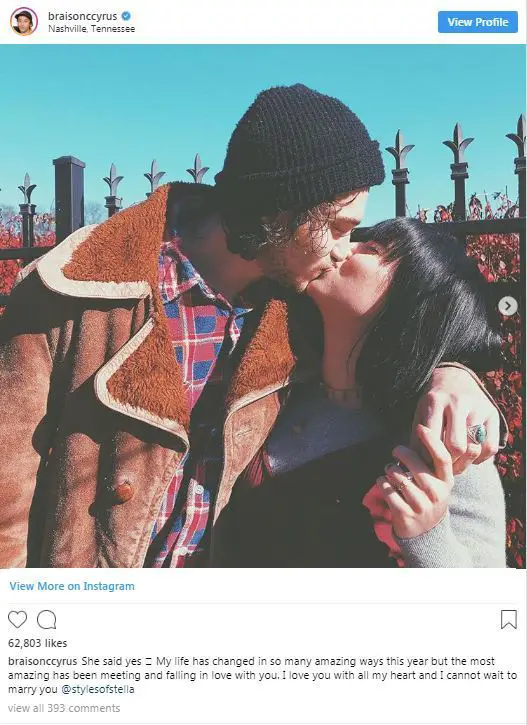 Braison Cyrus is engaged to girlfriend, Stella McBride on 23 November 2018 (Photo: Braison Cyrus' Instagram)
Stella also shared the happy news on her Instagram calling Braison as the love of her life. Hinting on their soon-to-be-married life, she expressed that she cannot wait to be his wife.
About Miley Cyrus:- Miley Cyrus' Emotional Reaction on Election Results and President Donald Trump!
Similarly, the Tennessee native's famous producer mother, Tish Cyrus seems extravagantly happy regarding her son's newly engaged love life. She congratulated the newly engaged couple over Instagram hashtagging with the word "family."
The millennial musician and his girlfriend announced their engagement news a day after he celebrated her pop-singer sister, Miley Cyrus' 26th birthday with her beau Liam Hemsworth, mom Tish, dad Billy Ray Cyrus, and sister Noah Cyrus.
And hopefully, Braison's engaged news might have healed the pain of Miley as she and Liam had lost their Malibu home of worth  $2.5 million in California's devastating wildfire two weeks ago on 12 November 2018.
Updates On Celebrity Engagement:- Zandy Reich, 35, Engaged To Girlfriend Lea Michele! Flaunts Engagement Ring
Braison and his fiancee first went public with their relationship on Instagram on 11 July, but they both referred to each other as best friends.
The Heels actor was previously linked to 27-year-old Christina Schwarzenegger, daughter of former California Governor Arnold Schwarzenegger and journalist Maria Shriver, in 2015.
The short-lived relationship had started after Braison's sister, Miley began dating Christina's brother Patrick Schwarzenegger.