News
13 Reasons Why Star Brandon Flynn Gay Love Revisited By Hurt Boyfriend
Being apart from 13 Reasons Why star Brandon Flynn is not quite working for his lover Sam Smith!
Turns out the bruises from the split is "still quite raw" even after three months of being apart. The "Too Good At Goodbyes" singer, Sam, seems to be finding the good in his goodbye while opening up to The Times about his sudden split from Brandon.
The Grammy and Oscar-winning singer revealed to The Times about his split saying,
"I'm still trying to figure out what I took from that relationship and what it meant to me. It's still quite raw."
Well, it seems like Sam is still dealing with the aftermath.
See Also: Is Brooke Valentine Still With Boyfriend? Her Dating Status After Surprise Revelation
The end to their romance came just after eight months of being together. Brandon and Sam both had remained silent of their break up Sam hinted the split after he cryptically told his concert attendees that he was "going through some shi-t" back in June.
Later, Sam removed all the traces of their romance from his social media. However, back then, Brandon did not make any moves of deleting the pictures from the Instagram and still seems to be saving up the memories.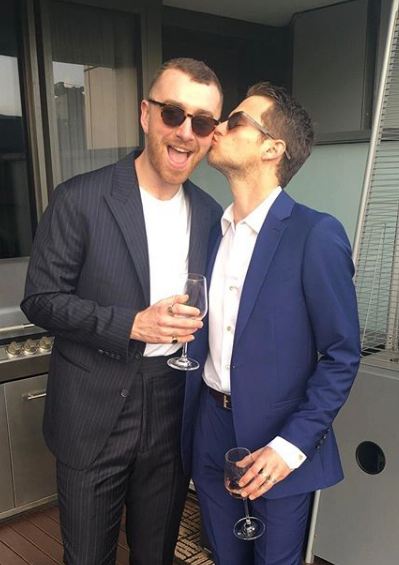 Brandon Flynn with former boyfriend Sam Smith. (Photo: Brandon Flynn's Instagram)
Don't Miss: Cody Alan, Age 32 & Boyfriend Engaged To Get Married | Gay Transition
Nevertheless, the couple seems to have split amicably, as all Sam had to say of Brandon was that he is a "wonderful" person. Sam added,
 "All my relationships have ended in a nice way, never nasty," 
Adding to it, he even admitted that his relationship with Brandon including all the public display of affection on their social media was important for gay representation.
Talking about their public display of affection, Brandon and Sam had their relationship as an open book. During their time they were together, it seemed that their love romance was making headlines while appearing in the front pages of every other media site.
They were adamant about their relationship and did not shy away from showing PDA. They were off to enjoying their date nights and romantic getaways documenting it on their Instagram.
The pair came forth with their relationship publicly only in December after three months of romance rumors. In December, Brandon, who is now at the age of 24, first shared a selfie of him and Sam marking the relationship publicly.
Adding to it, he also captioned a picture of Sam with a sparkling heart emoji on his Instagram story as they enjoyed their romantic date at The Bike Shed Motorcycle Club cafe in London.
You May Also Like: Jonah Hill Brunette Girlfriend; Girl He's Dating Is Stylist - For Real!
The couple was romantically linked since the October of last year after they were spotted kissing and holding hands during their romantic outing at Big Apple. Brandon and Sam came forth publicly just a few weeks after Brandon came out identifying himseld as a part of LGBT community.