News
Brandon Jenner & Wife Of Over A Decade To Divorce | Splits Amicably
Childhood friends turned lovers Brandon Jenner and Leah are separating!
Brandon Jenner and his wife have announced that they have decided to part ways after being together for over a decade. According to the papers, Leah has filed for divorce from her husband citing irreconcilable differences. The papers also state that the couple separated in July.
Leah also requested for a joint legal as well and physical custody of their 3-year-old daughter in her divorce filings. The news of the divorce came two weeks after the couple announced that they have decided to split through a post on the Instagram.
You may also like:  Chase Elliott, Dating A Keeper! Girlfriend Is No Stranger To NASCAR Revs
The pair released a joint statement revealing their decision to part ways while acknowledging that their relationship is still pure and goes far beyond the bounds of marriage.
The statement also discloses that the couple "lovingly" came to the decision of ending the romantic part of their life. Even though the couple has split through the papers but they still love one another as best friends and still are a major part of each other lives. The statement read as,
"It is with love in our hearts that we feel it's time to share some personal news with you all. After celebrating 14 beautiful years together, we have longly come to the decision to end the romantic aspect of our relationship. We are deeply proud of the life that we've cultivated together and are truly grateful for the bond of friendship we hold and cherish today. It is stronger than ever. Even though we have chosen to separate as a couple, we still love one another very, very much and remain a major part of each other's lives."
Adding to it, the statement also made clear that there were no any scandals that contributed towards this step. Neither lying nor cheating resulted in their divorce but instead, it was "just an expansion of our individual evolution" that inspired them to "support each other in a new way."
Well, despite their separation the couple would still remain loving parents to their only daughter who is now at the age of 3. 
Don't Miss: Justine Musk After Divorce From Multi-Billionaire Husband, Where Is She Now?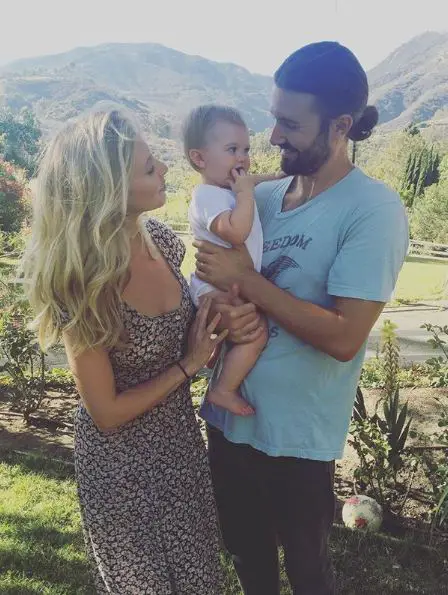 Brandon Jenner with former wife Leah and baby daughter Eva. (Photo: Leah James's Instagram)
The pair welcomed parenthood with open arms back in 2015, when they welcomed their baby daughter on 22 July. They named her Eva James Jenner.  
The former husband and wife were married back in May 2012 in an intimate sunset wedding ceremony on the beach in Hawaii. The wedding came after dating for almost a decade.
See Also: Emmanuel Hostin Wiki: Sunny Hostin's Beau, Parents To 2 | Bio & Net Worth Detail
Well, the pair is childhood friends and began dating in the 20s. Not only they knew each other but they grew up together and are also business partners. They produced and co-wrote Life Happens together.