News
Brenton Tarrant Bio, Age, Shooter, Facebook, Family
Another Day Another Mass Shooting!
On 15th March 2019, when people were carrying out their usual morning prayer in New Zealand's Christchurch mosque, a white man of age 28, opened fire on the unfortunate victims of vile crime.
The soulless shooter filmed the whole act of monstrosity - that killed 49 innocent victims till 9 pm of the day - and streamed it live on Facebook.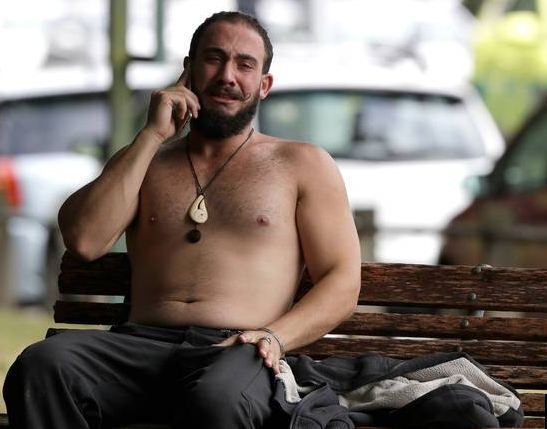 A man cries as he phones his dear ones near the Christchurch mosque on 15th March 2019 (Photo: AP Photo) 
Through the quoted video, the perpetrator got identified as Brenton Tarrant. It was his former employer, Tracey Gray who named him in media reports. Sharing disbelief at his heinous crime, she quipped,
I honestly can't believe that somebody I have probably had daily dealings with and had shared conversations and interacted with would be capable of something to this extreme.
Although the mosque act was carried out in New Zealand, Brenton is not a citizen of the country. He is an Australian; allegedly born in a working-class low-income family.
Son of deceased father Rodney Tarrant, who died of cancer at age 49 in April 2010, Brenton is believed to have a family - a mother and a sister. Besides information on his family, his personal life and further bio is yet to surface out. 
Nevertheless, it is known that the gunman had a regular job as a gym trainer at The Big River Gym in his native Australia; exactly in the Northern New South Wales city of Grafton. He worked at the gym from 2009-2011; he had started the job right after finishing high school.
Rapper In Jail:- Kodak Black Behind Jail Bars! Arrested and Charged with 7 Felony Counts
Fed up from his regular job, he quit the dull affair and left to travel the world. He made money from Bitconnect a cryptocurrency similar to Bitcoin.
On his quest to find himself, he visited Europe, South-East Asia, and East Asia. He also managed to travel nuclear powerhouse North Korea and Pakistan where terrorist activities are quite frequent. 
Perhaps, that's where the shooter planned for the devastating outcome. So much so, that he uploaded a lengthy manifesto online before carrying out the vile, foul act.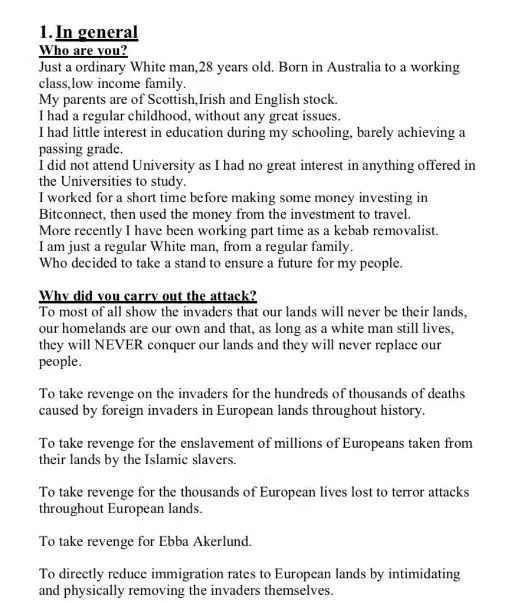 A part of Brenton Tarrant's 74-page manifesto, he posted online before attacking on 15th March 2019 (Photo: Matthew Keys' Twitter)
Through the pronouncement, the guilty confessed to be inspired by Anders Behring Breivik, a terrorist who committed 2011 Norway attacks. Also, he claimed to be solely avenging Ebba Akerlund; a child killed in 2017 terror attack of Stockholm, Sweden. 
Like in the most bio of other criminals, no one around him -friends and family - had a clue what he was capable of doing. But, he was sure that he was " taking a stand to ensure a future of his people."
The attacker is set to face the court on 16th March 2019, Saturday. While he has affirmed his misdeed, three other people are under police investigation, among whom one is believed to have no part in the doing by the police officers.