News
Charlie Brake Split From Girlfriend Ellie Brown; Hunk Is Single Now
Charlie Brake has put a "permanent brake" on his relationship with his girlfriend!
The Love Island star confirmed the news of his separation from his reality star girlfriend, Ellie Brown, on 25 September posting on his Instagram. In the post, he opened up about his split with Ellie but wished her best wishes for the future; meaning there were no hard feelings between the two.
"Just to inform you all, Ellie and I have decided to part ways. I wish her all the best."
Similarly, Elli also took to Instagram on Sunday, i.e. 30 September 2018 writing she was "by no means she was the perfect girlfriend."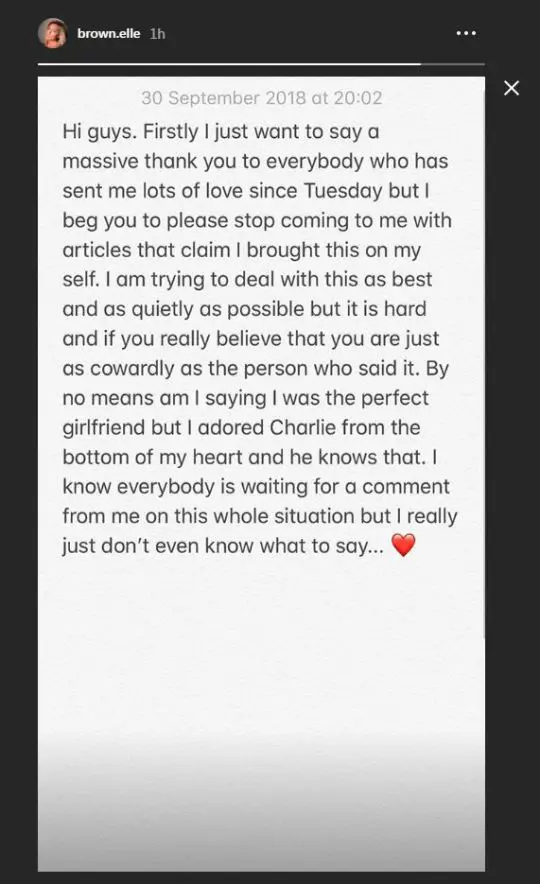 Ellie Brown's emotional Instagram post after the split (Photo: Ellie Brown's Instagram)
Speculations had risen about the couple's eventual breakup when Charlie's now ex-girlfriend moved out of his Chelsea mansion on 20th September. Ellie Brown had earlier revealed that she had packed nearly 25 boxes of clothes and shoes and was on the way to pick up the keys to her first apartment.
Similarly, an insider had also mentioned Charlie had dumped Ellie about a month ago and they were just faking to be together; however, the claim was denied by Charlie's representative. 
You May Find Interesting:- Brandon Jenner & Wife Of Over A Decade To Divorce | Splits Amicably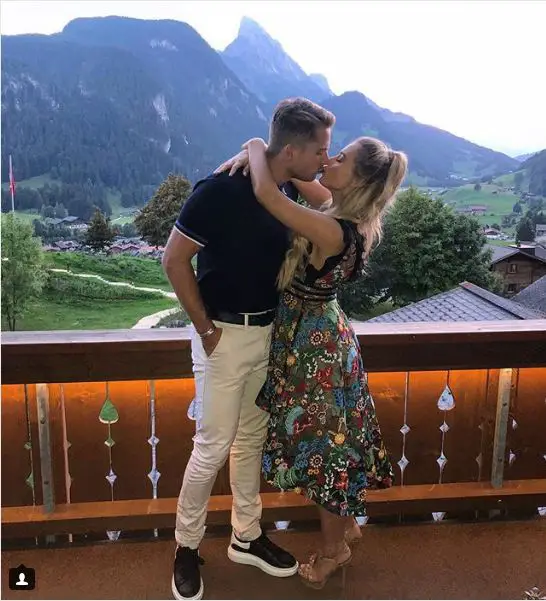 Charlie Brakes with former girlfriend Ellie before their split in September 2018 (Photo: Charlie Brakes' Instagram)
The former couple was already showing signs of troubles with growing feuds between the two, which had raised doubts if the couple was even going to last. On top of that, Charlie was spotted flirting with many girls at a nightclub without Ellie in August 2018. 
But, the furious of all came when Charlie refused to express his love for Ellie in front of their pals, which later turned out into a big dispute. The former couple had previously moved in together in Charlie's mansion soon after returning to London from Love Island.
The pair had also enjoyed a luxurious holiday in Gstaad, Switzerland days before Ellie moved out of Charlie's home. During the trip, the former couple had indulged in some luxurious and probably bizarre activities including naked hiking, spas, and breakfast in bed.
See Also:- Who Is Allyson Shapiro's Father? College Graduate With 9-5 Job & Famous Parents
The Love Island star, Charlie confirmed his dating life with Ellie on 2 July 2018.
While Ellie has also had Charlie meet up with her parents, there were also the rumors in late August that Ellie had become pregnant with Charlie's child; however, the rumors later turned out to be false.
Charlie, who is a well-known socialite from Chelsea, London; is famous for his lavish lifestyle. Charlie's luxurious life comes from his grandfather who is the founder of the food distributing company called Brakes.
Charlie along with his parents and family members became multi-millionaire after the company was sold by his father, Phil Brakes to a US-based firm in 2002 for an astounding amount of £434 million.