News
Chrissy Metz And Her Story Of With A Series Of Challenge With Weight Loss And A Happy Dating Life With Boyfriend
Behind every successful people, there lies a hand of relentless determination followed by consistent hard work.
Actress Chrissy Metz must have practiced the 3 D's (determination, discipline, and dedication) in her life due to which she has installed herself in the field of success and is shining in the limelight after she accepted the weight loss challenge followed by her happy dating life.
Today fans shall know about the weight loss strategy of the actress along with her biography.
Weight Loss Only On Screen Or Off Screen?
The daily viewers of This Is Us are well aware of the character played by actress Chrissy Metz (Kate Pearson) and her chubby body. The hurdle of her heavyweight and her break up with her boyfriend Chris Sullivan (Toby) in the series initiated the character to undergo the weight loss surgery. The weight loss surgery was not only for the series but also an actual initiation took by Chrissy for the Golden Globe Nominees 2017.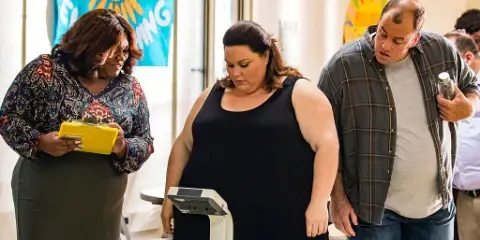 On the set of This Is Us, Chrissy and Chris check their weight in 2016 (Photo: cosmopolitian.com)
In an interview, when asked about the weight loss of Kate and Chrissy in real life, she said:
"The trajectory is that Kate will be losing weight just as I will in real life to reflect the character in her arc and her journey. That's exciting for me, especially because losing weight is something I've struggled with and contemplated. I have lost weight, and I've gained weight back. I wouldn't have this incredible role if I'd already lost all the weight. So I have to believe that everything happens for a reason and I do feel that way in life. The weight loss is going to happen.
She added:
"When Kate starts to realize it's more about how she feels about herself and not necessarily a number on the scale, that might take a backseat, but right now she has been obsessed with losing weight to make her happy. I have friends, and I know that when you do lose weight, you're happy, and it's exciting, but other things are going on. Other things make us want to eat or overspend or fill a void with something. And so as she loses the weight and puts the food down a lot of other things start to come up, which happens in real life. It's going to be fascinating to watch that unfold on a lot of different levels."
Well, the actress was reported being undergoing the gastric bypass surgery as she was seen being pushed in a wheelchair in LAX, although the contract did not mandate about weight loss. Chrissy is pretty sure to shape up in a healthy manner, emphasizing both Kate and Chrissy. While speaking with People Chrissy said:
"It's a conversation that we've had, and it's in my contract,in a healthy manner.It wasn't mandated in the contract, and I probably if I ever said the word contract, I didn't mean it in that way.I was pitched that the trajectory of Kate is that she's going to lose weight. That is who and what's going on."
Thus Chrissy is undoubtedly enjoying her weight loss journey on the screen as well as off the screen. Talking about it in-depth, she recalled being very badly treated by her step-father due to her overweight. Also, she referred to food as the only happiness in her life growing up.
Interesting Story:- Ross Butler Girlfriend, Gay, Parents, Net Worth
Maybe in a few years, people will get to see the shaped up version of her in the upcoming episodes of the series and real life. Well, this surely is a dedication and initiation taken by her to remain fit and healthy.
Officially Declared To Be Dating, Who Is The Lucky Man?
While attending the SAG Award after-party in Los Angeles on 28th January 2017, Chrissy officially went public about her relationship when she and her boyfriend Josh Stancil gave an appearance in the event.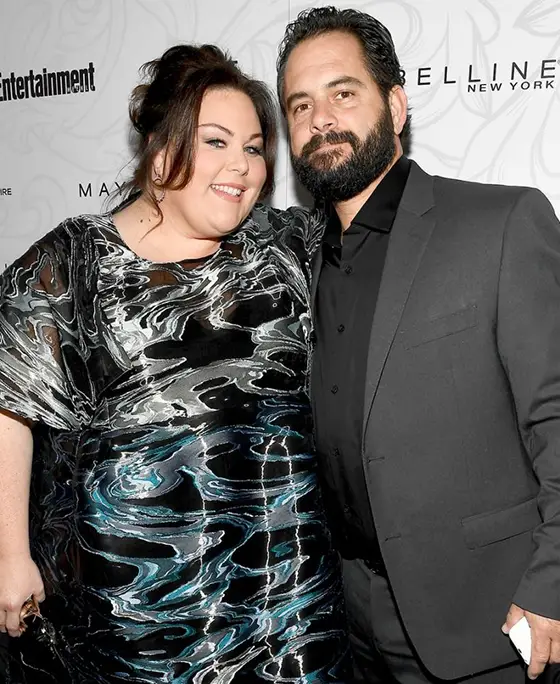 Chrissy with boyfriend Josh Stancil in the Sag Award Party in Los Angeles in 2017 (Photo: usmagazine.com)
Although the lady had spoken about her secretive relationship to US Weekly Magazine exclusively, she had disclosed her happiness, followed by a series of praises for her man without revealing his identity. She said:
"I am jubilant. I've always had amazing people in my life, and I'm grateful for that. I think it just enriches our lives to share our love, so it's awesome.He's an amazing guy, he's super supportive and encouraging, and that's all I could ask for. And he's a fan of the show."
She further added:
"Here's the thing, like, he needs to have his life, I don't want him roped into mine, so I just want to protect him. My little sweet treat."
Metz and Stancil had met through a mutual friend on the set of a show. Before making their relationship public, the duo had been dating for around six months, where she expressed her man to be a blessing in her life as she considers him to be sweet and a nonactor person.
However, that did not stop the husband and wife from parting ways later in life. The couple who married for seven long years were finally at the end of their relationship in March 2018. Surprisingly, Chrissy was quick to find a partner for herself in composer Hal Rosenfeld.
Know About:- Cody Fern Dating, Girlfriend, Gay, Parents
They appeared together at AOL Build in October and were pictured hand in hand at a night out at the W Hollywood in November 2018. Talking about the new boyfriend, the TV star recalled him a lovely guy. Despite sharing a romantic bond, coming into 2019, things are looking a bit shaky for the lovers.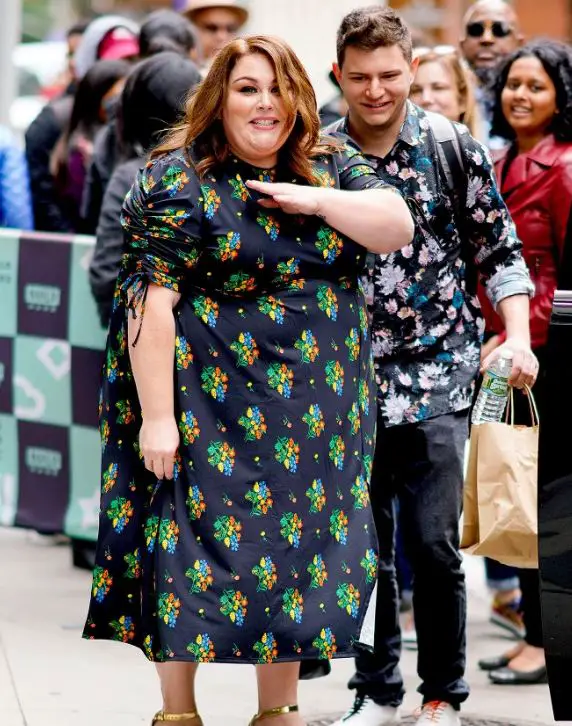 Chrissy with Hal Rosenfeld at AOL Build in October 2018 (Photo: usmagazine.com)
Following an emotional message on Instagram, Crissy raised speculation of the two parting ways. To make the claims even stronger, she talked about loving herself at the Power Women Summit in Santa Monica, California.
Bio of Chrissy Metz
Christain Metz, known as Chrissy Metz, was born on 29th September 1980 in Homestead, Florida, to a U.S Navy father. Chrissy spent her childhood in Japan and later on moved to Florida.
Before earning fame in the Hollywood town, she was figured out at the age of 21 at a casting call while she was taking her sister for an audition. She first made a debut in the year 2005 from the television series "Entourage." Since then, she has been working continuously and earning wide fame for her work.
Though she is a world-renowned televison actress, Chrissy was not always into acting. She auditioned for the acting roles out of pure luck when a drama teacher in her school suggested her to involve in acting. Now she is done with all her fears and struggles in life and only focuses on reaching new heights in her career.