Trending
Divorced With Brazilian Husband, Penny Taylor Shares Her Leisure With Allegedly Lesbian Diana Taurasi
As far as match stats and performances are concerned, Penny Taylor happens to be the most valuable asset that the Australian "Opals" has managed to produce over the years. She has been in media headlines for quite some time now. However, it is not her on-court performances making the buzz this time. Instead, it is the new transformation that has taken place in her life.
Quick Information
Wife/Spouse

Diana Taurasi

Lesbian

Bisexual

Body Measurements

35-25-35

Eye Color

Blue

Hair Color

Blonde

Hair

Long

Weight

165 lb (75 kg)

Height/ How Tall? 6 ft 1 in (1.85 m)
College

Australian Institute of Sport

High School

Upwey High School

Career

1997–2016

Net Worth

N/A

Ex-Husband

Rodrigo Rodrigues Gil (2005-2008)

Wedding Date

2017

Date of Birth May 24, 1981
Relationship Status

Married

Son/s

Leo Michael Taurasi-Taylor

Sister/s

Heather Taylor

Brother/s

Phillip Taylor

Mother

Denna Noble

Father

Michael Taylor

Ethnicity/Race

White

Zodiac Sign

Gemini

Birth Name

Penelope Jane 'Penny' Taylor

Profession

Former Basketball Player

Birth Place

Melbourne, Australia

Nationality

Australian, British
As far as match stats and performances are concerned, Penny Taylor happens to be the most valuable asset that the Australian "Opals" has managed to produce over the years.
She has been in media headlines for quite some time now. However, it is not her on-court performances making the buzz this time. Instead, it is the new transformation that has taken place in her life.
Penny Taylor Stats and Performances:
The three times WNBA Champion (2007, 2009, 2014) is the force to reckon with on the basketball court and is hardly troubled by anyone within that perimeter. However, her tale of personal life and marriage is the contradictory one having suffered the staggering blow of divorce.
With no husband to spend her leisure time, she has found a replacement on her Phoenix Mercury mate. And Taurasi's alleged identity of lesbian has made the entire situation even more attractive. Questions are being raised at the relation preference of Taylor since they were sighted together. Is Penny Taylor another addition to the list of WNBA lesbians? For now, we got to switch on our patience till the speculations generate proper authenticity to it.
Boyfriend, Married, and Divorce?
The FIBA World Championship MVP of 2006 was tied in the conjugal knot with her longtime boyfriend Rodrigo Rodriguez-Gil before it came to an abrupt end lately.
Gil is a professional sportsman too and has been competing in volleyball for his Brazilian national team and other top volleyball outfits including Italian Padua.
The couple initially met during his time at Padua. Taylor was playing for Familis Schio based in Italy back then when they began dating in March 2004.
The communication barrier was one thing that troubled their relation with Taylor's inability to grasp Portuguese and Gil's difficulty with English. However, they found the common tongue in the Italian language.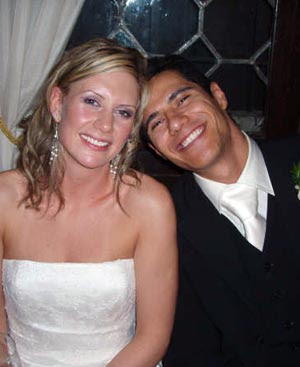 Caption: The couple poses during their wedding.
Source: blogspot.com
The couple married on December 29 following a ceremony at an old theater building in December 2005 but had to wait for a couple of years to finally have a honeymoon in Australia owing to their hectic schedule. Things didn't go pretty well between Taylor and her husband which resulted in divorce years later.
Well, she may be dating, or she may be having casual friendly time with Diana Taurasi. Nevertheless, they together are exceptional when it comes to guiding Phoenix Mercury to victories.
Mercury's manager Jim Pitman has some great words for the pair,
"If Diana Taurasi is the heart of our franchise, Penny Taylor is the soul."
Having lost her mother to Ovarian cancer in 2013, Taylor underwent another tragedy when her father Michael lost his battle with cancer the following year.
Taylor has been off-the-court ever since and is probably soothing her pain through quality time spent with Taurasi. Obituary of her mother Denna mistakenly included Taurasi as the daughter-in-law in an ironic fashion.
They Blend Very Very Well:
Prolific Taurasi blends with Taylor correctly, but her identity has always been questioned. From visibly kissing Seimone Augustus during a game to having an open crush with WNBA president Donna Orender, Taurasi has been tagged lesbian times and again.
Taurasi too has been a big admirer of Taylor and was quoted saying, ""With her, she's always been the strongest person, she's always fought, and she's always had that grit to get back to where she wanted to be," Taurasi said. "That's just inspiring to be there and to see that."
Now, Taylor is back on the court; it will be exciting to see how pair flourishes as a team.
Calling it a Day!
The 35-year-old veteran told The Associated Press that she would retire from her playing basketball career at the end of the WNBA season. She has helped the Phoenix Mercury to three WNBA titles and also guided Australia to a world championship in 2006.
"My focus is on the Olympics, but definitely it's my last year," Taylor stated. "Worked really hard to get back and still be good. I want to go out on a good note. My health is something I really had to work hard at, and to be fit and stay out on the floor, I've done that really well. For me, it's the right time."
Record Breaker Taurasi:
No matter whatever people call her off the field but in the court, she is one heck of a player. Diana Taurasi has already proved she is a legend of the game. US basketball team is unbeaten in Rio Olympics so far and looks more and more threatening day by day.
Diana on other hand has been a star player and has already broken her own record i.e. Single game U.S. Olympic three-point record. In what looked like high scoring game against Serbia, Diana finished with 25 points, six assists and three rebounds.
Shattered dreams and Rio Olympics:
Time is running out for Penny Taylor. She has received everything in her playing professional career of 18 years. There is one missing prize in Taylor's trophy room, perhaps her biggest dream. It's gold in basketball and is earned once every four years at an Olympic Games.
"I know that we have done everything possible, and we will always have that (gold) as our goal," Taylor said.
"We will always focus on that but it is also important to realise how well we have done to get there each time and how important it is to just to get the medal games. You can't take that part for granted and just focus on the gold medal, or suddenly you are distracted and you don't pay enough focus to a good team like a France or a Spain, or a Serbia."
Three times: in 2000, 2004 and 2008 – they had fallen agonizingly short of the gold, while they also had won two bronze medals in 1996 and 2012 all for their hardworking efforts. This time in Rio was no different.
The Opals were one of the favorite coming into the tournament, and many expected they were the ones to challenge powerful USA basketball team. But now they are to be audiences. Australia ranked second in the world lost a shocking 73-71 quarter-final loss to Serbia on Wednesday morning.
"Turnovers, defense, we struggled to contain them," forward Penny Taylor said moments after their shocking loss.
"Containment was a big issue. Throwing the ball away was a big issue. Not the way we wanted to play.

"Credit to them for the way they played.

"It sucks (losing), but I'm always proud to play for my country."
Taurasi Leads the US to Gold in Rio:
Although the US were sloppy throughout opening quarter, they finally settled into the familiar rhythm that led U.S to gold in Rio routing Spain 101-72. The squad has already won 49 consecutive games in the Olympics with only one of those decided by single digits.
The squad is only one gold away from tying the U.S. men's basketball team that won seven consecutive golds between 1936 and 1968.  
Diana Taurasi scored 17 points (6-of-10 shooting, 5-of-7 beyond the arc) and led a balanced U.S. scoring punch in a rout against Spain. With this U.S. victory against Spain Sue Bird, Tamika Catchings, and Diana Taurasi joined former teammates Teresa Edwards and Lisa Leslie as the only players to win four gold medals in basketball.
"When you think of USA, you think of basketball," Taurasi expressed her happiness in an interview after the final whistle.
 "We bleed basketball."
"It's pretty incredible," said 34-year-old Taurasi.
 "We had the goal to win the gold medal but there is something more to it than that. It's not about one person, one coach, it's about how can we make this the best basketball team ever."
Penny's Short Bio:
Penelope Jane "Penny" Taylor (born 24 May 1981) is an Australian professional basketball player for the Phoenix Mercury of the Women's National Basketball Association (WNBA) and currently the leader of the Australian woman's national team.
She led the Australia to a gold medal at the World Championships in September 2006 and won tournament MVP honors. Taylor started her basketball career in the Belgrave South Red Devils basketball club at the age of 4.