Trending
Gabrielle Union First Baby Daughter, Shares Adorable Moment With Husband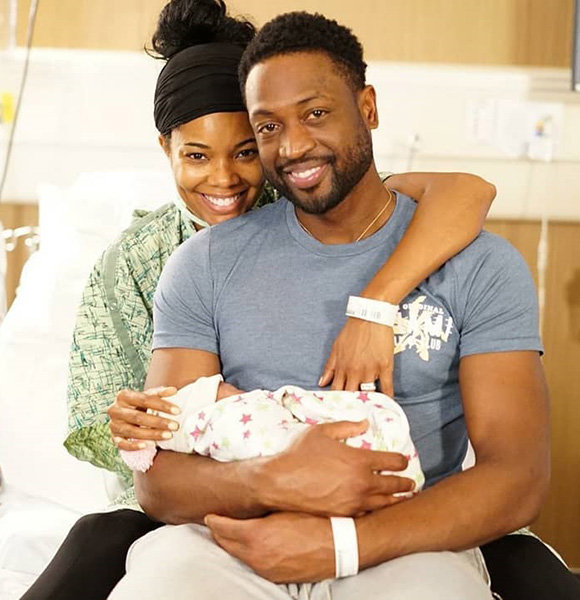 FINALLY!!! Actress Gabrielle Union and husband Dwyane Wade are parents to a baby girl.
The duo is on top of the world after welcoming their first child together on 7 November 2018, via surrogate.
The Breaking In star, Gabrielle, who had previously suffered numerous miscarriages, broke the news in her Instagram account on Thursday, i.e. 8 November 2018.
"We are sleepless and delirious but so excited to share that our miracle baby arrived last night via surrogate and 11/7 will forever be etched in our hearts as the loveliest of all the lovely days"
Uploading her picture with her daughter in her arms, and her baby daddy right beside her, the Ride Or Die actress also posted some lines from Bill Withers' Lovely Day in her caption.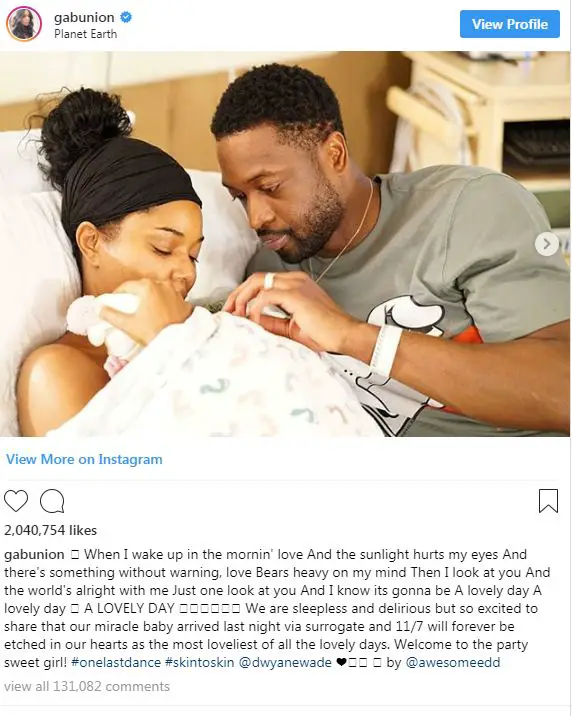 Gabrielle Union alongside her husband Dwyane Wade and their newborn baby girl. (Photo: Gabrielle Union's Instagram)
The birth of their baby comes in as a major source of happiness to the stars who had suffered previous heartbreaks with multiple miscarriages in the past.
Writing in her 2017 book, We're Going to Need More Wine, the Neo Ned actress, who divorced her first husband Chris Howard, has been quite open about her struggles of being pregnant.
"For three years, my body has been a prisoner of trying to get pregnant — I've either been about to go into an IVF cycle, in the middle of an IVF cycle, or coming out of an IVF cycle."
It seemed the years of struggle has finally paid off. And the new parents just can't seem to get enough of their beautiful little angel.
You May Also Like: Kate Upton & Husband First Baby, Proud New Parents To Daughter Genevieve
Gabrielle, at age 46, admitted in her Instagram story that she hasn't showered nor brushed, and has hardly had any sleep post her baby's arrival. But she remains 'happy', or so she insists.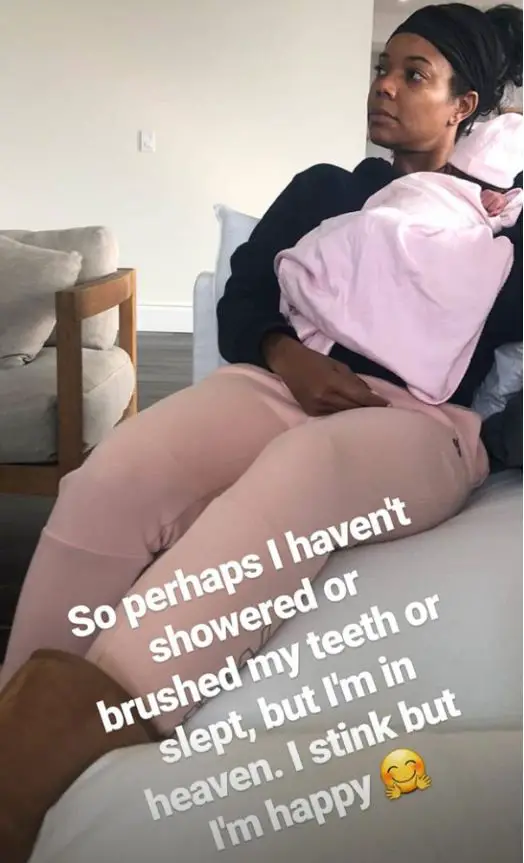 Gabrielle Union's Instagram story with her baby in her hand. (Photo: Gabrielle Union's Instagram)
And her baby daddy isn't much different either. The NBA star, who already has three children from his past relationships, Zaire, 16, Zion, 11, and Xavier, 4, also seem to not get enough of the baby.
"Thanks for letting daddy watch some football We're already working together well."
wrote the NBA star on his Instagram, where he is holding his baby while watching the game on TV.
The duo, who tied the knot on 30 August 2014, post their wedding in Miami, Florida have managed to make their relationship work, despite their busy schedule. And with the arrival of their daughter, Wade looks set on taking some time off from the game to be alongside his wife and daughter.
Don't Miss: Kathryn Boyd Age 31 & Husband First baby, Shares Daughter's Adorable Pic 
The Miami Heat player told the Associated Press on 11 November 2018, about his decision.
"For me, once I leave and go back to the season, not really being able to be with me everywhere I go, this time right now, this bonding moment with my daughter is the most important thing in my life at this time."
Who knows what's next in the future. But for now, congratulations are in store for Gabrielle and her husband for the birth of their first child together. And with the name of the baby not yet revealed, fans of the star couples eagerly anticipate the name to be revealed.