News
Kathryn Boyd Age 31 & Husband First baby, Shares Daughter's Adorable Pic
New Baby Alert!
The newest addition to the Boyd-Brolin family has arrived!
Entrepreneur Kathryn Boyd, age 31, and her actor husband Josh Brolin, age 50, welcomed their first baby together, a baby daughter named Westlyn. On 4th November 2018, the latter took to his Instagram to break the news.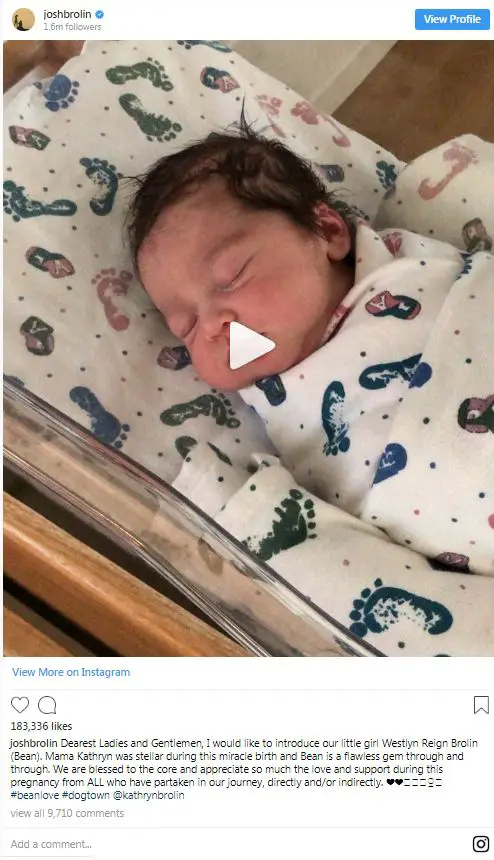 Kathryn's husband shares a video of their newly born baby (Photo:- Josh Brolin's Instagram)
Moments after her husband's big revelation, Kathryn also shared a glimpse of their baby via Instagram. The mini-clip was accompanied by a heartwarming caption that read:
"Our family's newest (and tiniest) member. Westlyn Reign Brolin, I love you so much already. Nothing compares to this... nothing. My heart is totally different forever."
The birth of Westlyn makes Kathryn her a mom for the first time. Meanwhile, her husband Josh has two children - Eden, age 24 and Trevor, age 30 - from his first marriage to actress Alice Adair.
Discover:- Taylor Mills Age 31 Is Married, Intimate Wedding Ceremony With Brett Young!
The Deadpool 2 star's second marriage to Diane Lane, however, didn't bear any children. Following his divorce from Diane, he began dating Kathryn, who at the time was his assistant.
Little under a year later, the Labor Day actor popped the question to his then-girlfriend Kathryn while vacationing in Rome in February of 2015. The pair would eventually get married in an intimate wedding ceremony at Paces Lake in September of 2016.
She and her husband celebrated their second wedding anniversary in 2018 and shared in via Instagram images that depicted him "smooching" then-pregnant wife's baby bump. It was accompanied by a touching caption that read:
"I am a better human being with you in my life. The truth is that I got lucky with you. So lucky. You move my every cell. Happy 2nd Anniversary. I love you wildly, baby. Wildly."
Back in May 2018, Josh used his Instagram to announce the pregnancy by posting a snap of Kathryn showing off her baby bump.
Read Also:- Jessica Shears Married In Secret & It's Official | Wedding Dress & Venue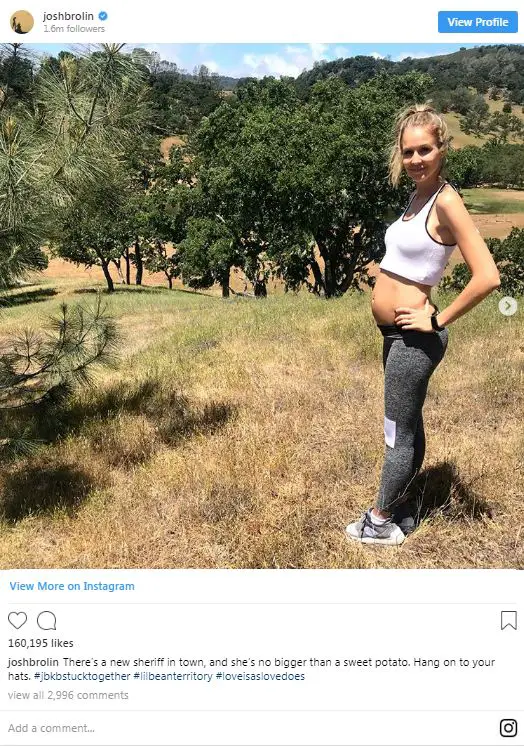 Kathryn showing off her baby bump (Photo:- Josh Brolin's Instagram)
Three months later, while talking to US Weekly, the Avengers: Infinity Wars star actor being "nervous but excited" while discussing Kathryn's pregnancy. He then followed up by saying:
"I've been a parent for so long, since as long as I can remember basically. I got out of high school, two years later we had a kid. So I don't really know life without having kids."
In a separate interview that month, Josh also joked about Barbara Streisand - who has been married to James Brolin - being a "typical Jewish mother." 
Similar:- Hilary Duff & Boyfriend Welcomes Their First Baby, Daughter Banks Is Love!
Congratulations to both James and Kathryn on the new baby!