News
Glenn Weiss & Jan Svendsen Engaged At Event, Emmy Awards Highlight
American director, Glen Weiss stole the 2018's Emmy Awards with his movie scenario-like engagement proposal!
Surprising the star-studded audience and viewers watching the broadcast of 70th Emmy Awards, Glen made a romantic proposal to his longtime girlfriend, Jan Svendsen on Emmy Awards' stage.
Glen, who won an award for directing a variety special, proposed his girlfriend during his acceptance speech.
See Also:- Nats Getty, 25, Engaged-To-Get-Married! Dramatically Proposed
Moments before getting engaged, Glen commenced his speech revealing the recent passing of his mother but soon diverted the speech towards Jan saying that she had been the sunshine of his life.
Further, he also disclosed the reason for not preferring to call Jan his girlfriend as he wanted to make her his wife. During his acceptance speech, Glen said,
"Mom always believed in finding the sunshine in things and she adored my girlfriend Jan [Svendsen]. Jan, you are the sunshine in my life. And Mom was right: don't ever let go of your sunshine. You wonder why I don't like to call you my girlfriend? Because I want to call you my wife."
The audiences were stunned to see such a romantic moment on an awards show and comedian Leslie Jones even called it "the best speech ever."
Soon after Glen's proposal, Jan Svendsen climbed up to the stage and the Oscar director put his mother's ring on the finger of his future wife, which became the biggest highlight of the night.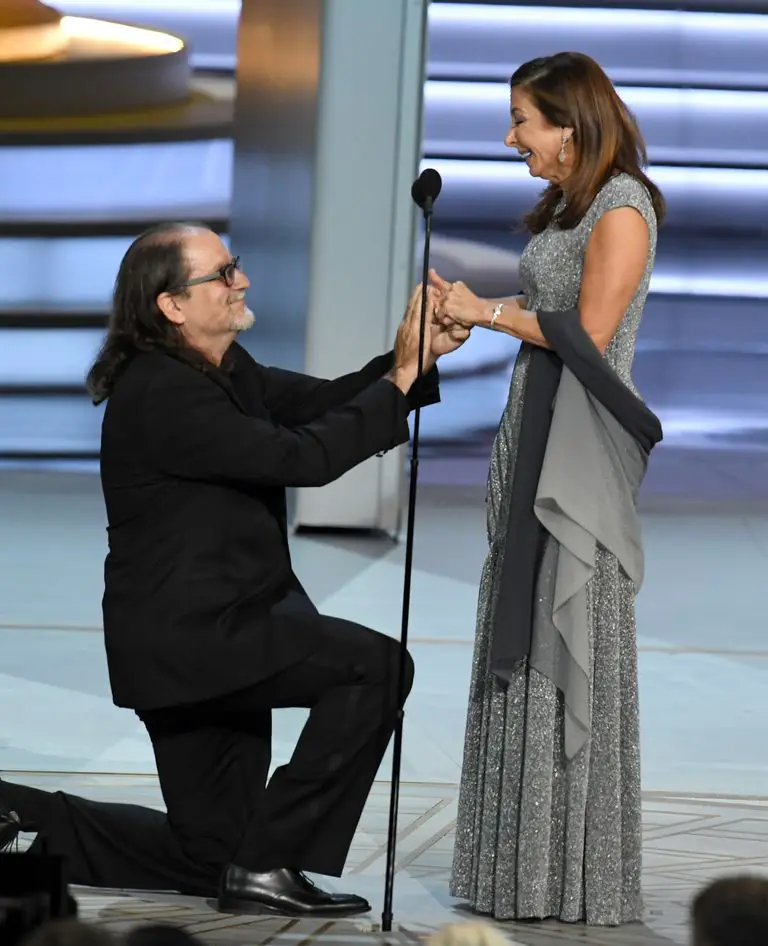 Glen Weiss proposes to Jan Svendsen at the 70th Emmy Awards (Photo: Elle.com)
You May Also Like:- NBA YoungBoy Wiki: Real Name, Baby Mama, Kids, Net Worth - All Revealed
The newly engaged couple even attended a backstage press meet where Glen talked about the symbolic importance of the diamond ring which he had presented to his fiancee. He told the reporters,
"It's not a diamond ring; it's my mom's wedding ring — it's more valuable than the Hope diamond. And walking down the red carpet like nothing's happening with this in my pocket was nerve-wracking. But now, it's where it belongs."
The 57-year-old director even mentioned that no one except his father had any previous knowledge of his plan to propose.
Glen said he had not thought of proposing Jan from a long time but started to think about it after the death of his mother, few weeks before the event. Even his future wife was unaware of Glen's intentions as she stated at the press meet,
"I had no suspicions whatsoever, I was just hoping he'd dedicate the award to his mother — and he did, and then some. I'm just still processing this."
However, Jan appreciated the idea of Glen proposing onstage as it matched his profession of directing awards shows and live events.
"Given what Weiss does for a living, it just felt right . . . a director onstage getting an award and others gathered around the TV watching. It feels right. And this feels right. . . . There was never any doubt that we wouldn't be together forever."
Glen and his prospective wife had first met in New York at the Tony Awards in 2001 where Jan worked as the chief marketing officer and the pair soon started dating.
More From LiveRamp Up:- India Arie Blooming With Husband-Like Figure; Soon To-Be Family?
Glen, who works as a director and producer, had directed various awards shows including The 64th Annual Tony Awards (2010), The 65th Annual Tony Awards (2011), The 67th Annual Tony Awards (2013), and The Academy Awards (2018).
Further, he has also been nominated for and even won several directing awards consisting of Outstanding Directing For A Variety Special (2018), Outstanding Directing For A Variety Special (2017), Outstanding Directing For A Variety Special (2014), Outstanding Special Class Program (2014), and more.