News
Newlyweds! Model Hayley Roberts Age 38, Married To Fiancé Of 2 Years David Hasselhoff, 66
Model Hayley Roberts finally said "YES" to the fiance of two years!
The 38-year-old model tied the knot with the former Baywatch star David Hasselhoff after two years of engagement in a small ceremony in Italy on 31 July 2018. The actor's rep confirmed the news about their nuptials.
The small wedded ceremony was attended by David's two daughters 28-year-old Taylor and 25-year-old Hayley including their close friends and family.
Similar:- Victoria Justice Fashionably Dating Singer Boyfriend Despite The Age Gap
The former Debenhams sales assistant first charmed the 66-year-old actor in 2011 when she approached him for an autograph while he was filming Britain's Got Talent in Cardiff.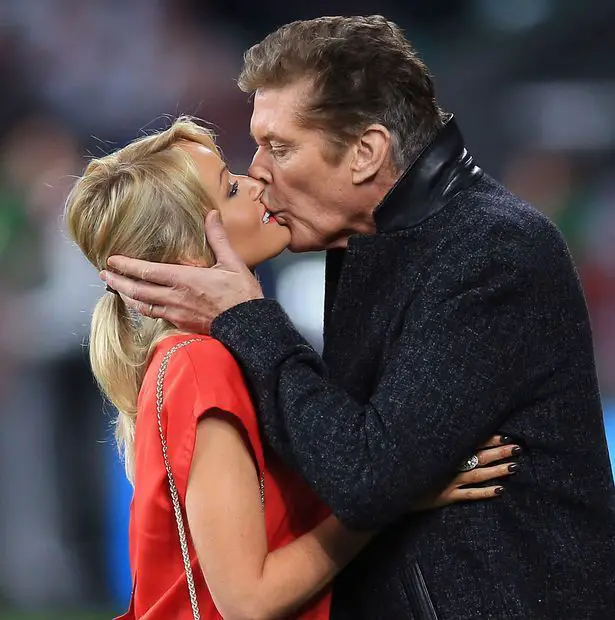 Hayley Roberts and David Hasselhoff getting cozy during the 2015 Rugby World Cup Pool (Photo: Getty Images)
The Knight Rider actor proposed to the Welsh model in 2016 at a beach picnic in Malibu which kept both of the actors in tears. She thought he was just joking as he has cracked the jokes before and it was never real.
 She revealed to Hello! Magazine:
"I thought he was just joking around at first. He's asked me before, but it was never for real."
She took the proposal as a joke until, David who delayed the proposal due to the age gap, pulled out the rings and popped the question. She described:
"Then he pulled out the ring. I cried so hard that he didn't get around to actually asking, 'Will you marry me?' until about 10 minutes later."
Hayley further disclosed that the 27-years age was never a problem for her whereas David said that he thought was too old to be her husband, which took him this long to take the relationship to the wedding. She said:
"I don't want to miss out on being with someone I love because of what might happen down the line."
though it's the first marriage for Hayley, it's the third time David walked down the aisle and had previously got married to Catherine Hickland and Pamela Bach, who he shares two daughters Hayley and Taylor with.
Don't Miss:- Twice-Divorced Carol Vorderman, On Age Gap With Ex-Partner: Happy For Having Plastic Surgery
Well, during her time together with David, she seemed to have formed a good relationship with the actor's daughter. And the marriage between David and Hayley would not be possible if the star's daughter would not have encouraged him to walk down the aisle again.
He described his supportive daughter who cooperates with his decisions and also mentioned that they love Hayley. Well, it seems the beautiful Hayley has already formed a good relationship with the step-daughters, which might benefit to form a happy family.