News
Glee Star Kevin McHale As Gay! Official Sexuality Statement Amid Dating
Glee actor, Kevin McHale has come finally come out of the closet!
He recently came out publicly as a gay while speaking to veteran journalist Marc Malkin in a Facebook live feed on 10 May 2018. The 29-year-old actor opened up about his sexuality and admitted that he was happy to finally reveal he is a gay. He stated,
"I'm definitely happy…it's better out than not. I'm happy. I'm like, okay, great, that takes care of that."
However, the Sick Of My Own Voice host further clarified that he did not shout from the mountain tops, but have been providing subtle hints in his social media about his gay sexuality.
He said that for fans, who had been tracking his social media better and had been interested in his support for LGBT organizations then, the news would not be a big deal to them. The handsome actor quoted to PEOPLE,
"If somebody was a big fan and following everything I was doing [on social media], like the people I interact with on Twitter on a daily basis, I think there was zero surprise. People knew. The organizations I've been supporting and all that sort of work have been apparent, at least to me. I've always supported LGBT organizations and things like that because I felt like I had a vested interest in this where I wanted to help out."
The actor had previously sparked rumors about his sexuality on 20 April 2018, when he tweeted that Ariana Grande's single No Tears Left To Cry was more gayer than him.

Kevin Mchale comes out as a gay after hearing Ariana Grande's new song (Photo: Kevin Mchale's twitter)
Not just that, the actor posted a picture of him cuddling up with another hunk, rumored to be his When We Rise co-star Austin McKenzie and described him as his partner for the music festival Coachella on 14 April 2018.
Furthermore, he had also posted a photo with two male hands and captioned the photo "? (Emoji for in love)" sparking rumors about his sexuality.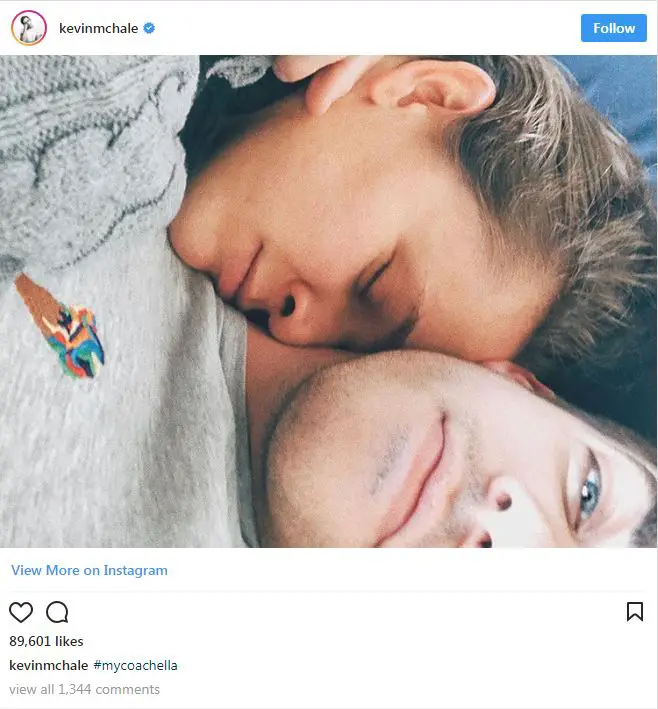 Kevin Mchale cozying up with boyfriend rumored to be Austin Mckenzie (Photo: Kevin Mchale's Instagram)
The handsome actors, who have been reportedly dating for about a year, last worked together in miniseries "When We Rise," about LGBT rights.
The Glee alum was previously thought to be straight and had been speculated of dating with numerous actresses. The actor was linked with another Glee alum Canadian Actress Vanessa Lengies, with whom he had electric on-screen chemistry.
Apart from Vanessa, the former host of comedy panel game show Virtually famous was spotted with another Glee actress Amber Riley during many red tape events, sparking rumors of the two dating.
In 2010 he was rumored to be dating actress Jenna Ushkowitz after the two were pictured cozying up and spending quality time together in Monaco Beach.
However, the actor's coming out as a gay has debunked these claims, and established them as just rumors.