Entertainment
"American Pie" Actor Jason Biggs' Story With Ex-Girlfriend Stalker Wife; Married Through Crushing Moments
After only six months of dating that ranged from the year 2007 to 2008, Jason Biggs' girlfriend realized that she was pregnant with Jason's baby, a mere two months after they had gotten secretly engaged in St. Martin...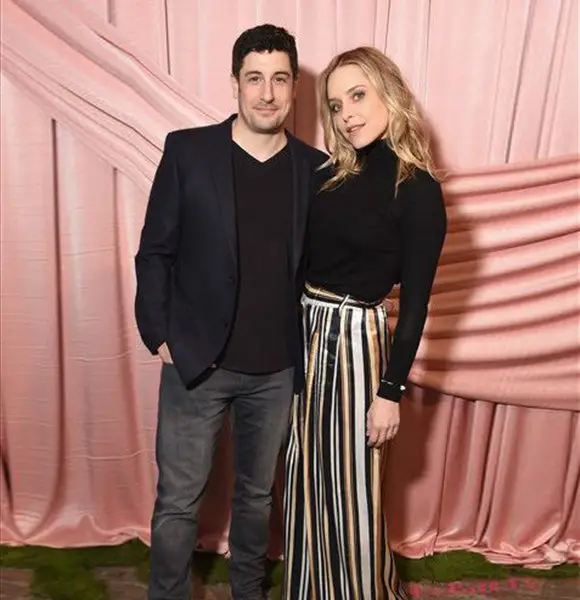 American actor Jason Biggs is considered one of the funniest actors in Hollywood. His funniness combined with his actress wife, Jenny Mollen's craziness navigates sleekly when it comes to their relationship.
When Access Hollywood Live's guest costars Howie Mandel and Yvette Nicole Brown asked what the title would be if he were to film his life, the American Pie star answered hilariously (with his wife alongside him), "My crazy f-ing wife." 
The title was clearly justifiable given that his stalker wife did things that can be called crazy. 
Supports Girlfriend After Unexpected Pregnancy & Miscarriage 
After only six months of dating that ranged from the year 2007 to 2008, Jenny realized that she was pregnant with Jason's baby, a mere two months after they had gotten secretly engaged in St. Martin. 
At the age of 28, she considered herself unfit to yet have a baby - she mentioned in her narration on Cosmopolitan in 2014. Her words,
"I'm too young to be a parent, Jason! I'm a mere child myself!!"
However, Jenny was dazed about keeping Jason's baby since she didn't want to ruin the loving relationship she had with Jason.
It took some motivational persuasion from Jason and a whole lot of parenting and couple therapy classes before Jenny decided to keep the baby. They even moved in together and purchased an SUV to support her pregnancy.
See Also:- Bob Harte From The Last Alaskans Dead After Losing Battle With Cancer! A Glance at His Journey
Unfortunately for the couple, the fetus had given up three months into the pregnancy. It was only a matter of time before she miscarried.
It was devastating when they went to the doctor's one day to find out that Jenny was about to have a miscarriage. The only thing left behind after her miscarriage was the love they had for each other. 
They eloped and got married on 23 April 2008 after the devastating news left them shattered. They had tied the knot despite Jason's mother suggesting him not to do it utterly due to the pregnancy. His mother had said:
"You know you don't have to marry her just because she's pregnant?" 
On the other hand, Jenny's family later came to terms with the idea of the marriage when they realized that Jason was rich. Who's to blame them?
Jason and Jenny had first met in 2008. They were set up on a blind date while they were filming for the romantic comedy movie, My Best Friend's Girlfriend.
Two Children in Four Years, Family-Of-Four Moves to New Home
One would assume them going for the second baby immediately after their marriage, but it wasn't until another five years that fate had in store a baby for the couple. 
It was after five years since the mishap of miscarriage when the couple finally conceived their first baby in 2013, Sid Biggs. And, after another four years of chilling in the breeze of Los Angeles, they welcome their second child, Lazlo Biggs, in 2017.
Don't Miss:-Tamara Tunie Bio Talks; Husband Rift Caused By Three Missing Things
Jason took it to Instagram to share young Lazlo's first laugh when his on-screen father from American Pie franchise, Eugene Levy, stole a chuckle out of baby's mouth.
Jason Biggs poses with his two kids, Sid (left) and Lazlo (right), and his on-screen father Eugene Levy (far right) (Photo: Jenny Mollen/Instagram)
The family of four later moved to New York after auctioning off about 420 items from their Los Angelos homes. Currently, resided in a $7 million mansion that Jason bought in Manhattan. 
However, the Orange Is the New Black actor's family moved into the more luxurious and expensive New York City's picturesque and exuberantly pricey West Village and sold their Manhattan mansion for $2.66 million in January 2018.
Moving onto the new house, the couple is more into their love world. Even after so many years, the couple has opened their love chapter, they are still relishing their time like the new dating couple.
Jason shared a snap on Instagram on July 2018 where he was kissing his wife captioning: "Ugh she is OBSESSED with me." 
Expresses Desire To Welcome Third Baby, Girl
Just a year in after welcoming their second child in Lazlo, Jason apparently wants a third one- this time, a baby girl. Sitting down with the PEOPLE magazine on 4 July 2018, the couple spoke about their experience of parenting two kids and how Sid was getting along with his little brother.
Mollen jokingly compared their two sons and said,
"The little one is chill. We had the more difficult one first. We indulged the older one so now he controls us."
 Despite the couple dealing with quite a handful situation in raising two kids, Jason was really excited to have another baby. He said,
 "As soon as I get my third, my girl, then I'm going to retire." 
However, Mollen coyly expressed her desire against having another baby as she said that the task will be for his next wife.
5-Year-Old Son Placed In ICU
Opening up as an emotional wreck through an Instagram post of April 2019, Jenny Mollen confessed to her followers that she dropped her son, Sid on his head. The fall caused a fracture on Sid's head leading a rush to the ICU.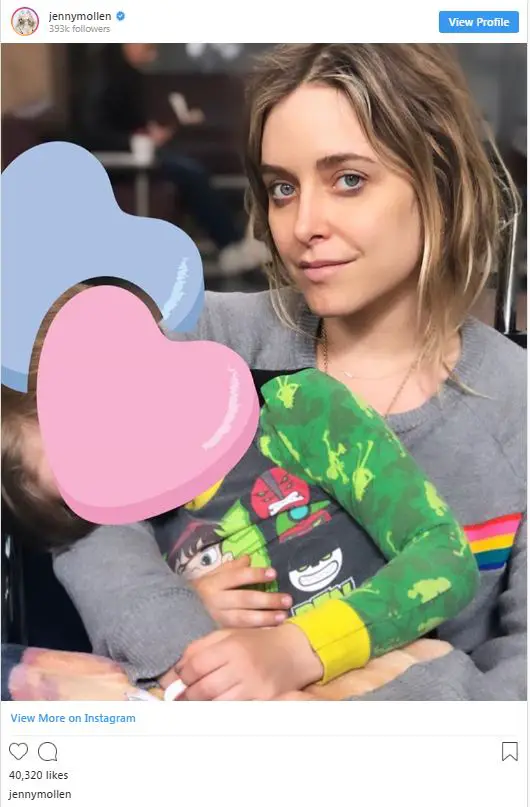 Jenny with her son SId on her lap (Photo Jenny's Instagram)
The incident came about just months after the couple revealed their 1-year-old son, Lazlo had been bitten by a dog, leaving him traumatized. Is it that Jenny is still not ready for parenthood like she mentioned years ago to Jason when she found out about her first pregnancy? 
On Instagram, Jenny thanked NewYork-Presbyterian Hospital for their quick response time and the hospital staff namely the "nurses, neurologists, pediatricians, residents, cafeteria staff and brave women that keep the visitor's bathrooms clean."
Jenny went on to thank her husband, Jason Biggs for being an understanding person. Ending the post with a note out to all the parents, who have or will ever find themselves in a similar situation, that they are not the only alone. 
Stalker Wife Obsessed With Husband's Ex-Girlfriend; Hires Prostitute For His Birthday
Jenny Mollen is not what one would call a conventional wife. She proudly said to Hollywood Live that she was obsessed with her husband's ex-girlfriend. She regarded his ex-girlfriend as her 'biggest fan' and optimized her social media to showcase her flamboyancy, mostly for her biggest fan. She also once followed one of his ex-girlfriends in a car. 
Amusingly, American costume designer Lindsay Zir, who Jason dated from 2004 to 2007, and his current crazy deemed wife happen to be friends.
You May Also Like:- Blake Anderson Status After Divorce With Wife; Smiling Through Ruins?
If that is not the height of craziness, Jenny went out of her ways to hire a prostitute for Jason's birthday. It took them three days and three different women to enjoy further disappointment as the couple ended up not much enjoying their sordid experience.
The crazy experiences have certainly strengthened their bond though, as they celebrate a well over 10 years of marriage as of today.
Jason Biggs' Net Worth
Jason Biggs has bagged the net worth of $13 million his wife, Jenny enjoys $1 million worth.
Buggs is famously known for the character, Jim Levenstein, in American Pie movies. In 2018, he featured in Netflix original Orange is the new Black.