Entertainment
NFL Star Cris Collinsworth Torn Between Career & Family With Wife?
Cris Collinsworth is a former NFL player, currently dedicating his time to his broadcasting duties. a controversial announcer, Cris came under the hammer after...A father of four, Cris has been married to his wife for...His son...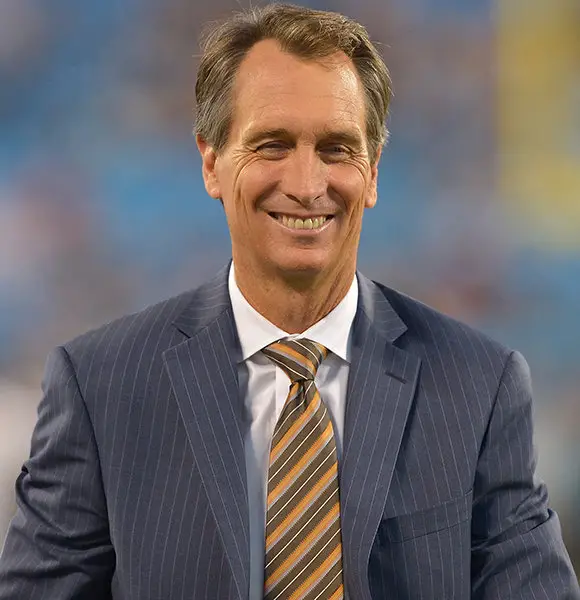 It seems like a never-ending struggle for a sportsman to balance his professional career alongside his personal life. Cris Collinsworth, a former NFL star faces the same dilemma even years after his retirement from football.
An American football player who served most of his playing days as a wide receiver in NFL, Cris is currently involved in the game as a broadcaster. With his analytical details and keen observational capacity, he has gone on to establish himself as one of the most famous broadcasters in NFL, similar to what he was as a player.
However, balancing is an art not many can handle. Cris, years after his retirement is still actively involved in the game of football. The high demands that his work brings with itself, has thus led Cris in an extremely difficult position to give enough time to his wife.
Nevertheless, the star broadcaster might have some secret down his sleeves to keep his wife and his boss happy at the same time!
Long Association With NFL, Salary and Net Worth at Age 59
Cris Collinsworth and NFL seem to be a never-ending love story. His relationship with NFL started in 1981 after he was drafted by the Cincinnati Bengals in the NFL draft of 1981. He has never turned his back on the game since then.
You May Also Like: Megyn Kelly Age 47 Leaving NBC News, Is It Official? Exit Details
However, a super successful NFL playing career came to an abrupt end after eight seasons of continuous awards and accomplishments for Cris.
Forced to retire with some herniated disks in the back in 1989, Cris had no intention of leaving the game as he soon turned his attention towards broadcasting duties, where his knowledge about the game has proved handy ever since.
A strongly opinionated man, Cris has, however, hasn't had it all easy after his switch to broadcasting duties. Coming under the hammer for his outspoken nature and fearless opinions, Cris currently at NBC, is considered to be one of the most controversial announcers of the game.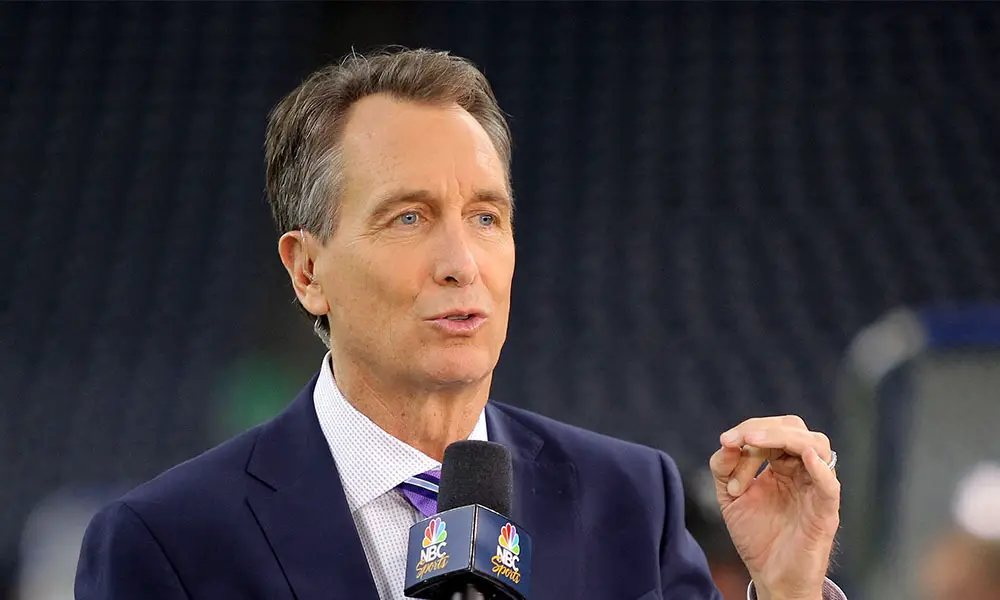 Cris Collinsworth on his broadcasting duties at NBC. (Photo: usatoday.com)
He recently made the headlines after the Super Bowl 2018, where he incorrectly assertively predicted some referee decisions in the game would be overturned.
"I would have called that incomplete. If that ball's not loose in his arms when that last foot came down, I give up."
However, after being proved wrong, Collinsworth says he regrets even making those predictions, while talking to a small crowd in Philadelphia in August 2018.
"I wish I'd never said that I wish I would've just said what was the simple truth, which was I had no idea. That was my mistake."
Despite all the controversies, Cris stands today as one of the most famous broadcasters of the game with an annual salary ranging to $4million for his reporting duties, which has escalated his net worth to $14 million.
Understanding Wife Behind Career Accomplishments, Son Following His Footsteps?
'Behind every successful man, there is a woman.' No other duo can be a better example to prove the saying true. All the success that Cris has accomplished in his playing and broadcasting career, he happily credits it to his wife of 29 years, attorney Holly Bankemper.
The duo, who first met each other during their tenure at  University of Cincinnati law school, have been married to each other since 1989.  Cris, ever-so-busy in his professional endeavors has managed to maintain an extremely blissful relationship with his wife despite his busy schedule.
And it seems, the broadcaster has a secret.
See Also: Michael Sam, Retired Gay NFL Star Boyfriend Rift - Health Issue Fueled?
Talking with Enquirer in 2002, Cris mentioned their residence in Fort Thomas, Kentucky has helped his marriage.
"My wife is very happy here. Her parents are five minutes away. Her brother and sister are nearby. With me being away so much, it really does help that they're around to help. And I like it here, too."
While Cris remains happily married to his wife Holly, he has grown an even prouder father to his four children, sons Austin and Jac, and daughters Ashley and Katie. All four of them seems to make their dad proud after their career pursuance.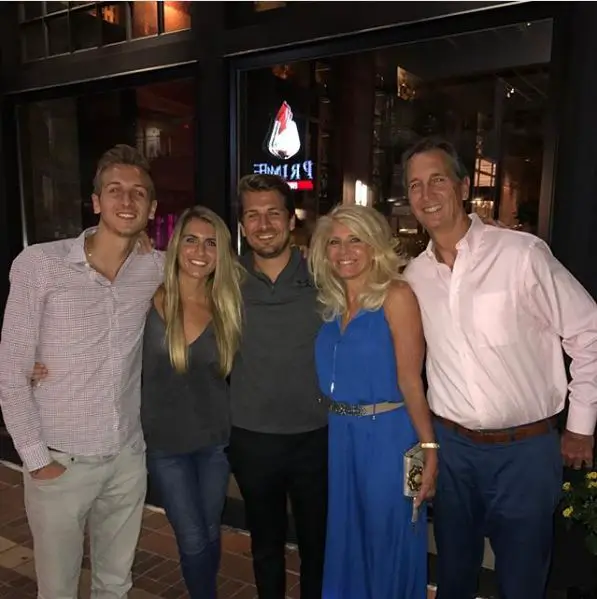 Cris Collinsworth alongside his wife and children. (Photo: Cris Collinsworth's Instagram)
Austin, most famous of the four, recently called it quits on his successful football career. Ashley has run track in Harvard, and Jac Katie has preferred media as their career destinations, with Jac following his father's footsteps and joining ESPN's Sunday NFL Countdown as a reporter.
Don't miss: ESPN's Jay Williams & Wife First Baby Daughter, Amelia Is Extra Significant
Talking about his son Jac's broadcasting career to Sporting News in 2016, Cris mentioned how talented his son actually is.  
"You hear people say, 'Oh, he's just such a natural. Yeah, he's got some natural skills, or he wouldn't be able to do it.' But he's been doing it for seven years. Most people who are 'naturals' have been working at it for a long time."
With his four children now set on their own career paths, Cris, a proud father, and a loving husband continues to dedicate his time to his broadcasting duties, whilst separating time for his family as well.