News
NBA Player Tyus Jones, Still Dating With High-School Girlfriend Alyssa Goehner
From a prodigy at Apple Valley high school and Duke University to being deemed the brightest prospect of NBA, Tyus Jones, has tiptoed pass all phases of a fairy-tale evolution.  
In this course, he has been indulged with numbers of squads and partnered with all sorts of teammates, but none functioned as efficient as his teaming with a beloved girlfriend who has been in his life with all the love, affection and morale-boosting words that he needed in the ups and downs of his life.
NBA Star Jones' Supporting Girlfriend, Together Since Pre-school
Tyus' girlfriend since high school, Alyssa Goehner, is an avid volleyball player, an outside hitter, with determination to make it into the U.S national squad someday. Following the footsteps of her mother, she was a standout at Lakeville North High School and has been taking the form along with her to the University of Minnesota, a.k.a. Gophers.
Like Tyus, she too hails from the Minnesota region and was the highly recruited high school athlete.
Well, ultimate support for Tyus is his girlfriend Alyssa. You can't find couples that are glued together as strong as this lovebirds. Their similar upbringing and identical passion for sports explain how their relationship must have evolved.
You must be pretty familiar with the beautiful lady that hopped the fence and made it to the base of the elevated court to hug the then Duke's player, Tyus Jones, at the end of the match against Wisconsin. That must have left you wondering who the lady was.
See Also: Nick Young Turned Girlfriend Into Wife Amid Cheating Gossips? Personal Status Now
Even at the time when Tyus left the state to play for Duke in 2015, she was quoted heaping praise on him,
" It's cool to hear his stories about how he's doing down there. He'll do great things. I'm really excited for him."
The 6ft 2 inches tall Timberwolves basketball player makes an adorable pair with the gorgeous Goehner, who stands roughly 5 ft 11 inches tall. It feels like ages have passed since they commenced dating, and they will hopefully keep the flames burning forever.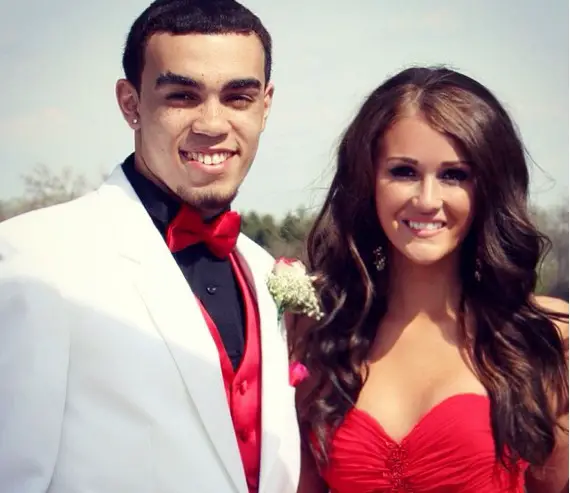 Tyus Jones with his girlfriend, Alyssa Goehner. (Photo: people.com)
It has also come to light that Alyssa is already a mother of her 1-month-old daughter Skylar Teagan. It is not known if she shares the baby with Tyus or not as Alyssa has not opened bout it yet.
It turns out she is currently silent regarding the matter. Adding to it, she also has not revealed her current relationship with Tyus. Well, they might still be together as there has not been any news of their separation. 
Flirting with Kylie Jenner:
The three-time Minnesota AP Player of the year was recently in buzz when he apparently teamed up with the Duke mate Jahlil Okafor to hit on Kendall and Kylie Jenner using Fetty Wap's "Trap Queen" lyrics. Neither the celebrity sisters nor his girlfriend Goehner has reacted on the matter. She won't be minding that, will she?
NBA Star-in-Making, Net Worth 
Jones, who idolizes the legendary Michael Jordan, inherits the lofty height and caliber from his 6 feet 6 inches tall father Rob and other members of his family, who too have tried their hands at playing basketball professionally. Foxsports reports that it was actually his family's basketball competitiveness that boosted Tyson Jones' rise.
Along with another significant player Quinn Cook, Tyus played a great role in the title-winning NCAA campaign of 2015 bagging the NCAA final fours most outstanding player in the process.
Once inducted into the national class of 2014's top-ranked basketball player by ESPN, Jones has managed to live up to the expectation. With stellar performances in three gold-medal winning FIBA campaign for US age level squad of U16 (2011), U17 (2012), and U18 (2014), he seems to be knocking at the door of the senior team for now.
The twenty-year-old, who was drafted as the 24th overall pick (in the 2015 NBA draft) by Cleveland Cavaliers before his move to Minnesota, has many accomplishments in his career. 
Read More here: Brynn Cameron Age 31 Deals Strange Blake Griffin Issues As She Sues For Compensation
His is still connected with a contract to the Minnesota Timberwolves. While his time there, he has added many numbers to his stats. He was also named MVP of the league in 2016.
Well, in 2017–18 season Minnesota Timberwolves entered training camp with just Jones and his fellow team-mate Jeff Teague at point guard as they traded Dunn and LaVine away. 
Valued at $85.5 million in the market, Tyus Jones is said to have earnings of $4,093,142 and the average salary of $1,634,299. Such a grand amount for a lad who has just stepped into his twenties is remarkable but simultaneously, a deserving deal as well considering how good a player he is.