News
Sheherazade Goldsmith Splits With Director Partner, Why? Answer's Here
Another Day In Hollywood, Another High-Profile Split!
British environmentalist-cum-Jeweler, Sheherazade Goldsmith and her Mexico-born partner, Alfonso Cuaron have called it quits.
Sheherzade, age 44, and Hollywood director Alfonso Cuaron have terminated their relationship, as reported by Page Six. A source close to the former flames revealed,
"I believe the official line is that they are no longer together."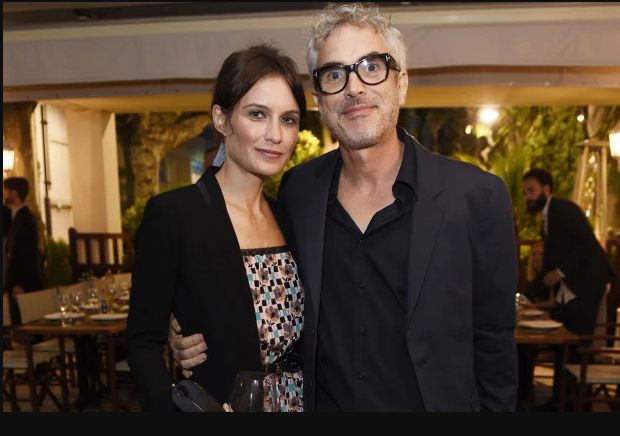 Sheherazade and her former partner Alfonso smile for a snap (Photo:- pagesix.com)
For many, Sheherazade and the Oscar-winning filmmaker's break-up comes as a surprise. Romantically linked since 2014, the former lovers had opted to maintain a low-key relationship.
Don't Miss:- Lori Allen And Her Blissful Married Life With Partner Husband And Children They Both Share
Throughout their courtship, the estranged couple supported each other's professional endeavor to the point that Alfonso even filmed Sheherazade's a minute and a half long ad for the latter's jewelry line in 2015.
Speaking to Vogue later that year, Alfonso, age 52, described his then-partner Sheherazade as "tough." The Gravity director quipped:-
"She's a tough boss, Sheherazade, but it's very easy to be inspired by her."
Neither Sheherazade nor her ex-lover Alfonso has publically acknowledge the split just yet. With that being said, it's not a far-fetched idea to assume that the pair's relationship eventually ran its course which culminated in them parting separate ways.
Either that or the pair's hectic schedule coupled with their "baggage" from previous marriages eventually caused the strain in their once blossoming romance.
The Brit-born jeweler was previously married to Conservative MP Zac Goldsmith. Married in 1999, Sheherazade and her ex-husband have three children together, namely -- Uma, age 18, Thyra, age 16, and James, age 16.
The couple eventually separated in 2009 causing Zac to lose a fortune as he was forced to sell his £7 million worth estate in Devon to pay for the divorce settlement.
Read Also:- Pete Davidson & Girlfriend Ariana Grande; Engaged To Split Details | Reason
Likewise, her former partner Alfonso is also a father of three children, namely -- Jonas, age 37, Tess, age 14, and Olmo, age 13. Jonas was a result of Alfonso's marriage to his ex-wife Mariana Elizondo (1980 - 1993), whereas, his remaining children were born to Annalisa Bugliani.
The Children of Men director and his second wife Annalisa were together for seven years, before severing their ties in 2008.
Alfonso's newest project Rome - the semi-autobiographical story of his upbringing in Mexico City in the 1970s - earned huge praise at the 2018 Venice Film Festival and even won the coveted the Golden Lion award at the said festival.
Unsurprisingly, the mentioned movie is Mexico's offering for Best Foreign Language Film in this year's Oscar.