Trending
The Bliss Of Married Life: Journalist Gio Benitez And His Gay Boyfriend, Tommy DiDario, Wife?
Love, such a sweet emotion that living beings feel. We bet you've fallen in love too. Caught you! They say Love sees no flaws or the outer beauty. Love can happen at any time to anyone with anybody and a second is enough for that. Today we are going to share a beautiful love story of two handsome guys and their journey to marriage.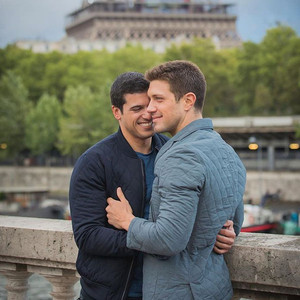 Quick Information
Wedding Date

April 16, 2016

Eye Color

Dark Brown

Hair Color

Dark Brown

Hair

Short

Weight

N/A

Height/ How Tall? 5'7" (1.70 m)
College

Florida International University (2008)

High School

Miami Coral Park High School

Career

2009-present

Net Worth

Not Disclosed

Dating/Affair

No

Gay

Yes

Date of Birth Oct 29, 1985
Divorce/Split

Not Yet

Husband/Spouse

Tommy DiDario (m. 2016)

Relationship Status

Married

Children/Kids

Not Yet

Sister/s

1

Ethnicity/Race

Mixed

Zodiac Sign

Scorpio

Birth Name

Giovani "Gio" Benitez

Profession

Broadcaster

Birth Place

Miami, Florida, United States

Nationality

American
Love, such a sweet emotion that living beings feel. We bet you've fallen in love too. Caught you! They say Love sees no flaws or the outer beauty. Love can happen at any time to anyone with anybody and a second is enough for that. Today we are going to share a beautiful love story of two handsome guys and their journey to marriage.
You remember Gio Benitez from ABC news right? A little bit? That's alright; we'll make it easy for you to remember. Gio Benitez is an American broadcast journalist and ABC's correspondent. You remember a little more? Another piece information for you now. Gio also appears on Good Morning America, World News Tonight, 20/20 etc and, he is also the co-host along with Kimberly Brooks of the Fusion version of Nightline which is a source of news for the younger generation. Now you fully remember him we guess.
So moving on, we were here to talk about him love life. Oh by the way, did you know Gio shares a gay sexual preference.That's a sad news for some ladies out there who wished to be a wife to this handsome guy. Anyways, it's no surprise that he has a boyfriend and not a girlfriend. Actually, Gio is a married man. So, our part of telling a love story starts from this point. Stay with us because this is one romantic love story that we do not get to see so often.
Gio Benitez is currently a husband to his longtime boyfriend, Tommy DiDario. Tommy is a men's lifestyle blogger, an actor who appeared in Broadway City (2014) and a model. However, Tommy has his own way of describing himself. In his Twitter information bar, he says that he is "adventurer, lifestyle writer & advisor, brand storyteller, health fanatic, advocate for love."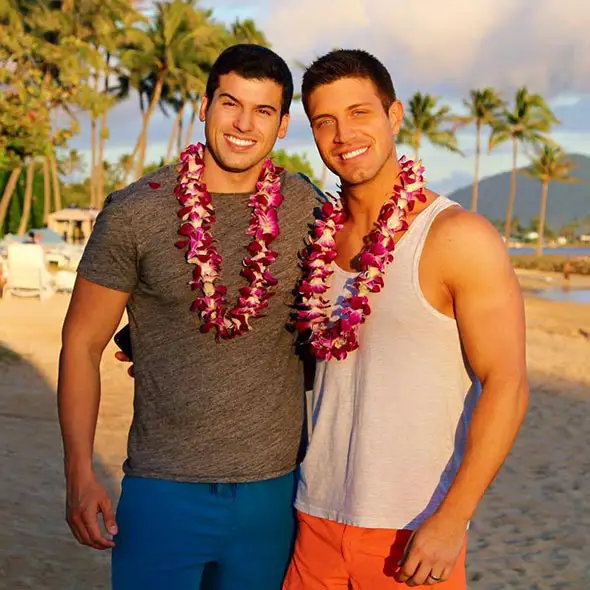 Caption: Gio Benitez & Fiance Tommy DiDario Vacation In Hawaii
Source: instinctmagazine.com
The couple got married in Florida's English-style Walton House in Miami, Florida, which is Benitez's hometown. Thinking about how and when these two met for the first time? We got that too.
The couple met for the first time through a social media called Instagram in January of 2015. Benitez exclusively talked with PEOPLE. He said,
"We're both avid users of social media, so we had a perfectly modern first meeting: on Instagram,"

 "We decided to meet for a drink and that's when we both realized this was more than a 'like' online. The chemistry was instant." 
He continued,
"By date two, the more we talked, the more we stared into each other's eyes – completely aware that this was becoming far more than a crush. For the first time in our lives, we were experiencing true love, and that's where the adventure started. From that moment on, we were inseparable – jumping on planes for random weekend getaways, experiencing everything N.Y.C. has to offer, visiting every zoo or aquarium we came across, and admiring the life around us ... and the life we've now shared."
After eight months of dating, Gio finally was fully ready to ask Tommy for a huge lifetime commitment. The way Gio proposed Tommy is undoubtedly every girl's dream. They were in Paris with the Eiffel Tower as their backdrop.
Gio had a secret photographer hired already to capture one of the most amazing, memorable and meaningful moment of their life. Gio dropped on one knee and said "Time is what's left behind in the wake of love," and proposed Tommy.
Now, tell us yourself, who wouldn't say 'yes' to this kind of wedding proposal? Like it was meant to be, Tommy said yes, and the couples are married now.
So, stepping back into their marriage. The couple exchanged their vows in front of a hundred and sixty friends and family which had many celebrities like Sam Champion and Shepard Smith, who share the same gay sexual preference as Gio and Tommy. It was a wedding like in a fairy tale and Gio revealed his favorite and most memorable moment from the wedding. He said that walking down the aisle with his mother shortly joined by Tommy and his mother was truly mesmerizing. He said,
"I think my absolute favorite moment was walking down the aisle to Jake Coco's cover of 'Your Song. Tommy walked out with his mom and I walked out with mine, and we met at the aisle, held each other's hands, and all four of us walked down the aisle together. It was the ultimate joining of families that moves me so much. I still get emotional thinking about it."
Here are some of the photos from their marriage. Have a look.
When they were officiated by Gio's sister
 The wedding kiss.
Their first dance to 'Can you feel the love tonight'
A picture with the wedding photographers themselves.
When all the guests sang together to their first dance song. It was just magical.
So, the two lovebirds are married couple now and are having the time of their life. Enjoying and exploring in every way they can.
Never let go.
What a beautiful photo bomber. 
Those priceless expressions on their faces. 
A picture with Mini and Mickey mouse. 
 A dream castle.
Flying back to work with life long memories. 
Wasn't this a great story of love that had no fear what people would say. We learned our lesson from here. The question is 'Did you?'. We think you did so, go and tell the person who you love secretly, who knows, they might love you back.
We just hope nothing but the best for the couple in their upcoming years and may they live happily always and forever. You can also share your thoughts and wishes in the comment section below.
Born on October 29, 1985, Gio Benitez, 31, is a graduate of Florida International University with a Bachelor of Arts in Anthropology and Sociology. He has won two regional Emmys and has been nominated for many other titles.
Prior ABC, Gio was a reporter for a CBS owned and operated TV station which was WFOR. He is also known as the first ever reporter who filmed an entire TV story with an iPhone. In 2013, Gio joined ABC news and is working as a reporter/broadcaster.