Sports
Allen Iverson's Shocking Brand Deal That Will Make Him a Multimillionaire in 2030
Recently honored as one of the 75 greatest players in NBA history, Allen Iverson boasts a massive net worth for his prolific performance during his NBA career.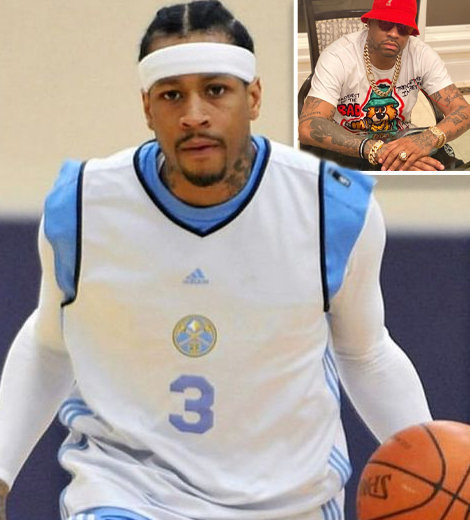 Allen Iverson, who was recently honored as one of the 75 greatest players in NBA history, boasts a massive net worth for his prolific performance during his NBA career. 
A professional basketball player, Allen has many arrows in his quiver. Sure, his basketball career adds millions to his net worth but what is more intriguing is his earnings through brand endorsements. 
Allen Iverson's Net Worth
During the start of his career, Iverson had already shown how bright his future was going to be.
From winning the NBA Rookie of the Year award (1997) to being named one of the 75 greatest players of all time by the NBA 75th Anniversary Team, we all are cognizant of how amazing Allen's career has been. 
He was selected by the Philadelphia 76ers with the first overall pick. He was a formidable opponent in all the matches, and with his outstanding performance, he was again recognized as NBA Most Valuable Player of the 2000-01 season. 
Another Philadelphia 76ers Player: JJ Redick's Rock Solid Stats That Had Him a Sweet 1 Year Contract And A $23 Million Deal!
After being in the career for over a decade, he retired from the Philadelphia 76ers in the 2009-10 season, eventually retiring from basketball completely in 2011 with Besiktas. However, his official announcement was on October 30, 2013, where he stated that he had lost his desire to play.
He retired with a total career net worth of $155 million. His first contract with the 76ers was for $2.2 million, and the amount was almost ten folds when he signed a contract with Detroit Pistons in 2008-09 for $20.8 million (He joined 76ers again for 2009-10 season).
Being a prominent sports personality, he has endorsed brands such as Reebok, IO Moonwalkers, Packer Shoes, Stance, etc. 
But what is the most interesting among all is his deal with Reebok, which his fans might be aware of.
For those who don't know, his endorsement with Reebok lands him $800,000 yearly for the rest of his life, and when he turns 55, he will be eligible to receive $32 million (trust fund) from the brand. 
It is a very clever move by the player as he is a retired player now, and this amount will be helpful to him for his future investments and to back his life for years to come. 
According to CelebrityNetWorth, his net worth is $1 million, which will significantly increase after he receives his trust fund in 2030. 
A very successful sports star, Iverson, age 46's, personal life is as rewarding and fulfilling as his professional front. From living life alongside a partner to having five children, Iverson has to be one of the luckiest alive. 
Allen has his own way of expressing his love for the stuff he cares about, his tattoos. With over 35 tattoos on his body, each of them has an important meaning to his life. 
Allen Iverson's Tattoos
Iverson has 35 tattoos or more, all of which are very coherent. However, his tattoos are not the only aspect of him that people know him from; Allen is also known for his classic braided hair.
Allen's braided hair was a substantial portion of his look back in the day, but he cut it off in 2009.
Back to his tattoos!
He has a tattoo 'RA Boogie' on the right side of his neck, which shows remembrance of his childhood friend Rahsaan who has shot. He has also named one of his sons after his late friend.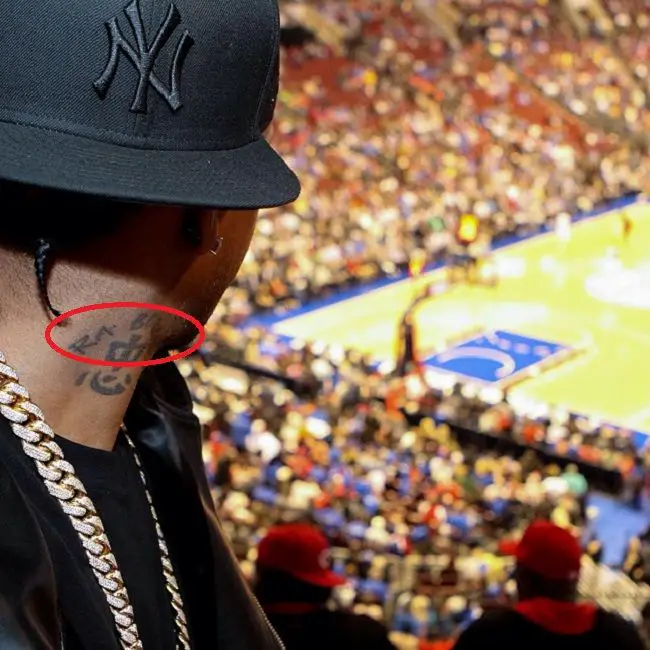 Allen Iverson's Ink Dedicated For His Late Friend (Source Instagram)
The name 'Rahsaan' is also inked on his left arm.
Allen has another ink named 'Virginia Slim,' which is a homage to his roots and where he came from. He also has a tattoo dedicated to his ex-wife. His ink on the right side of his stomach reads, 'Tawanna.'
He and Tawanna Turner were high school sweethearts and eventually married each other; however, they divorced each other in 2013, but LiveRamp Up has reported the two couple to be still together, just not married. 
His other tattoo and the last of our bunch is his praying hand's ink that is on the left side of his chest. The design lies between his mother and grandmother's initial as they have been a big part of his life. 
There are other various inks on his body that represent a consequential meaning, and to say the least, they just make his appearance more alluring.