While Amber Lancaster is surrounded by divorce rumors, not having seen her post of her husband on her socials raises a big question, 'is Amber lancaster still married?'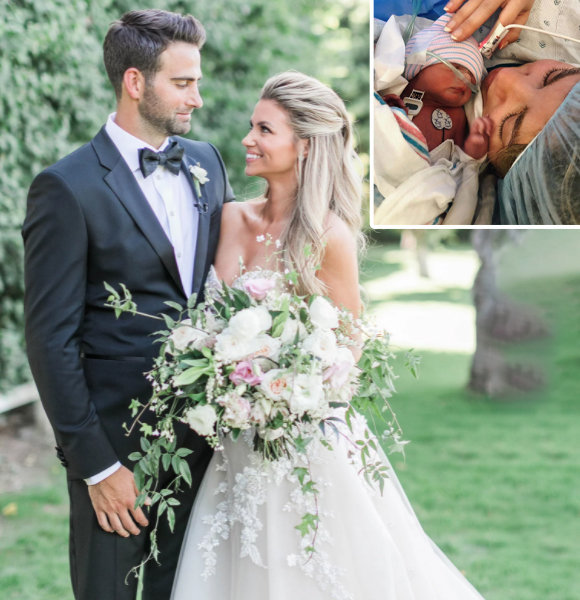 American model and actress Amber Lancaster's social media is flooded with pictures of her son, but not seeing her make any uploads of her husband has her followers curious if she is still married.
More so, her husband's absence on her social media following the rumor of him cheating on her somewhat hints at their separation.
Is Amber Lancaster Still Married?
Amber's glamorous wedding with her husband A.J. Allodi in 2017 remained the talk of the town for a while, which even hit headlines of several top-rated magazines.
As The Price Is Right model has maintained transparency about her personal life with her fans through her online presence, not having seen the pair together for a long time sparked the rumor of their divorce.
Reportedly, in 2019 the couple went through turbulence in their relationship. The rumor has it that A.J. cheated on the model resulting in their separation.
However, none of the pair ever addressed their separation directly, and it is yet to be confirmed. But, seemingly, the couple remains parted currently.
Although their current relationship status remains under shades, their wedding ceremony was indeed a memorable one.
As covered by People magazine in October 2017, a few glimpses of their dreamy marriage ceremony shared by the magazine certainly came as a treat to several of the pair's well-wishers.
The couple's wedding pictures filled with smiles and happiness spoke for itself how thrilled they were to start their journey together as a family.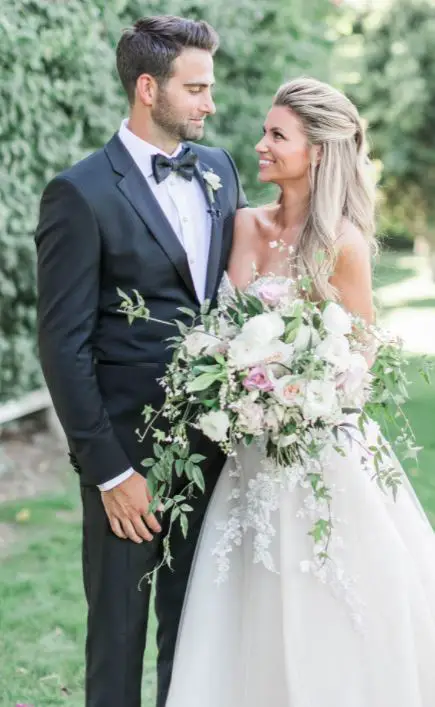 Wedding photoshoot of Amber Lancaster and her husband, A.J. Allodi (Source: People)
In the wedding held in the mesmerizing venue of Palm Spring, California, Amber looked stunning in her sweetheart-necked strapless gown that swept the floor with its long-tail flare, while A.J. looked chic in his black suit matched with a black bow tie.
Sharing the excitement of the wedding, the pair remarked saying,
It was the most incredible day spent with the people we love the most. We couldn't have asked for anything more.
Attained by a limited number of guests, mainly their close friends and family, the event was spectacular and filled with love.
A couple of years later, the pair made a sweet addition to their family of two, welcoming their son, Russell.
Love life of - Steph Pappas's Instagram Feed Tells All About Her Newfound Love Life
Amber's Son Wins the Battle for Life
As they were ready to take on their responsibility as dotting parents, they faced a heart-rendering challenge.
Soon after his birth, their newly born was diagnosed with a medical condition, leading the little one to go through an open heart surgery when he was merely two and a half months old.
The level of pain the pair went through as parents might have been excruciating. But the tough little guy made it out of the tunnel and now lives a healthy life bringing smiles to his parents' faces.
Celebrating the second year of Russell's successful heart surgery, the dotting mother took to her Instagram to share what a transformative couple of years it had been.
Reminiscing the hardships of the past years, Amber shared an adorable video clip of her son surviving the battle and paired it with her heartfelt words that read,
Happy 2 year heartiversary to my little warrior. I may have a horrible memory, but I will never forget this day in my entire life...Russell underwent open heart surgery at 2.5 months old...I promised myself I would always share his story so that anyone else looking for hope could maybe find some solace in something as simple as a post on Instagram.
Now that her son is out of danger, she does not miss any chance to spend as much time with her little warrior and cannot stop being grateful for the times she gets to spend with him.
Likewise, Amber's husband is no less in showering his 'special boy' with all the love he has to offer. Sharing his fatherly love for the little survivor, he wrote,
I've been in awe of you since day 1 and every day since. You're such a special boy, Russ and there's nothing better in this world than being your dad. Love you, Bubs.
Though the couple might be parted, which remains to be confirmed, their unwithering love for their child will keep them connected for the rest of their lives.
With the recovery of her son and flourishing professional life that has garnered Amber a hefty net worth of 500 thousand dollars, as reported by CelebrityNetWorth, life could not be any better for the actress and model.