Celebs
One Man, Many Look Alike - All on Andy Samberg's Look Alikes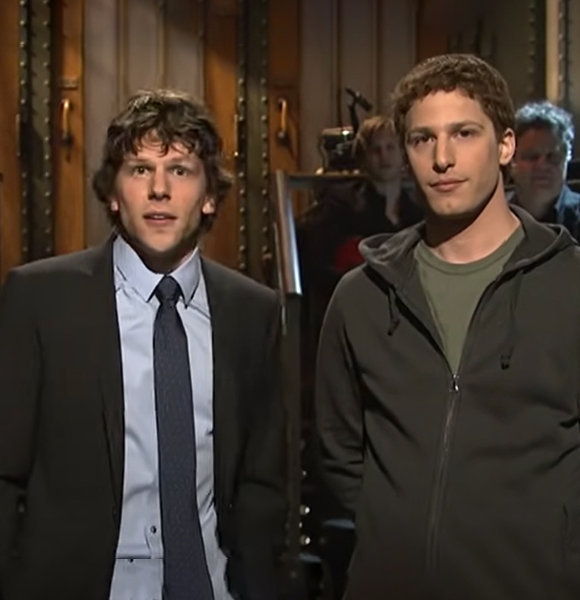 A smile that captivates million, such is Andy Samberg's enchanting smile.
There are no compromises when it comes to his out-of-par acting skills and there are very rare people who can come relatively close to having an identical professional front as him. But despite his unique career, he has his share of commons with few of the industry which cannot go unnoticed. 
And by common, we mean look alike. As unique as his personality and craft as a comedian and an actor are, his facial structures, however, confuse many.
Who Is Andy Samberg's Look Alike? 
To not confuse anyone, this personality has worked in the comedy music group, The Lonely Island and was a member in SNL (Saturday Night Live) for a good seven years, but most predominantly he is known for his role in NBC sitcom 'Brooklyn Nine-Nine' and Jake Peralta in the Fox. 
Samberg is also a producer for 'Brooklyn Nine-Nine,' aside from playing a major role. So now that clears much on who he is let's discuss who people confuse him to.
 He is known to be associated with Jesse Eisenberg, his replica. 
While the striking resemblance in these two personalities can be seen quite literally, they however are not the same people.
His look alike, Jesse Eisenberg, is also an actor, producer, and writer (coincidence much?), and he also has his fair share of roles in comedy-drama such as 'Roger Dodger' and 'The Squid and the Whale'.
This is getting very bizarre!
And the most interesting of it all, the role that Jesse Eisenberg played as Mark Zukerberg in 'The Social Network,' which also earned him nominations for the Oscars, BAFTA, and Golden Globe was a role that Samberg wanted to play, but the Academy Award-winning film was already given to Jesse.
Well, had he auditioned for the role alongside Eisenberg, the producers surely would have a hard time selecting one for the role. 
Well, as much replicas as they are, they surely could do different shifts in between, right?
Jokes apart, the Prime Time Emmy Awardee, Samberg, has multiple times played Mark Zuckerberg in Saturday Night Live,, and there was a particular episode where the three shared the same screen. 
Jesse Eisenberg, Mark Zuckerberg, and Andy Samberg Sharing Same Screen On SNL 
Reminds us of that one spiderman meme (You know what we are talking about, right?)
And yes, we added Mark Zuckerberg in on of his look alike as well, well not exactly, but hey, the fact that Samberg can play Zukerberg does say quite a lot. 
This Might Interest You: Who Is Priscilla Chan? Mark Zuckerberg's Wife New Details
Adding to the list of look alike, some people do feel that the Canadian actor Michael Cera looks similar to the 'Brooklyn Nine-Nine' actor, but all in all, Jesse Eisenberg still takes the cake.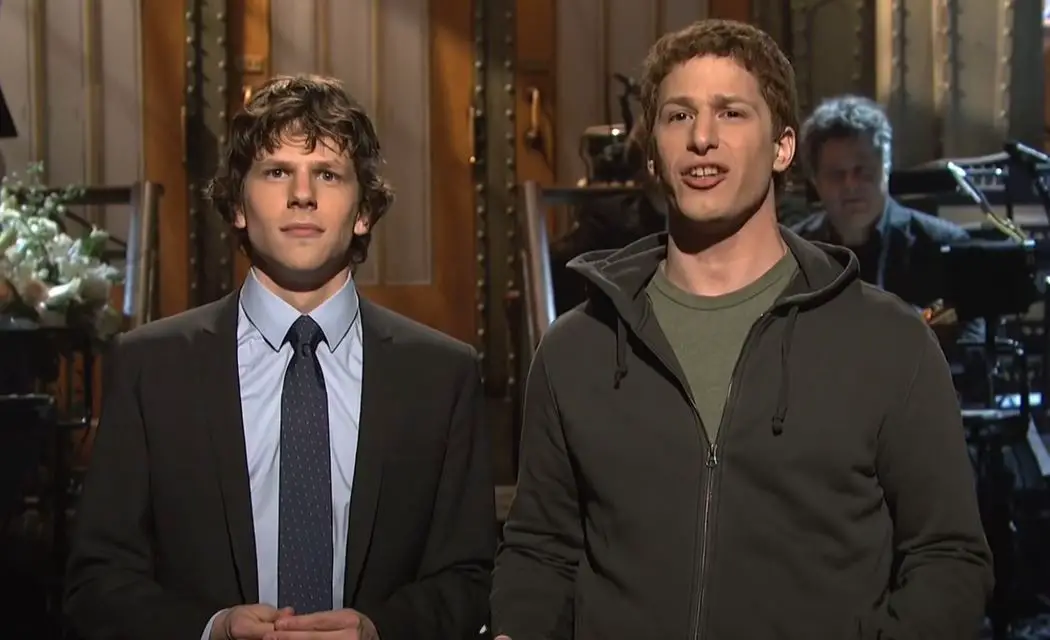 Andy Samberg And His Look Alike Jesse Eisenberg (Source - Youtube)
After all, no one can say otherwise on Eisenberg and Samberg being twins. 
Wait... 
THEIR SURNAME KIND OF RHYMES TOO!
Talking about memes, there has always been a whole social media joke about how he, Michael Cera, and Jesse Eisenberg are each other's look alike, and the funny memes regarding this whole social media gag are one not to miss. 
Andy Samberg And His Look Alike Meme
Well,  guess the credit for the spiderman meme really goes to these three personalities. In 2020, a meme went viral of a video comparing Andy's and Jesse's facial structure, and the resemblance is purely evident. 
Moreover, there is a whole Facebook page dedicated to Michael, Andy, and Jesse with the name, "Michael Cera + Andy Samberg = Jesse Eisenberg."
The page was made around 2010, and well, this person surely was way ahead of their time. 
There are many people who agree that the three should play on a time travel movie playing the same characters with different age roles. 
The last of our bunch, a meme sectioning the three in different levels like a game character. 
All jokes aside, each of the three is brilliant on their own and exceptionally talented. Although their facial structures might have a striking resemblance to some, their talent and craft are unique, making each of their personalities shine differently. 
As of 2021, Samberg has also been nominated for the Primetime Emmy Awards.