Angus Young's love story with his wife of several decades is something of a rare sight in the show biz.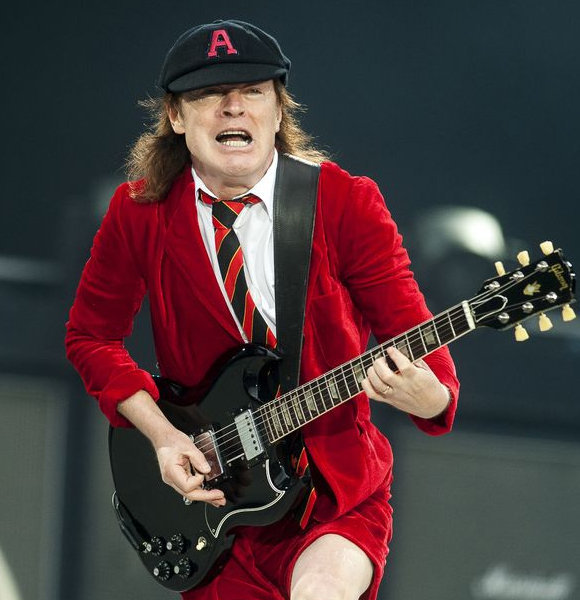 In the industry where long-lasting marriage is a rare sight, the AC/DC rocker Angus Young is amongst the rare ones whose blissful marriage with his wife has crossed a four-decade milestone. Well, it's all thanks to Angus's wife's guitarist friend who brought the pair together.
Angus Young & His Wife Of Four Decades
The rock phenomenon Angus Young's love story dates back to 1980 when he met his wife, Ellen van Lochem, a.k.a. Ellen Young, for the first time in a concert in the Netherlands performed by Angus Young.
While the pair keep their distance from the media keeping their details private, a friend of Ellen, Adrian Vandenberg, shared a sneak peek of how the couple's romance came to be.
Talking in a podcast, White Line Forever, the guitarist Adrian said that he was the one who introduced Angus and Ellen in the first place.
While Adrian was at the age of twenty-one and had just begun playing for the band TEASER, the guitarist and his band were invited to an AC/DC concert to fill in as a supporting band.
At the time, Ellen, who was friends with Adrien, asked him to put her on the guest list of the AC/DC concert, which he did. Adrian said,
I told their bodyguard there's going to be three blonds, very tall chicks coming up in a little bit backstage. Wouldn't it be funny to introduce them to the guys in AC/DC, you know, because they were all pretty short.
He added,
Ellen called me up a couple of weeks later and said, 'Guess where I am?' She was in Paris or something, and a year later, they were married.
After Ellen got the chance to meet Angus backstage at the concert, it did not take too long for the pair to click, and the next thing you know, they were married and were traveling places together.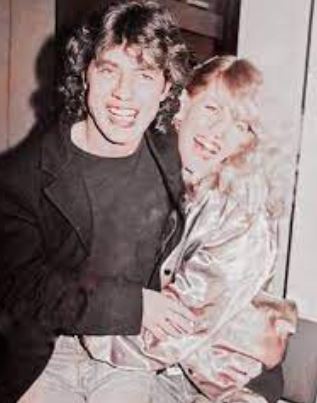 Angus Young and his wife, Ellen Young (Source: FanPix)
Their ever-lasting love remained intact through four decades, with several more years to come. Despite their decades of togetherness, they have not expanded their family of two to this date. 
Moreover, the couple has maintained a relatively private life when it comes to their personal affairs. But their remarkable love life, which remained unaffected by years of public attention, is the story worth talking about.
Do you know what else about Angus is worth talking about? - his breath-taking net worth he earned through his legendary music career.
What Is Angus Young's Net Worth?
If you are well-aware of the legacy of Angus Young, the guitarist of AC/DC, you will probably not be surprised by his massive fortune.
As per the net worth reports by Celebrity Net Worth, Angus Young is entitled to an impressive wealth of 160 million dollars.
The primary source of his income includes the dozens of record sales of AC/DC and their jam-packed concerts tours.
His multi-million dollar assets include his residency in the Netherlands and his gigantic collection of guitars.
Apart from making big bucks, the rocker makes good use of his fortune through charity.
In 2019, Angus donated 19 thousand dollars to a Canadian fan's charity fund to help people with Alzheimer's.
Get to know - Get Ready To Be Blown Away By Dhani Harrison's Net Worth
More On His Family & Personal Details
Born on March 31, 1955, the guitarist grew up with his family in Scotland.
As life relatively became difficult for the Young family in Scotland after the big freeze of 1963, Angus and his parents and siblings left the country the same year.
Moving to Australia, Angus began exploring his musical talent as a banjo player and later switched to guitar.
Having played in a local band for a while, Angus formed AC/DC with Malcolm Young in 1973.
And decades later, the band is now considered one of the most influencing rock bands in music history.
Angus's incredible talent with his unique showmanship has such an influence that fans even got tattoos of Angus inked on their body as a symbol of respect. Moreover, the rumor has it that Angus himself has a tattoo of his face on the back of his thigh.
Whatever may be the case, the guitar has marked his place in history as one of the most impactful personalities in the music industry.