Entertainment
Annie Potts Finally Found The Love Of Her Life During The '90s
Annie Potts, a famous actress, is in a long-term marriage with her husband, but she had to endure a series of failed relationships to find ultimate happiness.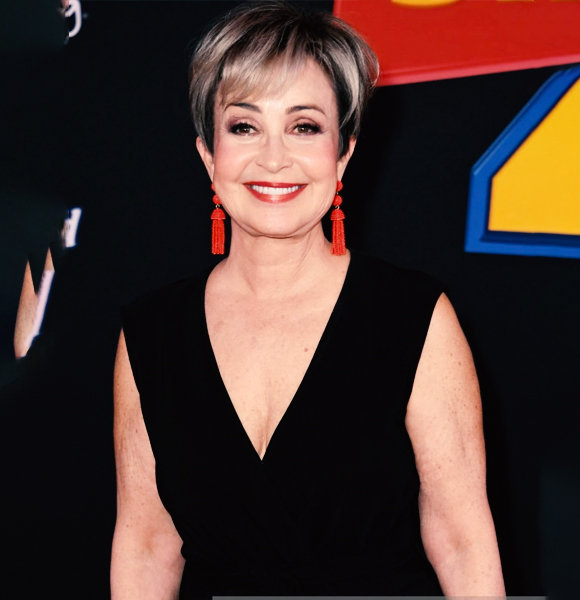 American veteran actress Annie Potts, famously known for her Ghostbusters series, has had a fair share of multiple failed relationships, but she finally found her perfect partner during the '90s. 
Life With Husband
After a series of unfortunate divorces, Potts finally found happiness with James Hayman. The Corvette Summer star tied the knot with her spouse on September 2nd, 1990. While talking to Closure Weekly about her upcoming role on Young Sheldon, she was asked about her marriage. 
"Because right away he loved my son. I had an eight-year-old  when I met him." 
Recalled the actress on how she knew that her now-husband was number one. 
She expresses how James accepting her son (from her previous marriage) was the best thing about him as it was essential for her partner to accept her family just as much as he would accept her. 
Further adding, she said, 
"When you fall in love with somebody who comes into your surroundings when you have a kid already, [they] have to love both of us. He was so willing to do that. We were instantly a family, had two more sons together and a very happy life." 
After getting married in 1990, they were blessed with their first child, James Hayman (Doc Hayman), born on May 28th, 1992, and Harry, born on December 27th, 1996. 
James is a director and a producer. He is also the producer of the show NCIS: New Orleans. 
More On NCIS: New Orleans Actor: 'NCIS: New Orleans' Lucas Black Wife, Children & Family
The two are extremely career-focused individuals, which means that they often don't have time for themselves. 
Despite all the challenges in their professional front, the two have found a way to balance their professional life. 
While talking to Long Island Magazine, Potts revealed that they had not lived together since 2012. 
However, the perfect couple finds any free time and goes on epic vacations with their kids together. The Pretty In Pink actress said, 
"But we have a long history of supporting each other's work. And we do have epic vacations when we're on hiatus and take our kids with us when we can."
Nevetherthess, the couple's love for each other is clearly evident on their social media. Potts never lags on sharing her husband's work and support him in any way possible. 
Life has been stagnant and wonderful for the 68-year-old actress. However, this was not always the case. Her marriage with James is her fourth marriage, as her last three weren't so fruitful. 
Potts's Failed Marriages
Annie's first marriage was with her high school sweetheart, Steven Hartley, at the age of 20. But due to misfortune, the two landed in a car accident in Mexico that landed them serious injury.
While Potts was exposed to multiple fractures and trauma of a lifetime, her spouse of the time lost his legs. 
Soon after, their marriage started having problems, and the two called off their marriage in 1978. 
Potts then married actor Greg Antonacci shortly after in the same year, but her marriage with the actor lasted for just two years. 
Unfortunately, Antonacci breathed his last in 2017 at the age of 70. 
She then got married for the third time to Scott Senechal in 1981, and this time, things did last, but not for too long. The pair were married for 8 years and had a child together, Clay. 
Clay Senechal is equal parts the son of Annie and James as the rest of their children. Pott then finally found the love of her life in her now-husband and got married to him.
She is now married to James for about two decades, and things have never been better. 
On July 13, Annie was blessed with a grandchild from her oldest, Doc Hayman. 
"We are THRILLED!" 
Wrote the actress while welcoming her first grandchild, Cassius James Hayman, on her Instagram account. 
Who Is Annie Potts? 
Originally born as Anne Hampton Potts on 1952, Potts is a widely renowned and respected actress. 
Starting her career in 1977, she has played in over 50 television series, including Grey's Anatomy, Young Sheldon, Scandal, etc., and in almost 30 movies, including Ghostbusters, Breaking The Rules, Crimes of Passion, etc. 
Another Grey's Anatomy Fame: Grey's Anatomy Camilla Luddington Husband, Boyfriend, Pregnant
With over four decades in the industry, she has rarely taken a break and is still a big name in the show biz. 
She was nominated for the Golden Globe Awards in 1978 and won Genie Awards in 1981. 
She also has voiced in movies such as Toy Story, Toy Story 2, and 4. 
The 68-year-old actress has completed another movie from the Ghostbusters franchise named Ghostbusters: Afterlife, which is set to release soon.