Music
'Tattoos are much more than drawings' Says Axl Rose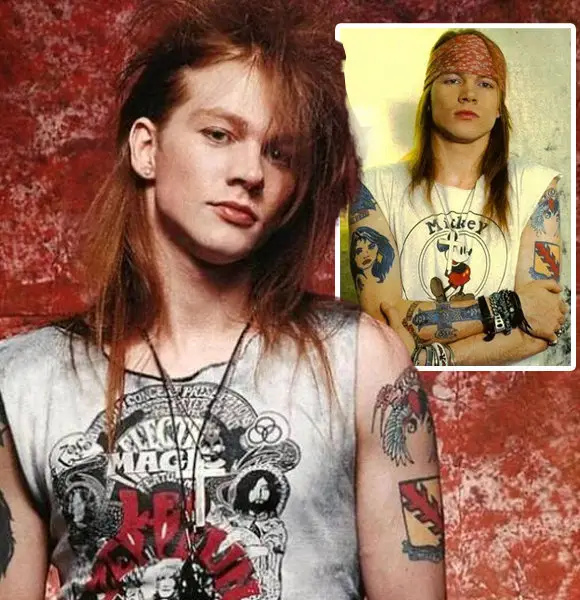 Axl Rose has been part of a band group that has brought revolution and an enormous wave of heavy metal following in the industry. 
He is part of Guns N' Roses, and we do not think any further introduction is needed. A lead vocalist, his tattoos always grab prompt attention whenever he is performing or on screen. 
He has got many striking inks on his arms, and all of them have an important story to tell. 
Axl Rose's Tattoos 
One of the biggest bands ever, Guns N' Roses's lead vocalist, the 60-year-old, is widely known for his association with the band since its establishment in 1985. 
It won't be much to say that the band actually revolutionized heavy metal worldwide and, to this day, is a very widely followed group whose legacy is truly unmatched and unparalleled. 
Likewise, Rose has an ink as a tribute to his band as well. He has ink for every step of his life, and he believes that it is not just drawings. 
"Tattoos are much more than drawings," he started in an interview.
He said that the "drawings" represent significant stages of his life because those are marks that will remain "forever in your body."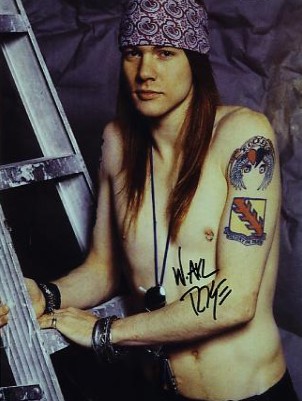 Axl's ink designs on display (Source Feelnumb)
Rose has a design of the "Appetite Cross." When asked if the ink signifies his band Guns N' Roses, he replied with, 
Hahaha, it looks like I've got a tattoo for every step in my life, nevertheless, you are right. The "Appetite Cross" personifies, for me, the strength the band used to have.
The first ink he ever got was with the name "Rocker." It was actually a gift given by Chris Weber to him. 
Also Read: Explore Josh Dun's Eye-Grabbing Tattoos
"I think it was the best gift he had ever given me, hahaha. The tattoo represents a face where the wings are the hair and the dies stand for the eyes," he said, further elaborating how the colors of the ink design reminded him of his own.
The name "Rocker" was a song which part of the band Hollywood Rose, his former band. 
Moreover, another important one that signifies much of his life is the design of a black rose with "W. Axl Rose." 
According to him, it symbolizes the end of "Bill Bailey" and the birth of W. Axl Rose.  
Axl was born William Bruce Rose Jr., but he also goes by Bill Bailey. 
More of His Tattoos 
He has a portrait of a woman on his arms as well, but not much is known as to who the woman is. Many believe it was Barbie Von Grief, and some also believe it was his former love, Monique Lewis. 
Axl also has a symbol of Victory or a Death inked in his arms, which he says has ties to Elvis Presley. 
Related To Elvis: "I Mean, Gosh, I Miss Her" Says Pat Boone Remembering His Late Wife
The emblem can be seen in Elvis Presley's military pictures as he served in the Army in Germany. 
If you know him, then you know how much he is a fan of Elvis Presley. So, his ink probably has to have some relation with him. 
Rose's ink designs has always looked pretty in pictures. The colorful and striking inks have always given his personality a shine. 
While we would love to know if he has any other inks on his body, for now, that all seems to be the story of his tattoos.