Sports
Bill Simmons's Family Life with His Wife & Kids
Bill Simmons Lives Quite and Happy Life Alongside His Wife and Kids all while Excelling Towards a Succesful Career.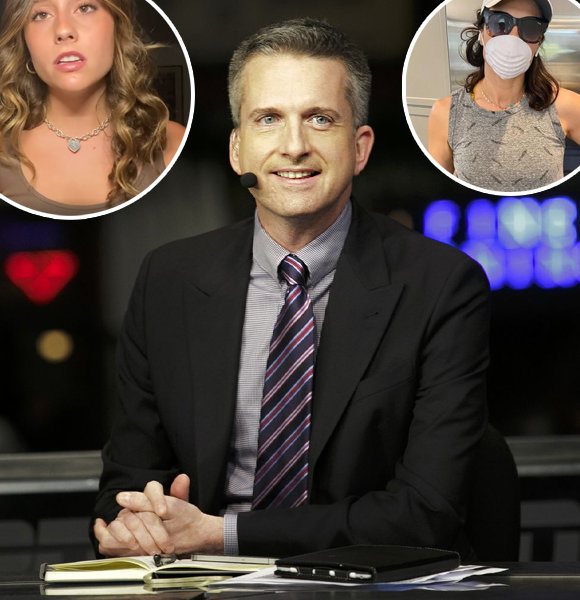 Over the years, Bill Simmons has played the roles of a sports analyst, author, podcaster, CEO, and writer, all of which define his profession. One might wonder how he manages to do all he does on the professional front and still keeps his personal life with his wife and kids unaffected by his professional aspect.
Bill Simmons's Life with Wife & Children 
Simmons lives a fulfilling life alongside a wife and his two kids. He has been married to his wife for two decades now. The analyst married his wife Kari Simmons in 1999, and from their 22 years of marriage, the couple shares two kids, a daughter, Zoe Simmons, and a son, Benjamin Oakley Simmons.
Simmons is quite active on social media with a big following of 383 thousand, and the sports analyst frequently uses his platform to share his daughter's unique singing abilities.
As a proud father, he usually shares his daughter Zoe's amazing display of her musical talent. He shares his daughter's art with tremendous pride, and well, we can't deny that this young teenager is very good at her craft.
While his daughter is a passionate singer, his son, on the other hand, is a WWE fan. He also posts videos of his son's videos of recreating famous WWE moves. 
Another Sports Anchor: Maria Taylor: ESPN Sports Anchor/Analyst, Planning to Get Married? Who is her Boyfriend? Dating?
And finally, coming to the person he has decided to spend eternity with, his wife, whom he also refers to as the 'Sports Gal.' Although he likes to keep his wife out of the media's reach, he makes sure his wife's opinions reach the press.
Kari occasionally writes her own opinions on Bill's columns, and Bill posts his wife's views regarding sports or entertainment time and again under the name of 'The Sports Gal.'
Back in 2020, he took to his official Instagram to wish the heart of the Simmons family, his wife, on the occasion of Mother's day. Wishing his wife on the special occasion, he wrote, 
"Happy Mother's Day to the MJ of the Simmons fam."
Simmons, born to his dad, William Simmons, a superintendent of schools, and mother Jan Corbo, has seen frequent changes in his career.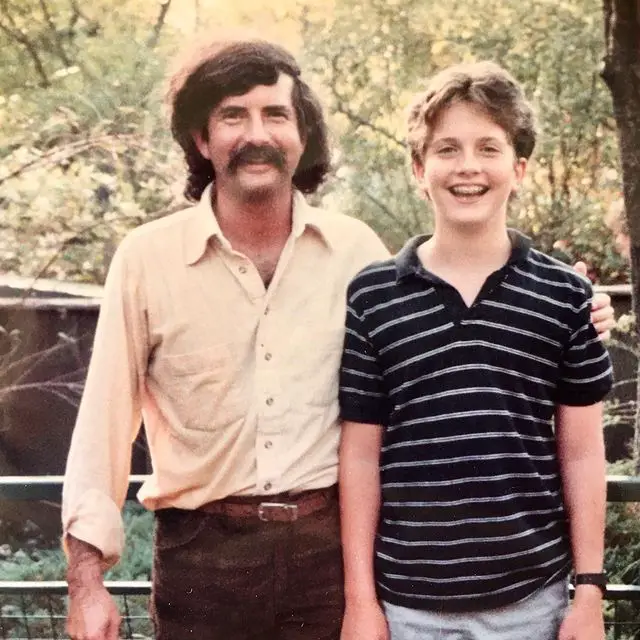 Bill Simmons With His Dad (Source Instagram)
Yet, he has remained stable in his career and has achieved success in whatever he did. Undoubtedly some of the credit goes to the loving family who supports him in all conditions.
More on Bill Simmons's Career 
Simmons, very early in his career, landed a job at ESPN. But his journey to ESPN was not a smooth one. He first worked at the Boston Herald as a high school sports reporter and editorial assistant.
Simmons had to opt-in for bartending after he was short on money. However, as he worked as a bartender by the day and waiter by night, he spent his days writing columns for the website BostonSportsGuy, a site that he started. 
More Personalities From ESPN: ESPN Hottie Erin Andrews Won $55 Million in Trial! Hockey Player Partner: Married Plans With Boyfriend?
What started as an AOL would eventually be available on the web, and by 2001, his website had about 10 thousand readers and averaged 45,000 hits per day.  
Known as "The Boston Sports Guy," he was offered a job in ESPN, and the rest is history. Alongside his roles in the ESPN, he served as the editor-in-chief of Grantland and hosted a talk show, Any Given Wednesday, in deal with HBO around October 2015. 
Also, an author of multiple books that have been The New York Times Best Seller such as; The Book of Basketball: The NBA According to the Sports Guy and Now I Can Die in Peace, he has launched a website named The Ringer. 
He launched his website on February 17, 2016, which features podcasts and columns regarding sports, pop culture, and technologies. As smooth as his family life, his professional life is also excelling exponentially.