Entertainment
Is C. J. Faison Still Together With His Girlfriend?
With the scarce social media presence of C.J. Faison with his girlfriend, his followers are concerned about his love life so is he single or does he have a wife now.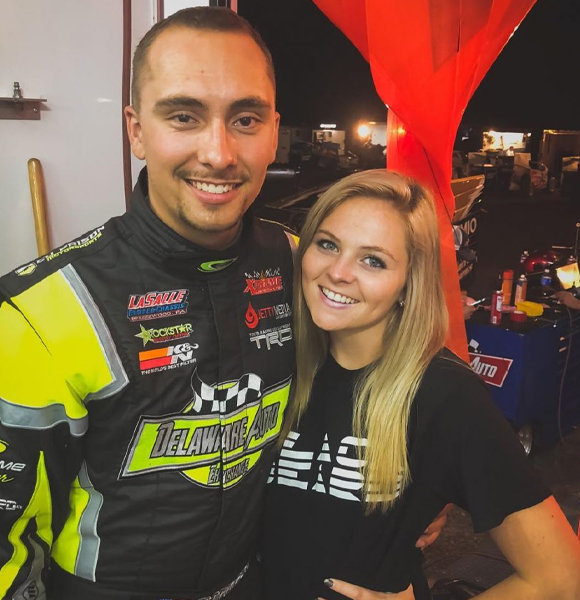 The former professional stock car racing driver C.J. Faison and his girlfriend frequently treated their followers with their adorable couple moments. But as their socials lack any new uploads of them together, their followers are concerned if they are still together.
Is C.J. Faison Single?
Well, it would not be accurate to say he is single simply based on fewer posts coming from the couple in recent days. As neither Faison nor his girlfriend, Rachel Lynn, has hinted anything towards their separation, they might still be together, keeping a low profile on social media.
Regardless, the pair always maintained transparency regarding their relationship with their followers. Their back and forth social media uploads dedicated to one another were pretty evident to their flourishing love life.
Deep-diving into Rachel's Instagram, her first upload with Faison suggests the two began their love life in 2018. Days later, their first social media appearance together, she again flaunted her man on her social posing cutely with Faison while she paired the black and white picture with a caption that read,
Thanks for an amazing time & constantly making me laugh.
Since then, Faison has made several appearances on Rachel's 'gram feed. As seen on her Instagram, their amazing chemistry might have gotten her followers into thinking the two are already married, and Lynn might be his wife, but the wedding bell is yet to ring.
Indeed Rachel is not the only one to shower her love on socials, but her racer beau also took to his Twitter several times to flaunt his love life. On July 21, 2019, Faison took to Twitter to share a swoon-worthy picture with his girl, who landed a kiss on his cheek as seen in the picture.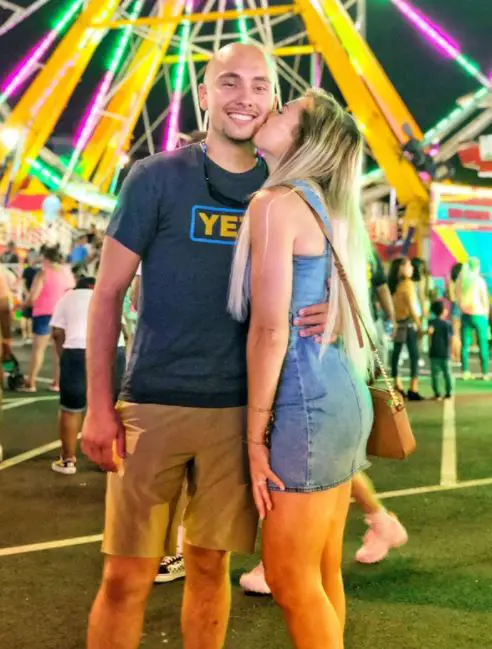 C.J. Faison and his girlfriend, Rachel Lynn, displaying their affection (Source: Twitter)
Due to their shared passion for racing, Faison's girlfriend was often seen with the former racer in the racing events supporting her beau. On that note, she once posted a picture with her man from a racing event where he participated, and as a supportive girlfriend, she attended the event to cheer for him.
Faison with his girlfriend at a racing event (Source: Instagram)
As for their most recent social media appearance together, Rachel made a post on her 'gram on August 5, 2020, subtly asking her beau to welcome a puppy into their lives through a funny photo edit.
Well, it remains unknown if they have yet made an addition of a fur baby, but the pair are seemingly still together.
While more of their couple moments are yet to come, Faison's engaging video contents are sure to keep your mind distracted from his personal life.
Get to know- Alex Bowman Split with His Girlfriend?
What Is Faison's Net Worth?
Faison, age 28, has been keeping his followers hooked with his intriguing videos on YouTube since 2011, which mainly covers his crazy adventures, exploration of abandoned locations, and generally his life vlogs.
With countless such video uploads to this date, the former racer's YouTube channel peaks with 426 subscribers as of 2021. Besides, his social media presence is no less, with huge followers of 79.4 thousand on Instagram and 63.7 thousand followers on Twitter as of now. 
Net worth of - Get Ready To Be Blown Away By Dhani Harrison's Net Worth
From YouTube alone, his annual earning ranges around 70 thousand dollars as per an analysis by Socialblade.
Besides, Faison, whose real name is C. J. FaShure, owns his family business Delaware Auto Exchange and has his hands on other ventures such as a shock manufacturing company, a mixed martial arts company, and a sunglasses company.
With all the businesses under his name and adding his popularity online platform in the picture, Faison is sure to earn a massive amount of net worth.