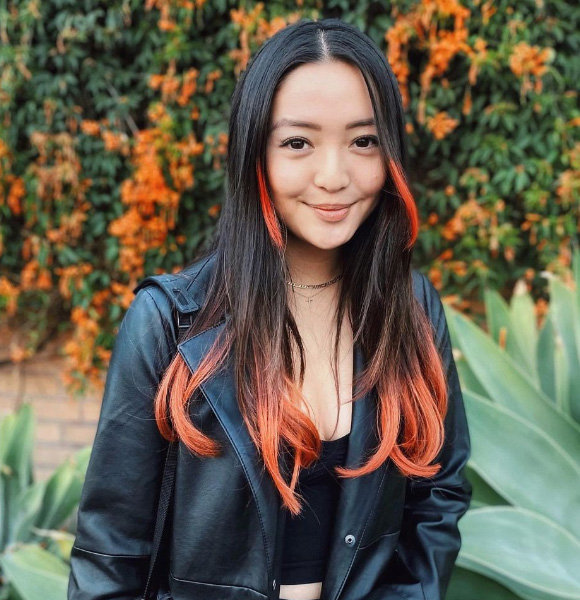 An exceptional actress, Chelsea Zhang is a bonafide personality who has proved herself to be one of the raw and rare talents we have in the industry through her outstanding acting skills portrayed in 'Titans.' 
With fame comes curiosity. A curiosity as such that wants to take a deep dive into the personal life of the personality. As a result, people are keen to know if this young talent has a boyfriend or not. 
Does Chelsea Zhang Have a Boyfriend?
She is relatively new to the industry, but her last appearance in season 2 of 'Titans' as the (spoiler warning) daughter of Deathstroke has opened whole new opportunities for her and a whole new fan base. 
Zhang's portrayal of Rose Wilson was well versed and showed the diversity that she could offer in the industry. From the role of an angry girl to someone in love to compassion to sadness, Zhang fulfilled what was required from her in a tremendous way. 
And she looked stunning while doing so!
So, is there someone in this stunning and exponentially talented actresses' life?
Well, for those who have seen the series might be familiar with her on-screen love interest. Jason Todd, the Robin, a character played by the extremely handsome Curran Walters. 
The fans of the show widely love their chemistry. Their characters, who share the same experiences and are undergoing similar conflicts with their life, finds solace in each other, and hence the journey of a fiesty boyfriend-girlfriend duo starts from there. 
Their on-screen synergy is so perfect that people wonder if they have something going on off-screen. We won't be wrong to say that people do speculate Walters to be Chelsea's real-life boyfriend. 
Honestly, true or not, we do want that to happen. 
You see, the writer of this article ship the two characters and lowkey the two personalities. Their on-screen chemistry is just so brilliant that having to witness it in real life will be a treat. 
Also, the speculations might be prevalent as the two did share quite a lot of screen time together in the series, which means they shared a significant amount of time on their rehearsals. 
It is too bad to assume that the two might have caught some ounce of feelings for each other?
Know More Of The Titans Cast: Teagan Croft, Young age Actor Parents Revealed; Dating Status Of Titans' Star
In July of 2020, Chelsea shared a throwback picture of her with Curran Walters on their suited hero ready to save the day (umm.. didn't age very well) look.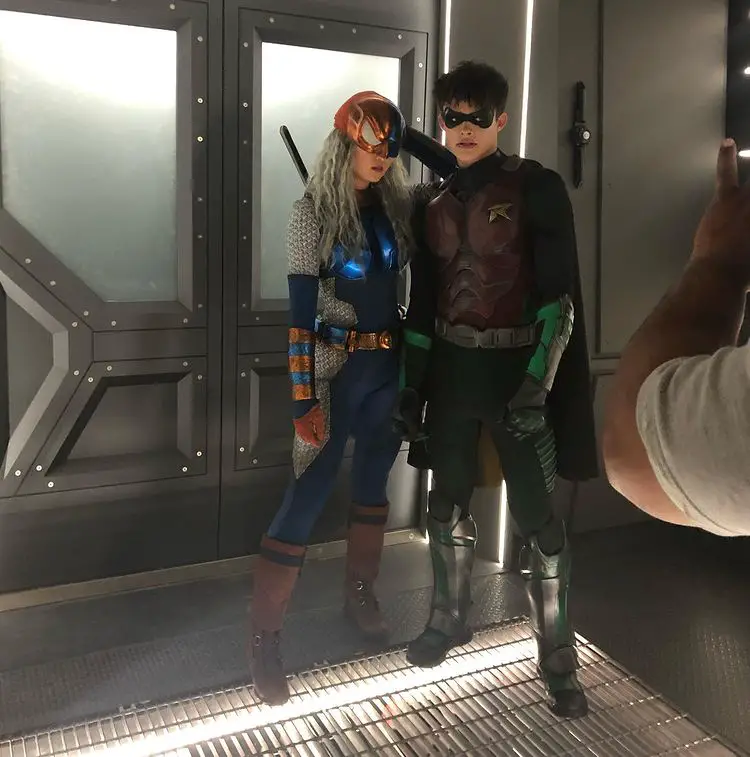 Chelsea Zhang Shares A BTS with Curran Walters (Source Instagram)
While Zhang has kept the details of her personal life very private, her having a boyfriend cannot be confirmed, let alone Walters being her boyfriend, but Chelsea will surely be in the industry for a long time given her promising talent, so it's only a matter of time when the details of her having a boyfriend be out. 
Although not a boyfriend, she does live quite a happy life alongside her siblings and family. 
Chelsea Zhang's Parents & Siblings 
Zhang was born in 1996 in Pittsburgh, Pennsylvania. She has two other gorgeous sisters like her. Zhang is forever grateful and fortunate for all the things her parents have done for her.
On the occasion of Asian Pacific American heritage month, she took to her Instagram to share the pride she holds for her culture. 
Sharing a series of pictures of the Asian representation from her show, 'Daybreak,' she popped in two pictures of her parents on the set of 'Titans.'
On the post, Chelsea shared how much her parents "went through" to leave China and come to the US to start everything from scratch. Further acknowledging their sacrifices, she wrote, 
"Their sacrifices enabled me to be born with priceless freedoms and opportunities. I would not be sitting here posting clips from a Netflix show or photos as a superhero without them "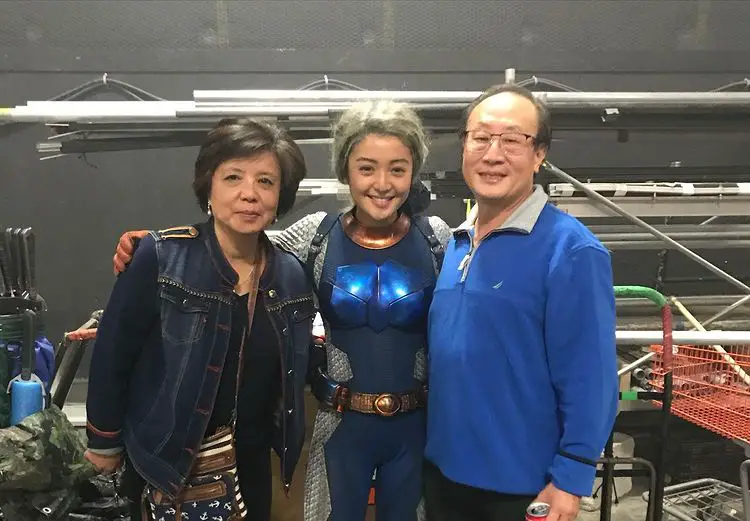 Chelsea Zhang With Her Parents In Set Of Titans (Source- Instagram)
Zhang indeed is hugely thankful to her parents, and she is wary that whatever she has achieved through her hard work couldn't have been possible without her parents. 
She surely has made her parents incredibly proud of her as, within such a short span in the industry, she has played three films and about ten television movies. 
Well, this is just the start for the 25-year-old. There is much more to come.