Music
Dissecting Chris Martin's Meanings Behind His Tattoos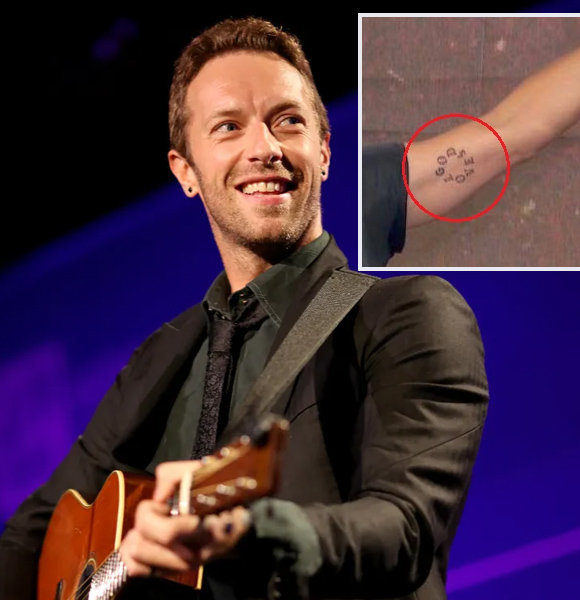 English singer, songwriter Chris Martin was known for his marriage with Gwyneth Paltrow, the Academy award recipient and Marvel actress. 
Chris, who is no short on succeeding prestigious accolades such as Grammys, has many times impressed people with his music career and, not to forget, through his famous band, Coldplay. 
But what also fires people's curiosity is his very minimal tattoos that don't tell much but yet have a very heavy meaning to his life. More so, a meaning that he shares with his now-girlfriend, Dakota Johnson.
Chirs Martin's Tattoos 
The Coldplay cofounder does not have a lot of tattoos, but all the inks that he has hold a very meaningful weight to them. 
To start, he has an infinity tattoo on his hand, his right forearm, inked in red. This ink holds much significance in his new life as he and his now-partner decided to get the same design. 
It was to convey their infinite love for each other.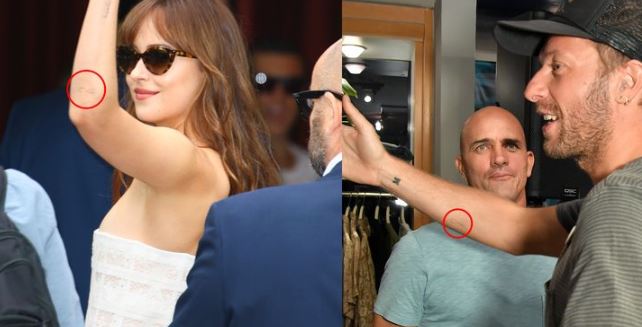 Chris Martin's Matching Tattoo With His Girlfriend (Source-Bodyartguru)
He is currently in a relationship with Dakota Johnson, mostly known for her role in '50 Shades of Grey.'
Dakota and Chris have been in a relationship since 2017, and as fans know, they have decided to keep their life quite private. 
However, the flourished romance began to wither back in 2019 when Martin supposedly kissed Dua Lipa during Glastonbury Festival, but the two eventually got together. 
The seven-time Grammy awardee and his love bought a mansion together in Malibu a year ago (January 2021), and well, they clearly were very excited to move in together. 
Their love has now been known all over the world, and the two don't shy away from declaring their love for each other. 
The My Universe singer recently, on October 2021, performed the song on one of Coldplay's London shows, and he dedicated that song specifically to the love of his life, who was sitting on the balcony watching her beau's performance. 
Dedicating the song to Dakota, he said, 
"This is about my universe. And she's here!" 
The actress also shared how the two were binge-watching Netflix's 'Squid Game' during their free hours. 
Additionally, in an interview with Elle UK recently on December 2021, she revealed that the two had been "together for quite a while," further adding, 
 "And we go out sometimes but we both work so much that it's nice to be at home and be cozy and private. Most of the partying takes place inside my house."
And as per sources, it was his ex-wife, Gweneth Paltrow, who pushed the two to get back together again. Since then, the two have been spotted multiple times together, and well the ink remains untouched. 
Besides, Martin and Paltrow got married in 2003, and after more than a decade of togetherness, they decided to end their relationship in 2016. 
Tattoos From His Past Relationship
Like Martin, Paltrow has also moved on and is now married to Brad Falchuk since 2018. The two, despite getting divorced, are on very good terms with each other, and their healthy relationship still persists. 
The two had two children who are engraved on the Yellow singer's body. He has an 'M' inked on the inner part of his right wrist, showing his love for his son, Moses Martin, who was born in 2006. 
His other ink is an 'A' on the left side of his wrist that stands for his daughter, Apple Martin, who was born in 2004. 
Martin has two other heart symbols, one on his middle finger and another on his right bicep. 
His last ink is with the words "God's Love" written in a loop that sits on his left bicep.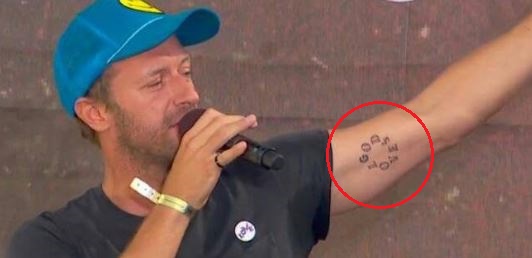 Chris Martin Covers His Ex-Wife's Initial With Another Tattoo (Source - Bodyartguru)
Smartly, this tattoo was to cover up the initial 'G' that he had carved for his ex-wife Gwyneth Paltrow. 
Apart from his tattoos, his fans have been curious to know more about his hair transplant. 
It was believed that Chris, who had an 'M' hairline with a "bit of hair loss around the temples," had done a hair transplant as people started seeing changes in his hairline. 
So yes, apart from changes in his career, which has withstood the test of time has had changes in his appearance as well with his hair transplant. 
Nonetheless, as much as he keeps his career a priority, Martin is equally invested in his personal life.
No matter the odds in life, he has found a balance in life, and well, his tattoos do say a lot about the kind of person he is and the value he gives to memories and relationships.