Entertainment
Dakota Johnson Turning Boyfriend, Ex-Married Man Into Husband? Yes!
The 13 years age difference hasn't stopped the lovebirds...her relationship with Chris - who was previously married...s Dakota planning to make a husband out of...Prior to meeting her present boyfriend, Chris Martin, Dakota had a string... it would take an industry insider(actress Diane Keaton) to confirm the dating rumors...if you didn't know, both of Dakota's parents are industry veterans who have acted...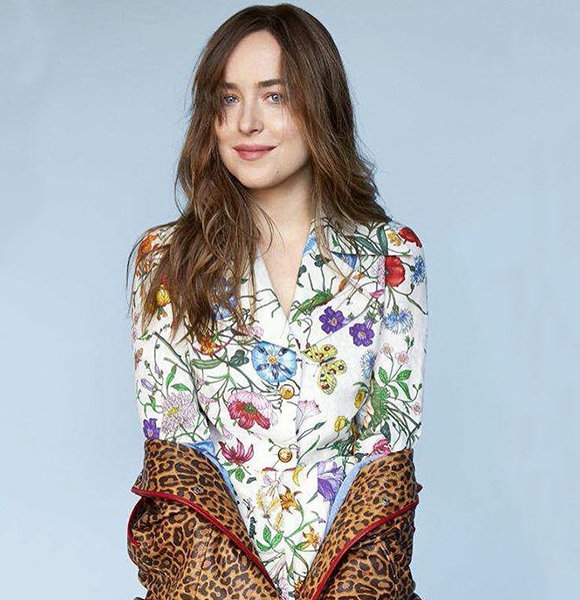 Age is nothing but a number -- American Actress Dakota Johnson, age 29, and her Coldplay frontman-boyfriend Chris Martin, age 42, are the living proof. The 13 years age difference hasn't stopped the lovebirds from gushing over each other.
The Fifty Shades of Grey actress could be looking into "upping the ante" with her new man after the pair got matching tattoos.
Likewise, her relationship with Chris - who was previously married to actress Gwyneth Paltrow - seems to have turned a new leaf after one of her parents admitted to having met Chris in person.
Interestingly, Dakota seems to be planning to make a husband out of a once-married man. Let's dig into the pair's dating history to make sense of it all!
Dating: Boyfriend, Chris Martin, Husband Material?
The 29-year-old Texas native hasn't always been as lucky as she seems today when it comes to a relationship!
Discover:- Zuzka Light Amazing Body At Age 36! Workout & Diet Advice From Fitness Guru
Before meeting her present boyfriend Chris Martin, Dakota had a string of failed relationships. Actor Jordan Masterson, actor Jon Hamm, and musician Noah Gersh are the few names that have been linked with the Fifty Shades of Grey star.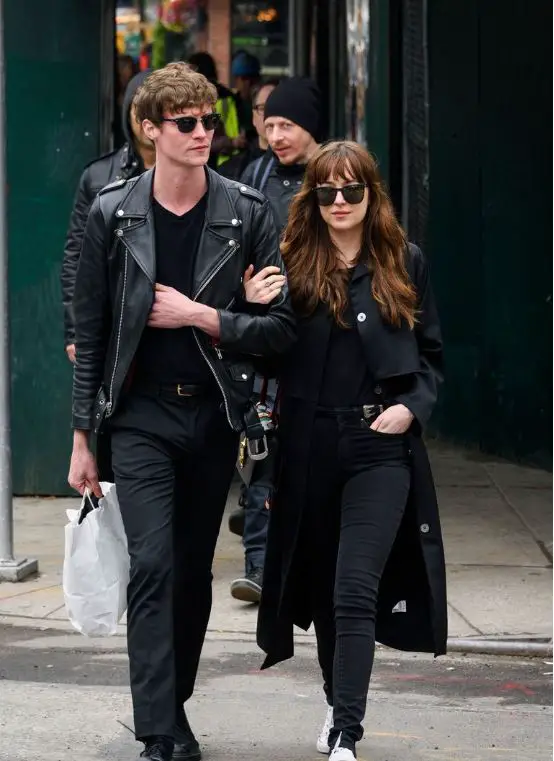 Dakota and then-boyfriend, Matthew hang-out (Photo:- Harper Bazaar)
However, of all ex-boyfriends, her breakup with musician Matthew Hitt seems to have hit her the hardest. Dakota and Matthew called it quits in 2017, following two years of dating. Ruminating on the separation in 2017 Vogue interview, she said:
"S--t happens. I think I'm a little bit heartbroken all the time, even when I'm in a happy relationship."
Continuing her infatuation with musician boyfriends, she finally managed to strike gold with the frontman of British rock outfit Coldplay, Chris Martin.
Interesting:- Boy George, 'The Voice' Judge Married In Secrecy? A Different Kind Of Gay
Dakota - who has six half-siblings (two are from her mother's side and four from her father's side) - met Chris in the late 2017 and the pair have been inseparable ever since.
As for their first-ever public sighting, Dakota and her boyfriend, Chris was photographed enjoying a splendid time at the beach in Malibu.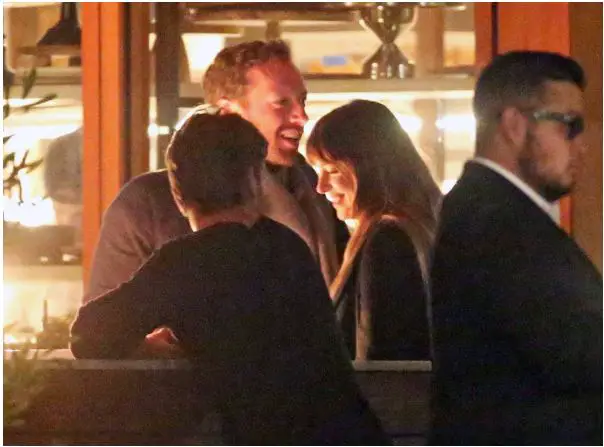 Dakota and boyfriend, share laughs in an intimate setting (Photo:- E Online)
A few months later, they were spotted dining together at the SOHO House in West Hollywood. Soon after, media began referring to them as an item.
You May Also Like:- Brian Posehn Tour Reflect Career Height | Wife & Baby To Thank For
However, it would take an industry insider (actress Diane Keaton) to confirm the dating rumors. Diane - who had attended Ellen DeGeneres' birthday party alongside Chris and Dakota - spilled the beans in an interview. She said:
"I'm gonna talk about Chris Martin. He was with Dakota, right? They're a couple. Got it? So, what I'm saying is."
In a later interview with Tatler Magazine, the 29-year-old Texas native insinuated that she and Chris were a real thing. All she wanted her fans to know was that she's happy with the current arrangement.
Boyfriend Chris Martin Meets Her Parents
Her admittance came after the surfacing of speculations which suggested that her romance with Chris had landed in troubled waters. And, at the center of their rumored split - according to the speculations - was the disapproval of her boyfriend, Chris, by the Fifty Shades Of Grey actress' parents; her father to be more specific.
In the end, the rumors turned out to be - like every other rumor in Hollywood - just a rumor. It was Dakota's father, Don Dakota, who cleared the negative air surrounding the couple's romance. Speaking to The Sun in January of 2018, he said:
"He's a lovely guy. I've met him and you want your kids happy, no matter what shape it takes."
Apparently, it was her father's previous interview which initially sparked the split rumors.
Read Also:- Kandee Johnson And Her Tumbling Life With Irresponsible Husband; Finally Happy After Being Engaged To Boyfriend?
If you didn't know, both of Dakota's parents are industry veterans, who have acted in over 50 films between them. Her mother, Melanie Griffith has a Golden Globe Award for Best Actress and an Academy Award nomination to her name.
Separated Or Just Rumors!
Like almost every couple in Hollywood, Dakota and Chris have also been the subject of many rumors and controversies.
In mid-2019, the couple was the talk of the town with the centerpiece being the stage of their relationship. The speculations began surfacing after the couples failed to make frequent appearances because of their busy schedule.
Dakota was caught up with Shia LaBeouf's movie The Peanut Butter Falcon while Chris had his hands full with his kids from his past relationship, Moses and Apple.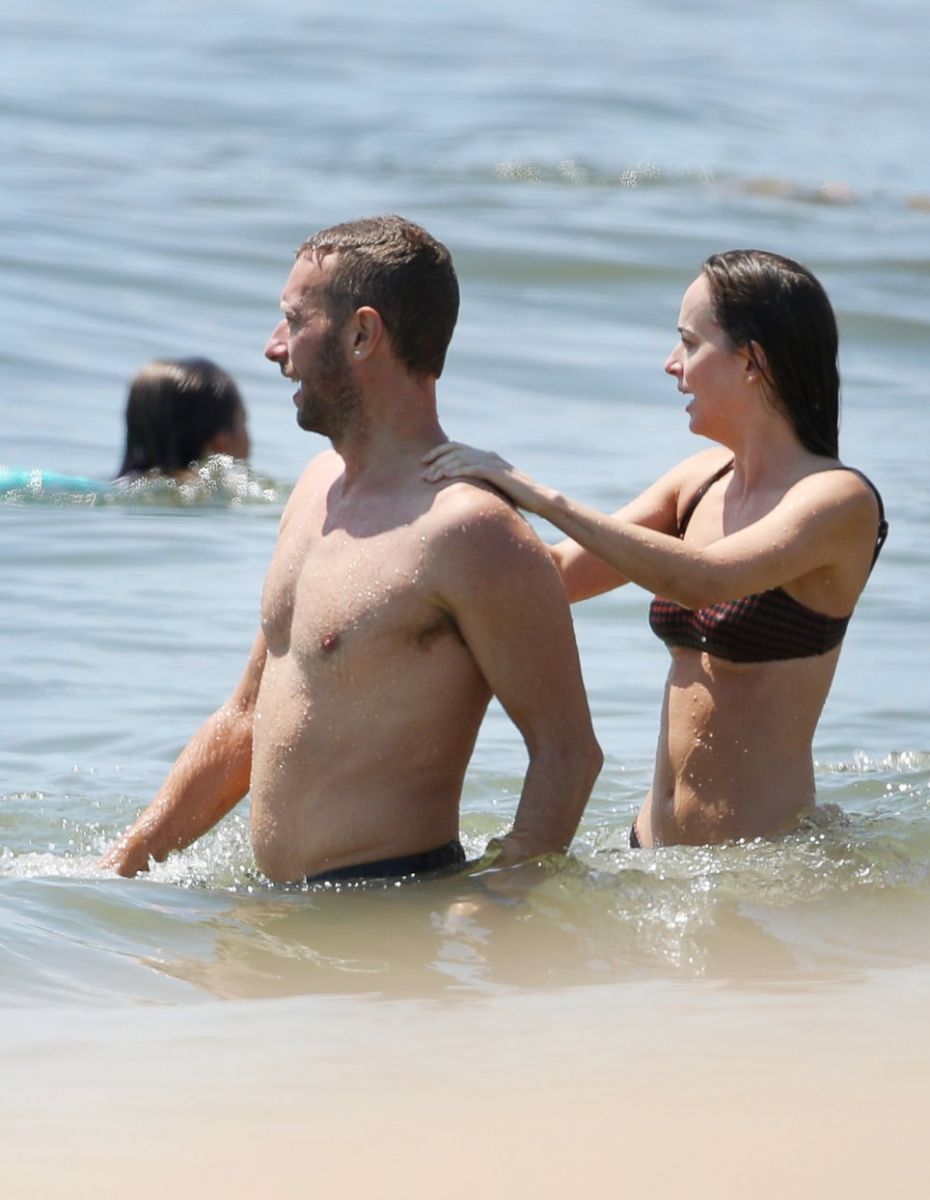 Dakota Johnson and Chris Martin at the Long Island Beach (Photo: eonline.com)
Well, it turned out that all the rumors were just that, rumors. Dakota and Chris cleared up all of the speculations after they were sighted together at New York's Long Island beach. Photos of the incident caught the couple exchanging joyful moments.
Furthermore, in August 2019, Dakota and Chris were spotted in Los Angeles at the wrap party for Covers
Soon-To-Be Engaged
After nearly two years of dating, Dakota and Chris are serious to take a step further in their relationship. A source close to the couple stated that Chris - who previously dated actress Annabelle Wallis - is considering a romantic marriage proposal. 
The insider further claimed that the Coldplay singer is getting on well with Dakota's parents. The couple's parents have also become friends with each other. While the source didn't mention if the couple will get engaged any time soon, he revealed that engagement is inevitable.
Meanwhile, Dakota also maintains a close friendship with Chris ex-wife, Gwyneth Paltrow.
Back in December 2018, Dakota along with Chris, Gwyneth, and Gwyneth's husband Brad Falchuk took a trip to the Maldives. The foursome called the trip a "vacation" and even celebrated Christmas in the islands.