Celebs
Wedding Bells Are Ringing for Cleetus McFarland
"1 MONTH until we do!!!," Cleetus McFarland's girlfriend or soon-to-be wife expresses her excitement to be marrying the love of her life.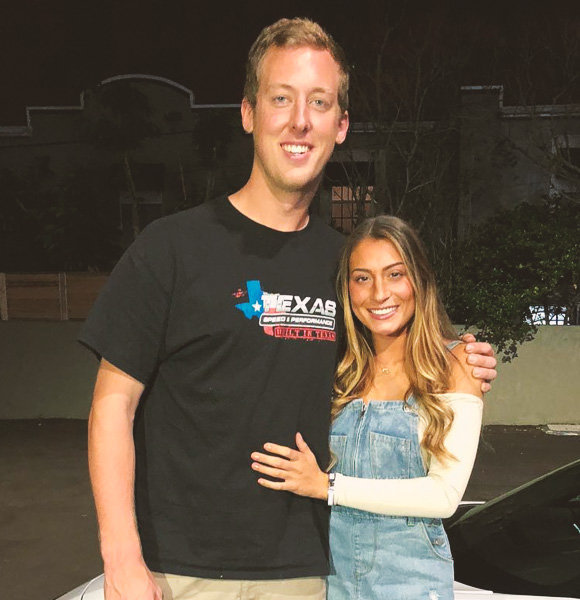 '1 MONTH until we do!!!,' wrote YouTuber Cleetus McFarland's long-time girlfriend on her Instagram post announcing she is soon to become a wife to the YouTuber.
Adding an all-smiles picture with her beau, she shared the excitement of getting their relationship a notch forward, and the post quickly flooded with congratulatory messages from their well-wishers.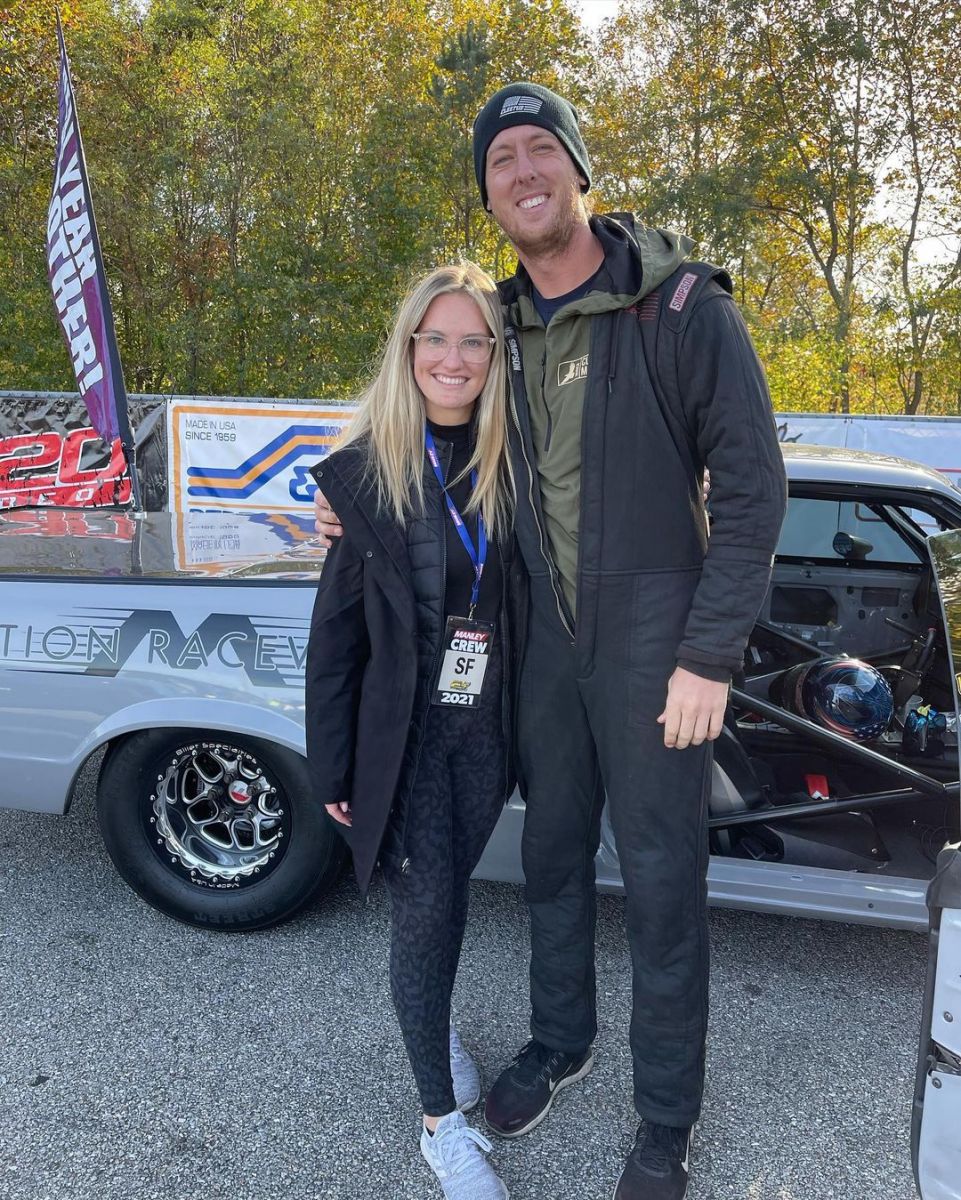 Cleetus McFarland posing with his fiancee (Source: Instagram)
As the couple is very vocal about their relationship with their followers, their social handles are there to spare some details on their love life.
Cleetus McFarland's Girlfriend Soon To Turn His Wife
Cleetus's now-fiancee, Madi, seems to be on cloud nine since her beau surprised her with a romantic proposal on April 4, 2021, on a racing track. She treasured the special moment on her Instagram and treated her followers with the grand surprise.
In the series of pictures from the surprise proposal, she is caught off guard when Cleetus knelt on his knee, holding an engagement ring in his hand.
The mixed expression of surprise and happiness was clearly visible on her face, which shone even brighter in the later pictures. And, the picture also displayed them sharing a warm embrace and a romantic kiss.
Overwhelmed with happiness, she took her time to share the big news with her well-wishers on social media writing,
As if this weekend couldn't get any better!! I get to spend the rest of my life with my best friend! I love you so much!
Get to know - Zak Bagans's Broken Relationships, Girlfriend & More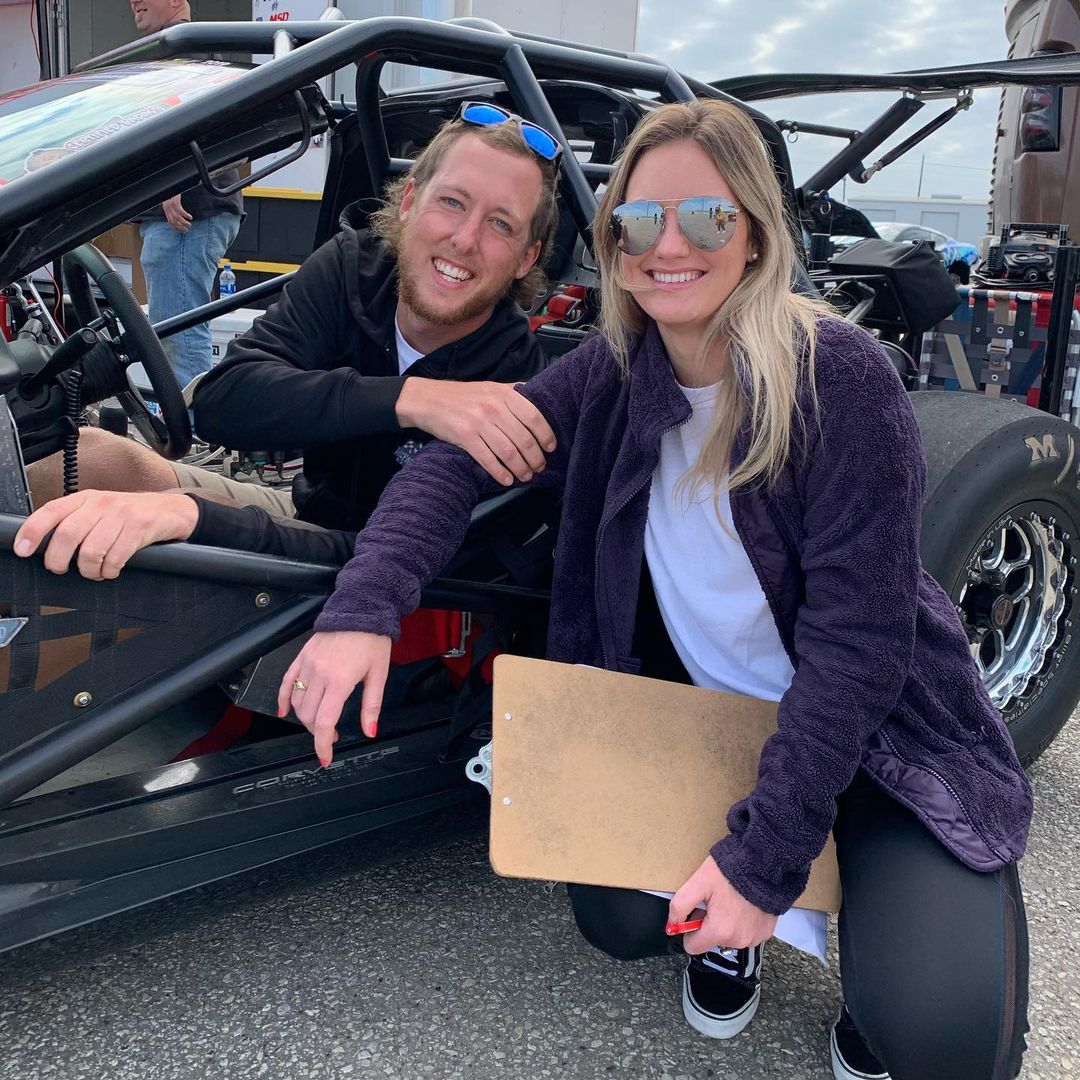 Cleeta's fiancee posing with her beau on racing track supporting his work (Source: Instagram)
Well, Madi's husband is no less in showering his love for his soon-to-be wife on his social. The same day of Madi announced their engagement, Cleetus also shared the proposal moment on his Instagram, pairing the pictures with a lengthy caption that read,
So today I did the thing. Asked Madi to marry me. The last few years have been amazing with her, and after working 4 straight GIANT events in a row (on top of daily videos!), I knew she's my ride or die partner for life.
Having been dating since 2019, the couple's bond quickly escalated into something wonderful, and Cleetus admitted to being blessed to have the 'girl he has dreamed of' by his side for the rest of his life.
Although the pair are yet to become parents to a human child, for now, they are guardians to their adorable two little fur babies, who often appear on their respective social media feeds.
Not only Cleetus has found a partner to share his family with, but she is also a major support system regarding his professional life, which is evident through Cleetah's Instagram posts.
More on - Tessa Brooks Shares Her Secret to an Impressive Weight Loss
What Is Cleetus's Net Worth?
As flourishing is his love life that is soon to pick a new chapter, his profession is also going on a fleet.
The YouTuber's craze for cars from his early days has now made him one of the influential online personalities as a motor enthusiast.
Having been engaging the viewers since 2009 with his intriguing videos on YouTube about cars, his content has garnered him 2.8 million subscribers on YouTube alone. His domination also prevails on Instagram, where he has followers of one million to this date.
Talking about his income, his annual earning from YouTube peaks to over 800 thousand dollars annually, while the sale of his merchandise also adds to his hefty net worth, which he is yet to reveal. He is also very much into car collection, which is pretty much given based on what he does.
He has it all, from having a successful career to having the love of his life by his side. Indeed, life couldn't get any better for the YouTuber.