Entertainment
Tessa Brooks Shares Her Secret to an Impressive Weight Loss
Through a YouTube video, Tessa Brook's shared her weight loss story showing her then and now transformation & inspiring her followers to take up a healthy lifestyle.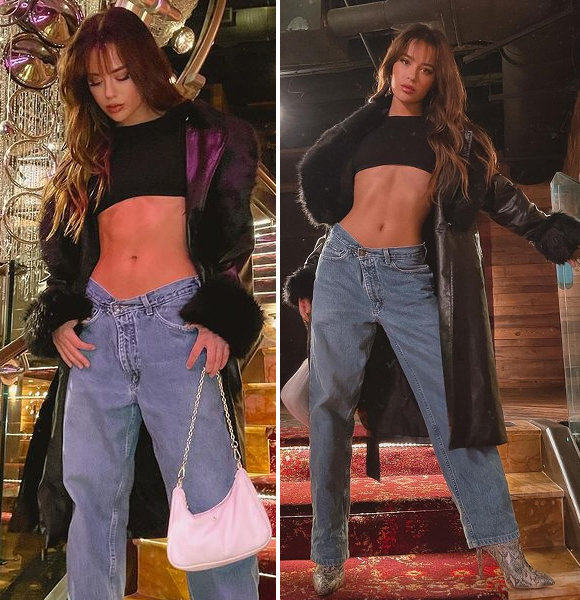 Internet sensation Tessa Brooks came out with the most anticipated YouTube video sharing the inside story of her weight loss journey. In the video uploaded in June 2019, she discusses her daily workout routine, diet, and more that got her to lose twenty pounds.
Tessa Brooks Weight Loss Transformation- Then and Now
Elaborating in-depth on her weight loss journey, she said it all began with her feeling 'not happy with herself.' Although she had been trying to lose weight for a long time, it was not showing any satisfactory results.
As her on and off workout routine for over a year was not helping get her targeted weight, she decided to push her limits strictly and stick to a healthy routine.
However, she believes that 'every body type is beautiful,' and encourages her viewers to embrace their body type while maintaining a healthy lifestyle.
Tessa Brooks sharing her weight loss journey (Source: YouTube)
Further into the video, she talks about what caused her to gain weight previously saying,
My body type has always been muscly and tiny. I am the person that eats my feeling away, and so that's when I kind of started to gain weight, and it just stayed like that for a while.
Fed up with her unhealthy lifestyle, she became committed to switching her diet and adding a workout routine to her daily life.
For her, 'eating right' and 'cutting out dairy' worked the best in losing extra pounds, and of course, there was some intense workout routine as well.
I don't get tired as fast, and my brain works better. I have more energy.
Said Tessa, who stands at the height of five feet and seven inches, discussing the positive outcome of switching to a healthy diet. Doesn't this make you want to replace all the junk food in your kitchen with some veggies and fruits?
Let's get cracking into the specifics she follows to that lost her twenty pounds.
Her mornings start with the intake of a smoothie. Later into the day, she has some salads for lunch, and chicken tacos are her favorites. Likewise, for dinner, her healthy diet contains mostly light meals.
Talking about her workout routine, she shared she is not a fan of gym workouts. Instead, she prefers dancing, hiking, and outdoor activities. So, her daily routine usually includes a combination of dancing and exercise.
In her YouTube video, she shares a bunch of exercise routines she follows every morning, including thirty minutes of cardio, abs-focused exercises, planks, push-ups, and several other variations to keep her body toned.
The YouTube video where she shared her story has already garnered over three million to this date. Seeing her influential presence on the internet, she will surely inspire many of her followers to follow a healthy lifestyle.
Get to know - Steph Pappas's Instagram Feed Tells All About Her Newfound Love Life
Inside Tessa Brooks's Net Worth 
Tessa's unreal dominance as an internet personality makes her one of the sought-after influencers.
Her YouTube alone has a massive number of subscribers, reaching 3.42 million as of 2021. While her YouTube dominance is quite impressive, her social media presence is no less.
With a whopping 13.9 million followers on Instagram and one million followers on Twitter, she falls in the pool of successful influencers.
As for her earnings, Tessa's net worth is most probably in millions of dollars, witnessing her reach on online platforms. Based on Socialblade analysis, she has an annual earning of thousands of dollars from her YouTube channel, while her merch sale also adds substantially to her wealth.
Besides, she is frequently seen collaborating with various well-reputed brands, including Boohoo, which makes up for another source of her income.
Already living an independent life at the age of twenty-two, the influencer got her first car in 2017 and now owns a house. With this pace, her professional life is sure to peak even higher.
Besides her impressive profession, her fans are even more intrigued to learn about her love life which she doesn't fancy revealing much about.
More on - Louie Castro's Instagram Feed Tells Us All About His Love Life
Who Is Tessa Dating?
Although Tessa maintains her social media presence, mainly showcasing her professional side, media somehow has been able to get the inside scoop of her dating history.
The YouTuber does not have a boyfriend currently, but she is known for her past association with some renowned internet personalities.
Let's begin with her relationship with famed influencer Jake Paul. The two powerhouse internet sensations dated during 2017.
Not sure how long they went on with their relationship, the pair split, making Tessa amongst the long list of Jake's ex-partners. 
Another one of Tessa's exes is Chance Sutton. But the short-lived relationship ended following the incident when their Twitter accounts were hacked.
At the time, the hacker leaked some DMs, pictures, and videos from his account, which made his fans think that Chance cheated on Tessa while they were together, which eventually led to their breakup.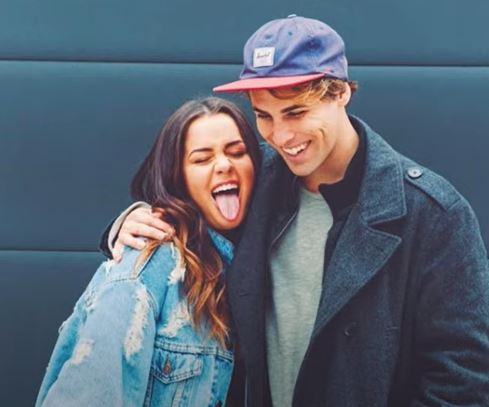 Tessa and Tristan Tales posing together (Source: YouTube)
Likewise, after her breakup with Chance, she was rumored to have been in a relationship with Tristan Tales. But in an interview of 2018, Tristan came forth saying that the pair were merely playing pranks on each other, saying 'I like you,' which got the rumor spreading.
As of now, Tessa is supposedly not involved with anyone, and even if she is, she will probably break the news to her admiring fans at the right time.