Entertainment
Zak Bagans's Broken Relationships, Girlfriend & More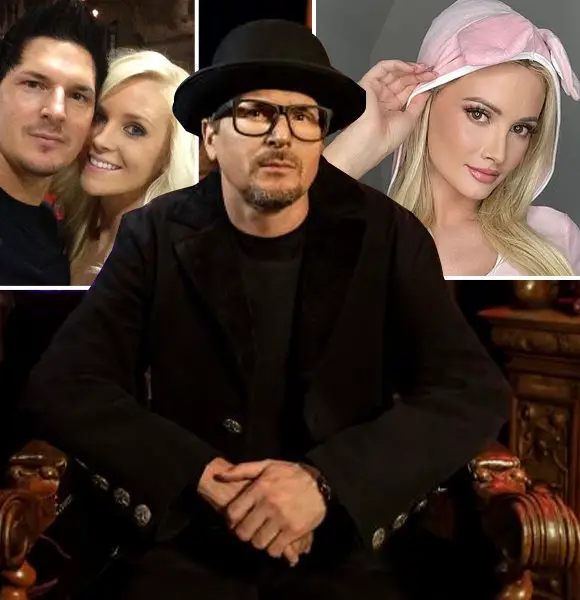 American paranormal investigator Zak Bagans occasionally used to post pictures with his fiancee and update his followers on his love life. But Bagans's Twitter post caught quite an attention regarding him taking a new step, and the caption was the main attention grabber.
He wrote, 
"My fiance Ashley and myself wanna say thanks to you all for your messages! A happy day to a new beginning!"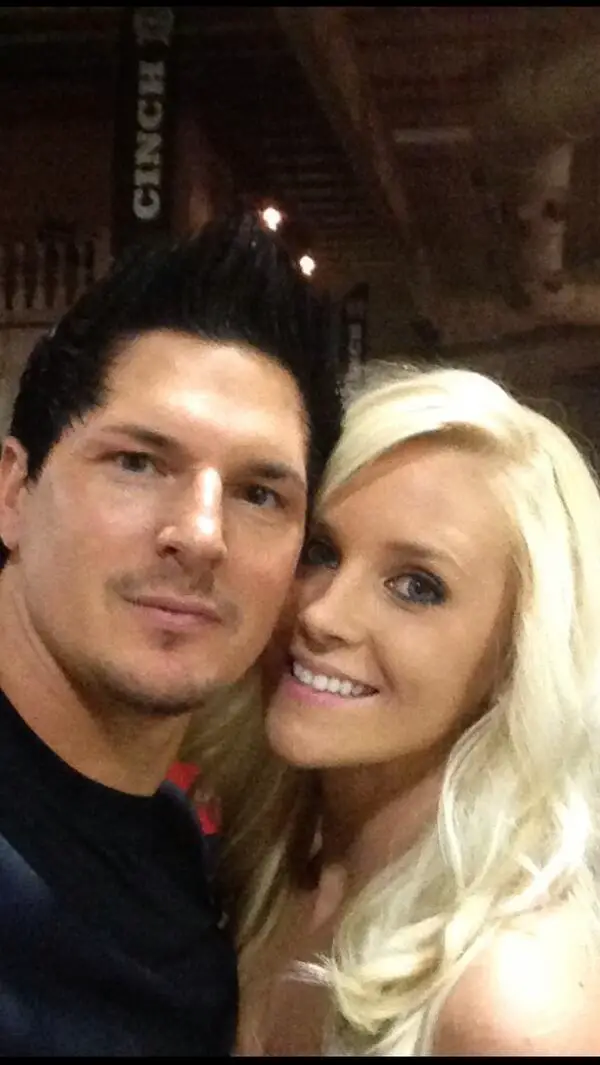 Zak With His Fiance (Source Twitter)
But as time went by, the world saw less, and less of his then-girlfriend turned fiancee. 
What Happened To Zak Bagnas's Girlfriend? 
Zak's post with his fiance always created anticipation in the room as to when the two will get married. Unfortunately, the two split up before starting a new chapter in their love life. 
While the cause of the split is kept concealed, Zak's relationship stories never stopped flowing in the media. 
The post where he mentioned his then-fiancee, Ashley Mallett, was made around 2014, so that was the time he was dating her. 
Paranormal Activity Star:  Actor Matt Shively Confronts Gay Rumors While Dating Gorgeous Girlfriend
However, even before promising his life with Ashley, he was committed to Christine Dolce. Looking into Christine's official Twitter account, she still has pictures with the charming Zak. 
But the reason for her not removing the picture with her ex is that she sadly passed away. Taking to his official Twitter account, Bagnas remembered his then-girlfriend and forwarded his condolences to her. 
Sharing a tweet of the two together, he wrote,

Zak might have solved many paranormal mysteries, but sadly he cannot seem to solve the reason behind his broken relationships. 
Recent Split With Girlfriend
Zak's split with his previous girlfriend has been a known matter and widely covered in the media outlets. However, one particular relationship seemed promising for the 44-year-old Ghost Adventures host.
He started dating Holly Madison, the star of Girls Next Door. Their relationship began to take shape when she went to his Haunted Museum back in 2019, and they started dating each other soon after, as reported by DailyMail.
Holly, a mother to two's relationship with Zak, started shortly after her split with Pasquale Rotella. 
Another Ghost Adventures Star: Why Did Nick Groff, Married Man With Wife Leave Ghost Adventures? Or Did He Really?
Prior to Rotella, she used to be in a relationship with Hugh Hefner from 2002-2009. Despite their past, the couple looked very cute together and appeared in many events together. 
However, sadly their relationship lasted for only two years, and they separated. But the most interesting thing is that the two are still on talking terms and good friends. 
So and so that his ex-girlfriend recently wished him on his birthday in April 2021. Featuring a birthday cake with the message, "Happy Birthday Zak," she wished her past beau a very happy birthday and tagged him in the post. 
While they might not be in a relationship anymore, they sure seem to be pretty good friends. 
Although there are not many gay rumors regarding this handsome fellow, he once justified a tweet made by a fellow tweeter user claiming Zak to be gay. 
Replying to the tweet he wrote,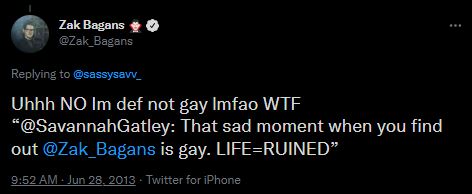 Zak's Tweet Clearing His Gay Rumors (Source Instagram)
Zak might have dealt with his defeat in his personal life, but his professional front has always been very rewarding, so rewarding that he is now a multi-millionaire. 
What Is Zak Bagnas's Net Worth? 
Bagnas is famously known for Ghost Adventures, a series that he started in 2004 only to air in 2009. 
The continuation of the series was shifted to the Travel Channel, and it aired for 19 consecutive seasons till 2019. 
The show, however, also has been accused of faking its scenes. 
In 2016, he started another venture on the channel named Deadly Possession, where he found items to open a haunted museum. The museum opened to the public in 2017 and has opened every since. 
As of 2021 (May), another Zak's show, The Haunted Museum, has been announced to broadcast in Discovery+. 
Also, an author of Ghost-Hunting For Dummies, he released the book in 2019. 
As of 2021, CelebrityNetWorth reports the paranormal hunter's net worth to be 30 million dollars.