Celebs
Dan Pashman Has the Best Advice for Parents- A Look Inside His Family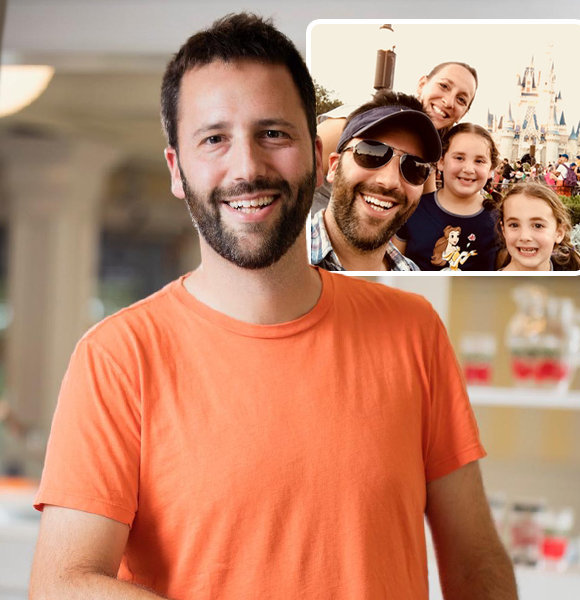 Dan Pashman is one of the few famous not because of their face and appearance but because of their voice. Dan hosts an award-winning podcast titled 'The Sporkful', where he mostly discusses food.
In the show, he also talks about his wife, kids, and family and shares little anecdotes from their day-to-day life. So if you want to learn more about the Pashman family, you've come to the right place.
Get to Know Dan Pashman's Family
Dan Pashman is a loving husband and a father of two. He is married to his wife, Janie Pashman, and has two daughters named Becky and Emily.
Dan has been pretty open about his personal life and has talked about it several times on his podcast. Of course, the main theme of his show is food, but we all know that it tastes better when shared with loved ones.
Read more on: Robb Wells's Relationship with Jeanna Harrison! Are They Dating?
Dreams have turned into reality for Dan. He's a lucky guy with a wonderful family, and his life has become the way he had envisioned. He told LifeHacker,
It was my dream to meet and marry the perfect woman and have two perfect kids. So my life has unfolded exactly as planned, but the fact that the plan actually worked is a big surprise!
In the interview, he talked further about his parenting techniques and how he maintains a balance between work and home. It turns out that the key contributor to keeping things smooth in the house is his wife, and he deeply appreciates her.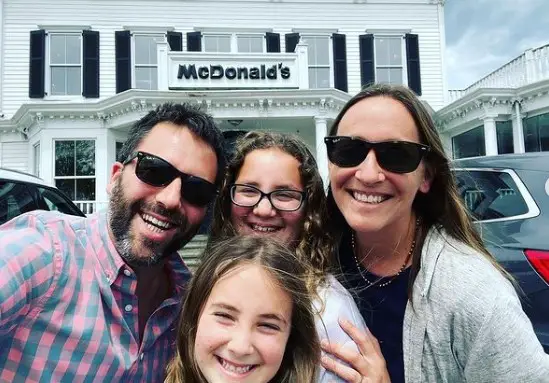 Dan Pashman with His Family (Source: Instagram)
"My wife Janie is amazing, she holds things together in our house despite having three part-time jobs and being the primary caregiver," he said.
Being a working mom is no easy job, but Janie seems to have it figured out, and of course, Dan is also there to help.
Moreover, a father and daughter relationship is always special. So is the bond between Dan and his little girls. He shared that they have started picking up things that he's good at and also the things he's bad at.
Also check out: Hannah Simone Thanks Her Father for Her Flourishing Career
He mentions that his favorite part of the day is coming home from a long day of work and seeing his kids run-up to the door to meet him. Safe to say, Dan spends a lot of time with his kids. 
Spending time and being there for the family means a lot to Pashman. It's also the best advice he can give.
"Do the best you can and just try to be there. Sometimes I'm with my kids, and I'm distracted because I'm still thinking about the work I just finished and the work I have to do after they go to bed, but at least I'm there," he stated.
Prioritizing kids is something that he learned from his childhood. His parents used to do the same for him and be there at special events. On that note, he remarked,
I remember when I was younger, my parents often came to my baseball games straight from work, so they were still in their work clothes. I always appreciated that they came.
A little compromise and effort go a long way! Being a parent is a taxing job, but Dan, he's found the silver lining in it. He said,
I'm much more efficient now. You just have much less time to waste once you have kids. So you find a way to get the same amount of work done in less time.
The Pashmans have their little family rituals and ways to have fun. But, thanks to his personal life being so full of joy, his work life has seen more productivity, and as a result, he has achieved major success.
Dan Pashman's Short Bio
Dan was born in New York in 1977. He had a wish to have his radio show when he was younger and worked with NPR, Air America Radio, and Sirius XM earlier.
However, his dream translated into the form of a successful podcast. He started 'The Sporkful' in 2010, and it has been a huge hit among food enthusiasts.
At age 45, he launched his food brand after inventing a new shape of pasta that he coined 'Cascatelli.' 
Likewise, he has also been featured in the show 'You're Eating It Wrong.' 
Dan has made it big doing what he loves. He has a truly blessed life with a blooming career and wonderful family,