Music
All about Dave Grohl's Tattoos, Family And More
Alongside Dave Grohl's musical journey his love for tattoos is equally interesting.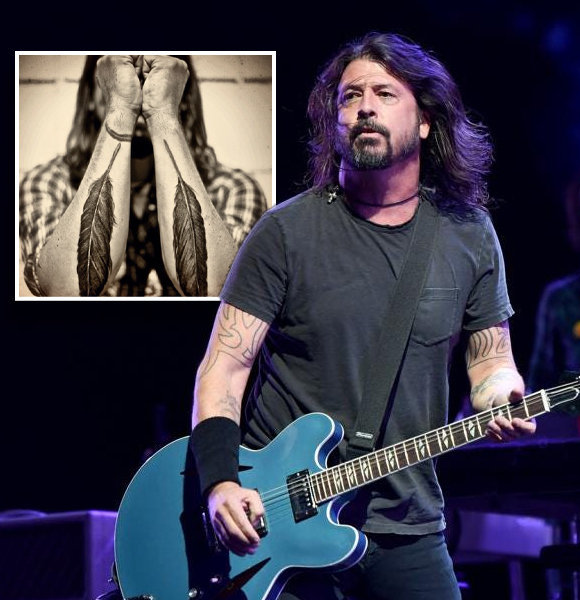 Dave Grohl as a musician is always surrounded by music, but he has appeared as a tattoo lover for many years as well. 
The famous singer has made many tattoos, which includes art as per his interest, alongside some tribute inks for his loved ones. 
Dave Grohl's Tattoos
Grohl started his tattoo journey in his early teen has continued the journey to date. 
In the past, he attempted to make the black flag logo, the John Bonham 3 circles, and an x on his elbow, but he did not quite like them. 
Then during his career with Nirvana, he tried to make another three circles logo, which was later covered with a solid back square.
Continuing his tattoo journey, he then made a popular feather tattoo, which was inked by Kat Vond.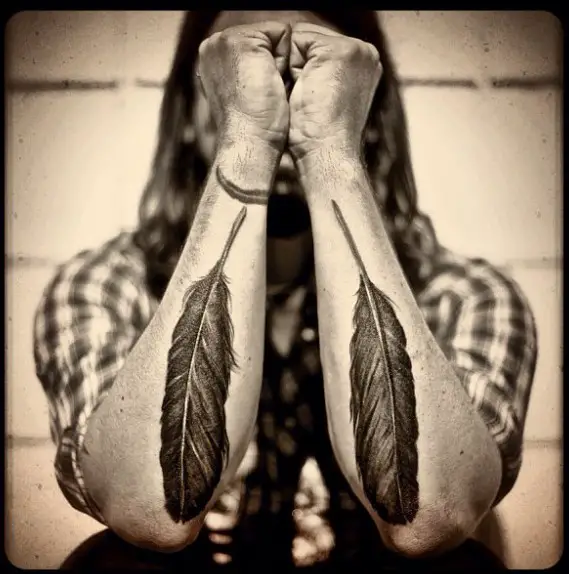 Dave Grohl's Feather Tattoos (Source- Instagram) 
After this tattoo, Dave Grohl, during his concert, visited London and decided to get another tattoo there; this particular incident truly justifies the phrase "new place, new tattoo" for Dave. 
In London, Grohl met Lal Hardy and decided to get the Foo fighters' Logo tattooed on his neck. Dave's fans quite fancy this particular ink of his as well. 
Touching his other tattoo story, Dave paid tribute to one of his favorite musicians through his tattoo. This particular ink was for his close friend, Lemmy Kilmister.
Grohl was deeply affected by the news of Lemmy's death and decided to get a Motorhead-inspired tattoo on his forearm as a tribute to his friend. The tattoo was inked by "Royal Tattooist." 
Famous Musician Inks-: All about Adam Levine's Mind Blowing Tattoo Collection
Insight on Dave's Professional Career
Before becoming a member of the popular band Nirvana, Dave went through quite a struggling time and joined many bands.
His first band was Nameless, through which he started his career as a singer. 
But his first band in which he used to play the drums was with Mission Impossible. 
Dave then got inside Nirvana and played his first gig at the North Shore Surf Club in Olympia, Washington, on October 11, 1990. He then became close with each band member, including Kurt Cobain.
Later that month, Dave moved into Kurt Cobain's apartment at 114 North Pear Street in Olympia and spent eight months there. But just because the only room was a bedroom, Dave found it challenging to stay there and later left the place.
In April 1992, Dave formed a short-lived band called Allister Lobb with his big sister Lisa, who played bass in the round.
The so-formed band then recorded a five-track instrumental demo, out of which three of them were most popular, including Make A Bet, Podunk, and How I Miss You. 
Besides music, Grohl has also published his memoir called 'The Storyteller: Tales of Life and Music.'
You Might Like-: Corey Taylor's Son Makes First Move In His Professional Career
Dave Grohl's Family 
Dave invariably regards his family as a priority, and his adorable family is composed of his father, James Grohl, his, mother Virginia Grohl, and his sister Lisa Grohl. 
His father, James Harper Grohl, was an award-winning journalist and political consultant, and he used to share quite a special bond with him for many years. 
Touching the professional life of his mom, Dave's mom also released a book entitled, From Cradle to Stage: Stories from the Mothers Who Rocked and Raised Rock Stars. In the book, she has maintained the storyline of her son and daughter.
Moreover, a series called From Cradle to Stage has also been created based on Grohl's mother's book.
As of recent, he is part of the band Foo Fighters, whose recent album 'Medicine at Midnight' was released on February 05, 2021, and became part of the Billboard 200.