Music
Corey Taylor's Son Makes First Move In His Professional Career
Corey Taylor son's credited his father for his success which shows the bond that they share but what about his relationship with his daughter?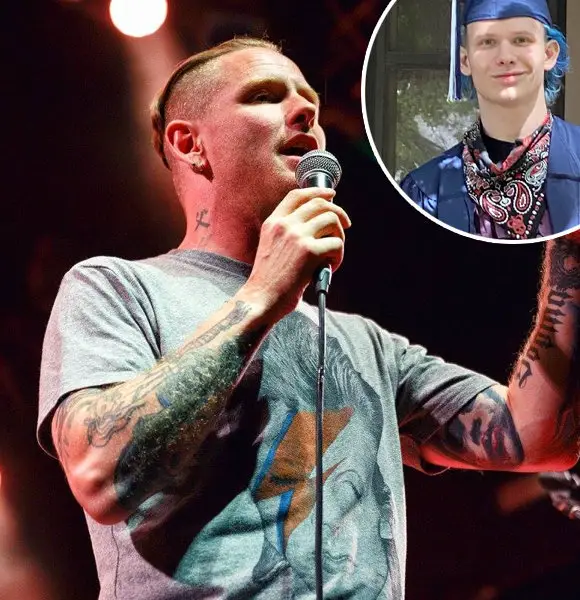 Corey Taylor, this name alone defines many millennials' teenage life and adult life, including Gen Z's. 
Taylor, lead vocalist of the famous band Slipknot, created a huge uproar among the masses, and to this day, remains part of one of the biggest bands ever to exist. 
Now, his son has taken it upon himself to continue his father's unbeatable legacy and dive into the world of music. 
Corey Taylor's Son's First Step 
Taylor has been married three times, and his son, Griffin Parker Taylor, was his bundle of joy that graced his life before his first marriage with Scarlett Stone. 
Griffin was born in 2002 when Scarlett was Corey's fiancee, and the pair got married when their son was almost two on March 11, 2004. 
Now stepping into adulthood, Parker has found his purpose and what kind of career path he wants to take. It seems the apple did not fall far from the tree. 
Griffin being the son of a famous band's lead singer, is a frontman of his own band, Vended. 
Well, the father and son sure do have a very uncanny resemblance in terms of their looks; now, they also share a similar career front. 
Griffin's first introduction to the masses happened in 2020 when the band played at Knotfest's "Pulse of The Maggots" festival, which garnered over 100k views on the YouTube platform. 
Another Singer: Taylor Swift is the Highest Earning Celebrity, Proclaims Parade Magazine. Find Out Who Else Made it to The Top 5 List!
This was one of the biggest exposure that the band has had in years after forming in February of 2020. 
Corey's son, along with his band, has released their debut single, "Asylum," which features  Simon Crahan, son of another Slipknot percussionist Shawn Crahan. The song was released in late September 2021.
Vended Band's Song, Asylum
His son really admires his father, and it really shows. Griffin never fails to express the respect and love he has for his father and shares just how grateful he is. 
On the occasion of Corey's birthday, Griffin took to his social media to wish his father a happy birthday. Calling him one of the "best dads a kid could ask for," he shared how his father has gone through "hell and back." He finally concluded his wish with, 
"My father has taught me so much about this world, and help me understand it and myself at the same time. And this Christmas I am thankful for my family. Happy birthday dad!!!!"
It is no doubt that his son is very much fond of him and looks up to his father a whole lot. In contrast, his other children are not very close with him.
Griffin has three kids in total from his past relationships. He has a daughter named Angeline Taylor, who was born from his previous relationship, and another daughter named Ryan. 
Corey Taylor's Personal Struggles
Taylor sat down for an interview with Metal Hammer during the release of Slipknot's 2019 album, "We Are Not Your Kind." The interview was filled with some intense and heavy talks which Corey decided to share. 
Touching on how his past relationship ended, he said, 
"I've been reticent to go into too much detail about my prior relationship but it was really dark, really toxic and it ended badly" 
Before being married to his now-wife, Alicia Dove (2019), he was married to his second wife, Stephanie Luby, from 2009-2017.
Besides, he and his now-wife do not share any children of their own.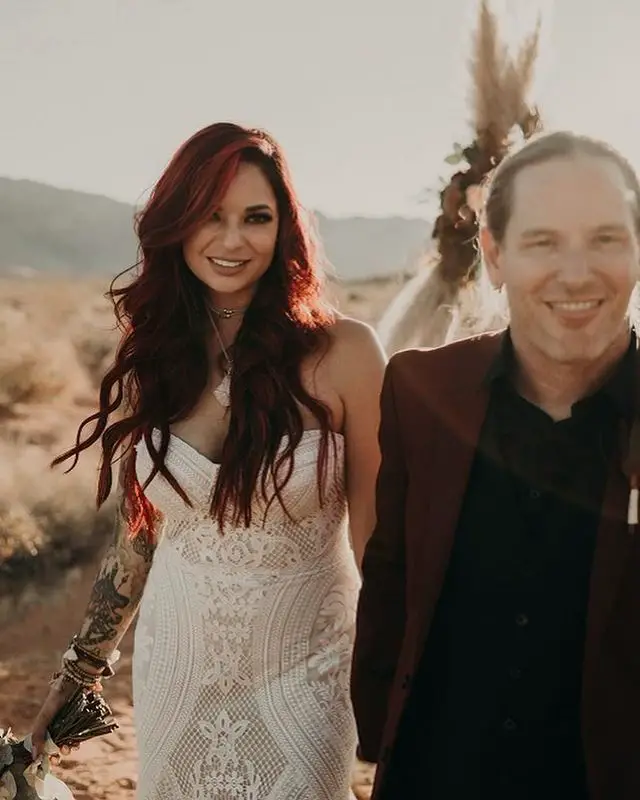 Corey Taylor With His Wife (Source Instagram)
Corey shared how he did not want to feel like he failed twice, meaning his already failed marriage with Scarlett.
However, he also shared that the good thing that came out of his marriage was his daughter, and that's one thing that he could be "thankful for from the relationship" and "nothing else."
Also Read: American Singer & Actor Billy Ray Cyrus' Supports Pansexual Daughter Miley Cyrus
In the same interview, he also revealed how his relationship with his eldest daughter, Angeline was not good as they were not really close and that they "drifted apart" a few years ago. 
He further expressed how he feels about the whole situation and said, 
"It's a tough thing to deal with, but all you can focus on are the ones you have, the ones that are right there, and hope that the other one is doing OK. I definitely miss her."
Indeed, his relationships might have been a rollercoaster, but Corey has kept people around very close to him as he also has successfully entered two years inside his marriage with his now-wife. 
Additionally, the news of his wife's death has also surrounded the media, but LiveRamp Up cannot confirm the news as there have been no official confirmations regarding the matter.