Entertainment
'I am not gay' Dave Navarro Said Confirming His Sexuality
Dave Navarro admits to not being gay and opens up about his sexuality experiment that answers the fans' asked question, 'Is Dave Navarro bisexual?'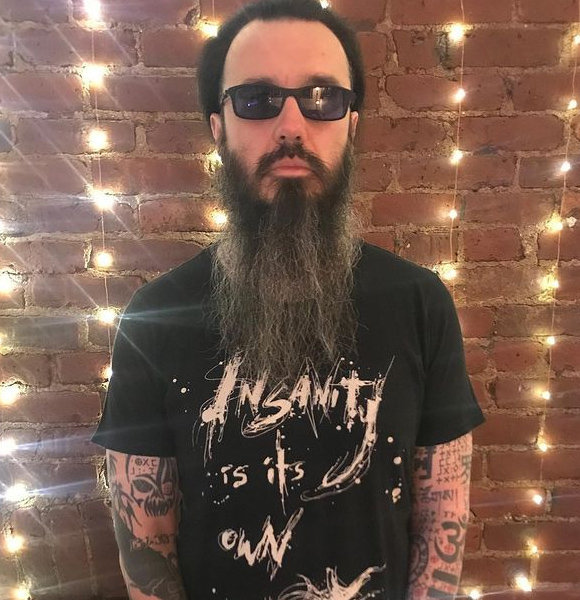 "I am not gay," American guitarist Dave Navarro commented, confirming the speculations surrounding his sexuality.
Besides coming under the limelight as a brilliant musician and a passionate tattoo enthusiast, Jane's Addiction band member created quite a stir in the media when he openly talked about his sexuality experiment.
So Is Dave Navarro Bisexual?
Before jumping to the conclusion regarding his sexuality, rockstar Dave did his share of exploration with some men in the past.
Through his experiment, one thing the guitarist became sure of was that he fell under the category of straight men. Taming the curiosity of his fans, the guitarist eventually answered the long asked question about his sexuality, saying,
I've come to realize through my experimentation over the years that I'm not gay, nor am I bisexual.
Well, one of his experiments is pretty visible in a music video of Warped by Red Hot Chilli Peppers.
During his affiliation with the band as a guitarist, Dave, along with the band, came out with the release of the song Warped. At the end of the eccentric music video, he is seen sharing a kiss with the band's vocalist Anthony Kiedis.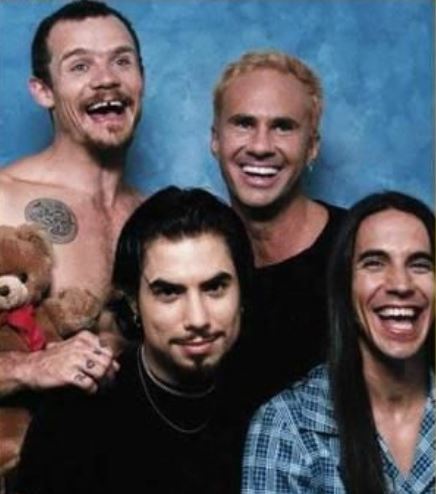 Dave Navarro posing with the band members of Red Hot Chilli Peppers (Source: Pinterest)
Dave's remark further clarifying his sexuality goes as,
I've never been aroused by a man, but I've been in situations where I could potentially be aroused.
He also admitted if he ever were to pick a male crush, it would be actor Johnny Depp.
Of course, who wouldn't pick the heartthrob Johnny Depp?
While Dave revealed his male crush, his then-wife Carmen Electra also shared her female crush was the rockstar, Joan Jett.
Regardless of his sexuality being one of the hot topics of discussion among his fans, Dave tied the knot with three women, with each marriage coming down to divorce.
Although Dave's relationships with his ex-wives also suggest that he is straight, his avid support for the LGBTQIA+ community remains intact.
Love life of - Inside Eddie Vedder's Blissful Married Life
Dave's Support For LGBTQIA+ Community
"Do not let the bullies win," the guitarist stated in his letter speaking up against anti-gay bullies.
During 2010, the bullies against the LGBTQIA+ community were dominant amongst the youngsters in schools and colleges, leading to an increase in suicide rate at a concerning number.
Dave, urging the victimized teens to stay true to their identities and not to tolerate the bully, wrote,
The strength and character it must take to stay true to yourself in such an unforgiving microcosm are qualities that a major portion of the world lacks...when one of our children gives in and gives up, it is not only a tragedy but a victory for those who fear diversity. DO NOT LET THEM WIN!
In his letter, he also talked about his devastating experience as a teen when he considered suicide as an alternative to his problems. In his words,
Personally, I have seen a lot of darkness and tragedy that has felt insurmountable. The murder of my mother, my battle with drug addiction, the loss of friends and family. Utter depression and despair. Of course the thought of suicide has crossed my mind a time or two. Let me share this. THANK GOD I never took that action. 
But with his cautionary tale, Dave shared how he got through to the other side of the tunnel and turned his life around for good.
Seeing Dave become a well-established artist in the music industry, influencing countless people is an inspiration to whoever shares the same journey is truly inspirational.
More on - Annie Martell's Love Story With John Denver Still Echos Through the Celebrated Ballad 'Annie's Song'
Who Is Dave Navarro?
The rocker Dave Navarro's presence in the music industry dates back to 1986 when he first joined the rock band Jane's Addiction.
Growing up with the influence of the musical legend Jimi Hendrix, Dave's fascination for guitar began while he was just merely at the age of seven.
With hardcore dedication, the guitarist has two solo albums under his belt, while with Jane's Addiction, he worked on over half a dozen studio albums.
Besides, he is also remembered for his short-term association with the iconic rock band Red Hot Chilli Peppers.
As the renowned guitarist also expanded his wings in entertainment, making his appearance as a judge in the reality tattoo show Ink Master, his net worth has peaked at 20 million dollars.