Since Dave Navarro appeared on the tattoo show Ink Master as a judge, he has many of his fans asking, 'is Dave Navarro a tattoo artist?'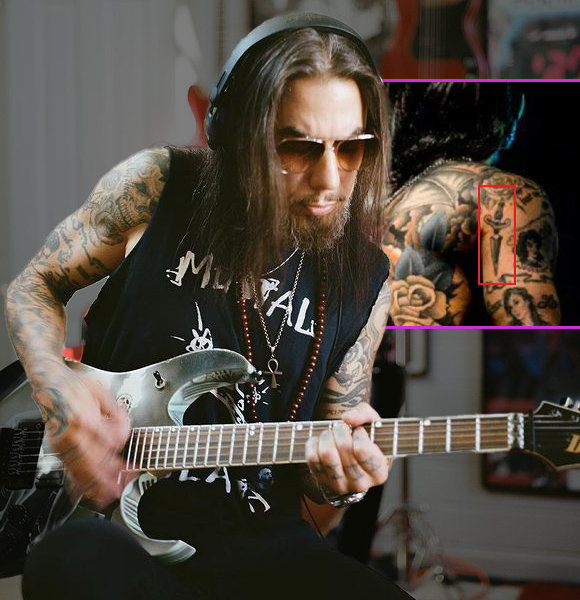 Dave Navarro, despite being a notable face of the rock band Jane's Addiction, is mostly known for his passion for tattoos which often confuses many if he is a tattoo artist.
Mainly the confusion arose after seeing the American guitarist as a host and judge on an American reality tattoo show, Ink Master.  
Is Dave Navarro A Tattoo Artist?
Well, he has not reached quite there, but his heavily inked body is evident enough to suggest his undying love for tattoos.
Not to mention, the tattooed guitarist probably has as much knowledge as a tattoo artist, which is why he was offered to be a judge for Ink Master, where he played an integral part in selecting the best tattoo artist from the pool of eligible competitors.
But having a tattoo enthusiast in the show added a new perspective to the entire selection process, and the audiences enjoyed his presence.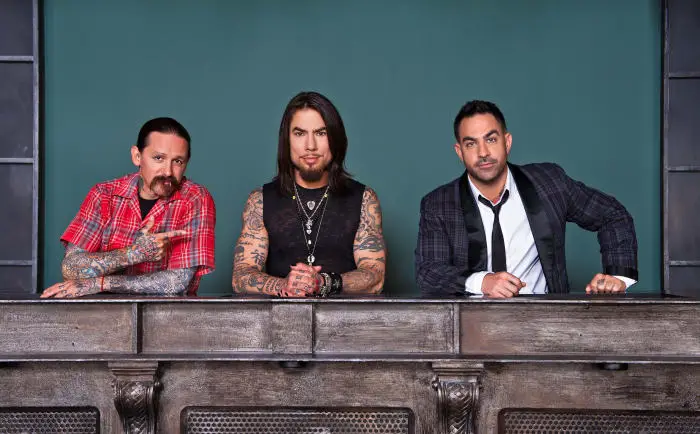 Dave Navarro (middle), posing with the judges of Ink Master (Source: Inked Magazine)
He frequently received questions on why he was on the show, but his presence allowed him to add his client's point of view that assisted in picking a more refined artist as the winner of the show. In response to people's curiosity as to why he was on Ink Master, he commented,
I'm the client. So, there needs to be a judging voice from someone who's not coming at it from an artistic standpoint, not from a technical application standpoint, but just an overall, 'If I was a canvas and walked into the shop, would I be stoked with that tattoo?
The musician took the role of the primary judging panel in the reality show in 2012 when the show's first-ever season was aired and continued with his position on the show until 2020.
While the show ended with its 13th season, which was aired in 2020, the guitarist's journey with the show also ended. But through the reality show, his fans got to explore another side to him other than his music.
More on - Inside The Controversial Relationship Of Jack White And His Ex-Wife
Tattoos He's Done
The ink lover's first tattoo dates back to when he was at the age of seventeen. Since then, he has only added more and more.
Sharing some of his memorable tattoos in an interview with SPIKE, the guitarist pointed out the rose tattoo on his right arm and said it held a sentimental meaning to him. Right above the rose was a scripture that read, 'I have one but not by choice.'
Dave Navarro talking about his tattoos (Source: YouTube)
Further elaborating on the meaning of the tattoo, he said,
Basically, I was on an airplane and this old woman sitting next to me, she looks at all my work [tattoos] and she says I have one but not by choice. And I was like, okay, and she rolls up her sleeves and reveals her holocaust numbers when she was in Auschwitz as a little girl.
The older woman's heart-wrenching story of how she was separated from her family as a victim of the holocaust touched his heart. As her name was Rose, he engraved a rose on his arm, treasuring the memory of his encounter with the woman in the form of a tattoo.
Get to know - Toby Keith and His Wife's Relationship, From First Dance To Having Two Daughters & A Son
Another one of his striking tattoos was a painting by Gustav Klimt called Hope which he got on his right arm. The tattoo is also one of his treasured ones as it resembles the work of his favorite painter. 
Besides the heavy sentiments carrying tattoos, including those dedicated to his mother and his ex-wife, he also has some inked just for fun. On that note, he also showed a pair of glasses inked on his left arm that was done by Dave Siddik, a music band member who is not a tattoo artist at all.
Dave also added that not all of his tattoos are about craftsmanship and being perfect. But it's more of a treasured memory of all kinds.