Entertainment
David Cone's Social Media Is Full Of Love For His Beau
Love life of David Cone, a former MLB player with a heavy net worth, as it appears on his socials, has his followers questioning, 'Is Davis Cone married?'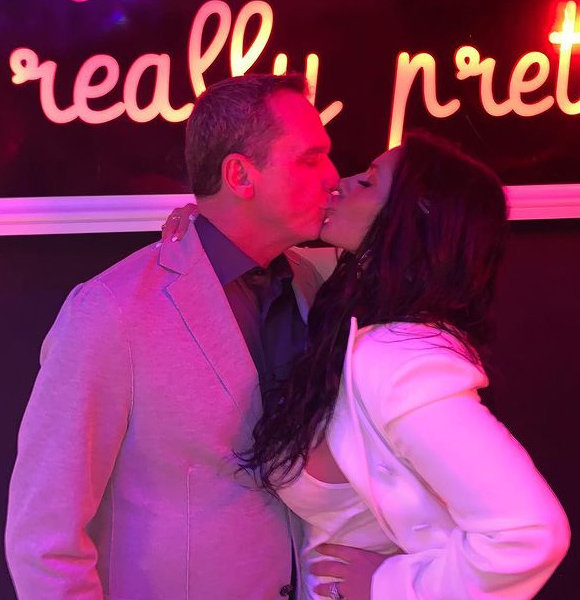 American former Major League Baseball pitcher David Cone cannot stop showering love for his beloved partner on his socials.
To this amazing woman who gave me a beautiful son.
The former MLB player wrote on his Instagram post of 2019 wishing his beau on the occasion of mother's day, letting her know how precious she is to him. 
The swoon-worthy 'gram post displayed their adorable couple moment where they shared a peck in front of a sign that read, 'you're like really pretty.'
While David is busy treating his social media followers with his sweet family moments, his curious fans might be reluctant to know more about his partner. And their major question remains 'Is David Cone married?' So, we are here to serve your curiosity.
Inside David Cone Family Life
David's beautiful partner, Taja Abitol Cone, is a real estate agent who has been in the business for almost 23 years.
With substantial experience in her field of work, Taja is now a renowned agent marking her dominance as an expert negotiator. Talking about her love for her work, she once remarked,
Purchasing a home is a dream come true for most, and that's a service I love to provide.
Having had extensive experience in the regions such as New York City, Miami, and Hampton, one of Taja's top negotiations include the real estate of East 87th Street, Sutton Place, East 72nd Street, and Sutton Place South.
As passionate she is about her career, her inclination also lies in entertainment. But despite her auditioning four times for Real Housewives, she could not enter the reality show. While talking about the rejection, she quoted,
My life is so perfect for TV that it's unbelievable to me that they don't see that. And that's the truth.
Although she believed her 'perfect life' was worthy of displaying on TV, her dream of being on television somehow halted.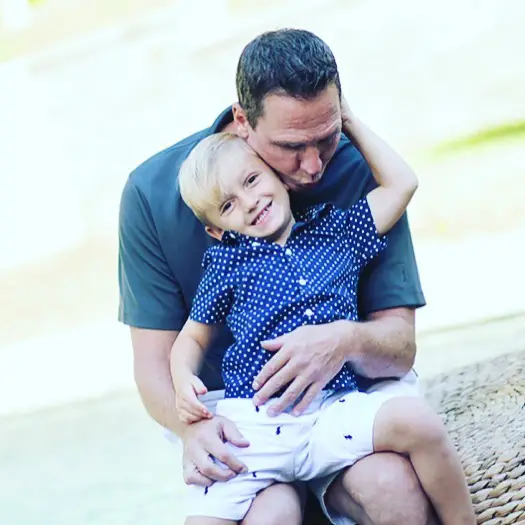 David with his son (Source: Instagram)
But her social handles are enough to show her fulfilling family life with David, with whom she shares a son. Although the loving pair has been together for several years with an eight-year-old son already, Taja is yet to be David's wife. 
The pair haven't yet opened up about their plans to take the big move, but looking at their relationship as seen on their socials, their followers already hear the wedding bells ringing. However, only time will tell what lies ahead for the love birds.
Personal life of - Inside Bob Roll's Not-So-Known Family Life & Well-Known Professional Accomplishments
David Had A Wife?
Well, yeah! The sports commentator David has shared wedding vows once. His first wife was Lynn DiGioia, with whom he tied the knot in 1994.
Having been together for seventeen years, the pair divorced in 2011. From their relationship, they share a son, Brian Cone, born on March 23, 2006.
One thing that might have caught your eyes is that the year he separated from his former wife, David became a father to his son from his relationship with Taja. This clearly suggests David and his ex-wife were already in a conflicting relationship for quite some time before their divorce in 2011.
However, unlike his present relationship and the family he has built with Taja, he is not very open about his past relationship.
But anyway, leaving the past behind, the former athlete's love life now looks like what he had always desired to have. More so, his life is seemingly fulfilling with a happy family and a flourishing career.
More on - Is Tim Lincecum Still In A Relationship With The Mystery Blonde From 2012?
More On David Cone's Net Worth
Making MLB debut in 1986, David caught attention for his astounding gameplay while he began his pro baseball career at Kansas City Royals.
Entertaining the baseball fans for almost three decades, the former player ended his baseball career in 2003 with New York Mets.
During his association with MLB, he had already garnered a hefty net worth with contracts deals for millions of dollars. As Celebrity Net Worth reports, the former athlete earning from his playing career was around 67 million dollars.
And his net worth now escalates to 33 million dollars as a sports commentator for the New York Yankees for YES Network. Not to mention, his prevailing dominance as a brilliant commentator will only add to his existing impressive net worth.