Sports
Lets Talk Dennis Rodman's Net Worth, Wife and More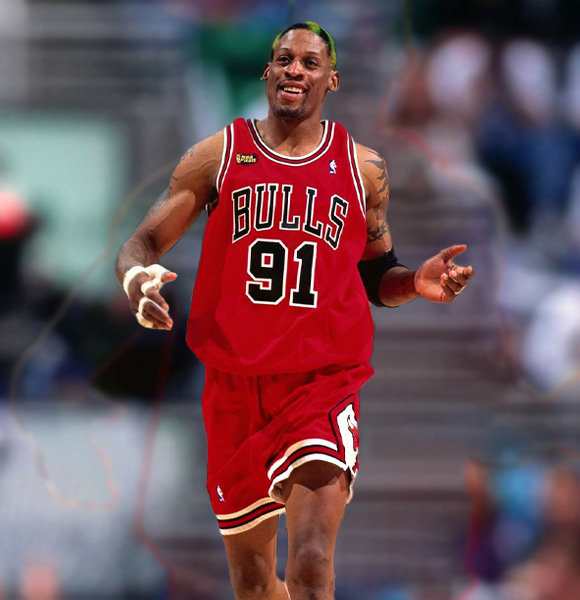 American former professional basketball player Dennis Rodman has been listed as the sought-after rebounding forward in NBA history and has been given the nickname "the worm."
Dennis is unarguably one of the greatest players in the NBA.
From winning several prestigious NBA accolades to having NBA career statistics so adequate, Dennis's professional front garnered his immense love and respect. 
And being such an excellent player, it would be only fair for Dennis to have earned a hefty net worth through his career, which he rightfully did. 
Here is to looking into some of his career highlights and net worth. 
Dennis Rodman's Net Worth 
The retired professional basketball player mostly played as a power forward for most of his career. He started his career in 1986 with Detroit Pistons.
He initially played in the position of small forward during the beginning of his career and earned the NBA All-Defensive Player of the Year Award twice.
Moreover, Rodman has won five NBA championships. 
Over the course of his career, he played with teams like Chicago Bulls, Los Angeles Lakers, Dallas Mavericks, etc. 
Rodman retired with a glorious career to look back on April 1, 2011. He was retired by his first-ever team Detroit Pistons, with his No.1 jersey. 
Dennis Rodman on Court For Chicago Bulls (Source Pippin Aint Easy)
Shortly after Dennis retired, he was inducted into the Naismith Memorial Basketball Hall of Fame and was esteemed as one of the league's greatest players of all time.
Also Read: The Love Between Taral Hicks and Her Husband Has Always Been Real!
According to Spotrac, accumulating his salaries and contract, his estimated career earnings for 12 seasons (from 1986-to 2000) were $27,031,176. 
Therefore his net worth should be a jaw-dropping amount, right?
However, verified sources such as Celebrity Net Worth have reported his net worth to be only $500 000, which is pretty undigestable given his amazing career and unique and exquisite car collections.
Not to mention his massive 6,681 square feet house in Michigan. 
However, it could also be because Rodman has not given much intel about his net worth and earnings. 
Regardless of what his net worth amounts to, Dennis is and will always be one of the greatest players in NBA history. 
More on Dennis Rodman
Born on May 13, 1961, the former athlete's professional career is undoubtedly a success, but his personal life hasn't been the same.
Well, we are talking about his rough history with past girlfriends. So, who is Dennis Rodman married to as of today?
Dennis, who stands at a towering height of above 6 feet, doesn't seem to be married to anyone. However, he was married to his first wife, Annie Bakes, but the two later separated. 
Actually, Dennis might be one of the NBA players who have dated the most popular women in America and all of the world. 
He has dated Madonna and Carmen Electra (married actually) and not to forget to mention Vivica A. Fox.
But his relationship with Madonna seems to have been the most discussed as the two did spend quite a lot of time together.
Although they weren't together for that long, their relationship still remains Dennis's most talked about. 
And oh! just to drop it there, he wore a full wedding dress and married himself. 
Well, as of today, Rodman seems to be single, and it could be due to his busy career, or it could also be due to his busy life post-retirement as he is a US Peace Ambassador to North Korea. 
More On: Amanda Brugel Shares Tips on Parenting- Get to Know Her Children
His daughter, Trinity, like her father, has also opted for a career in the sports industry. She is a soccer player and recently became the highest-paid player in National Women's Soccer League history. 
Talk about influence and hard work!