Sports
Dez Bryant's Life Now & His Past Struggles
American football wide receiver Dez Bryant, also known as Desmond Bryant, has a well-to-do and happy life. 
Since being drafted in the 2010 NFL draft, his professional achievements are a story of their own and well-known among his fanbase.
However, his personal life usually gathers much curiosity with questions surrounding his girlfriend and family. 
So, to all the curious birds that landed here- you are on the right nest. 
Dez Bryant Has A Girlfriend?
The Dallas Cowboys drafted Bryant during the first round of the NFL Draft held in 2010. He played in the team for seven years, earned three Pro Bowl berths, and was named an All-Pro in 2014. 
He sure is a good football player and has achieved much in his career, but his personal life has garnered much media attention. Sometimes for the better and sometimes for the worse. 
Bryant's career graph has always been smooth, but the same cannot be said about his personal life. 
The athlete does not have a wife, but he is in a relationship with his girlfriend, which has been pretty much out in the open. 
He has been dating his girlfriend, Ilyne Nash, for a long time now, and the two share two kids, a son named Dez Bryant Jr. and a daughter named Isabella Rose Bryant. 
More On: Jason Witten Life After Retirement With His Wife & Kids
It, however, has also been reported that Bryant had been dating a woman named Brianna Hooks during the same time he was in a relationship with his girlfriend, Ilyne. However, nothing is confirmed related to this matter.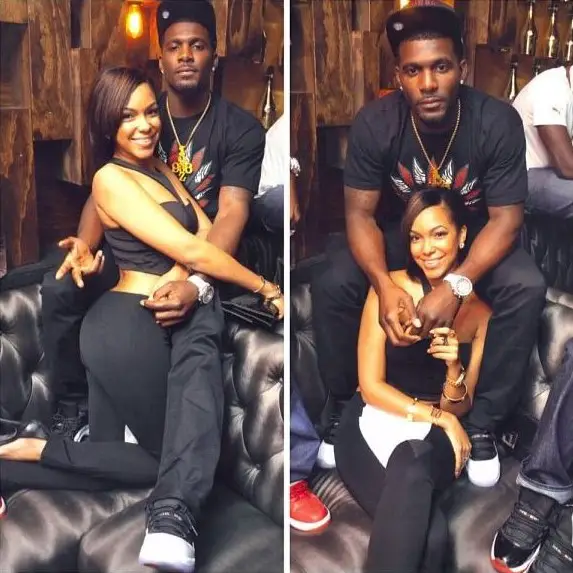 Dez Bryant with His Previous Girlfriend (Source Blacksportsonline)
But as of now, the NFL player and his girlfriend seem to be together and raising their two beautiful children.
The two, however, are not married as of yet but looking into their long-lasting relationship, we wouldn't be shocked to see him referring to his current partner as his wife soon. 
He has many reasons to be happy now. A girlfriend, children, and a successful career but his life before all of this success and change wasn't an easy one.
He had to undergo a lot of hardships and a lot of struggles primarily relating to his family. 
Powering Through It All
The Baltimore Ravens player was born to his mother, Angela Bryant, and his father, MacArthur Hatton. 
Born in 1988, the 33-year-old lost his father in 2016. As a result, Bryant had to power through many struggles in his life while growing up. 
His mother was hooked on dealing drugs, and he had to overcome that struggling moment of his life. He grew up being surrounded by drug dealers and had to see his mother go to prison when he was a teenager. 
"Crackheads in my house, potato chips and peanut butter for dinner — my life was s*** all the way to college," he shared of his childhood. 
His grandmother was also addicted to crack cocaine. He also shared how his mother took it all out on him, hit him with pipe, and "slashed" him across the back. 
The mental pressure and frustration were so intense that Bryant also attacked his mother. As per a report by 2012, it shows his mother saying how the NFL star attacked her. 
The storm seems to have passed in the family by the looks of it, and although everything might not be all sunshine, things sure seem to be a lot better. 
By enduring so much at such a young age, he powered through it all and has become one of the most prolific players of his generation. 
Also Read: Story of Ezekiel Elliott's Eye-Catching Tattoos & His Recent Stomach Tattoo
His experiences have taught him a lot, primarily resilience and patience in life. Due to this, at the young age of 33, Dez Bryant has already set out a name for himself that has given him immense fame and fortune, which is not getting dull anytime soon.