Sports
Story of Ezekiel Elliott's Eye-Catching Tattoos & His Recent Stomach Tattoo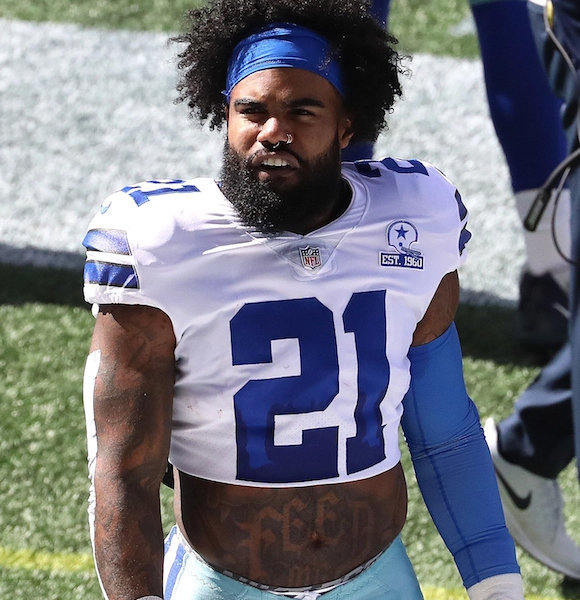 American football running back Ezekiel Elliott surely does make a football fan's eyes glued to the screen when he is on the field.
But looking at him masterfully toss, tackle, and play the 'all ball' game, the fan's eyes are always quickly fetched by his tattoos. 
Adding to his persona more are the tattoos of his arm that grab one's attention whenever he is in the field, but the lists of his body carvings go way beyond his arms, and the significance of it all goes way beyond just the design. 
Ezekiel Elliott's Body Tattoos
Well, his arm would be a good start, but we guess people are familiar with it, so to keep your excitement intact, here it goes. 
The Dallas Cowboys player has about 14 tattoos on his body and counting. Eliott might have added more to his body over the years (which we shall come to later), but these are the ones recorded. 
The three-time Pro Bowl very noticeably has a huge rose symbol on the left side of his chest reaching to his collar bone. 
While the meaning behind this design for Elliott is not known, the tattoo usually symbolizes love or loss and emotion in general. 
Right beside the chest ink is a portrait of a small boy on the right side of his chest, and the portrait of the boy is actually him from his childhood. 
Moving back, Elliott has a howling wolf design from what seems to be nighttime as the design consists of a moon and large dark tress. 
It is a symbol of strength and confidence, and a wolf is known to move in a pack, and given Elliott is an NFL player and plays alongside his team, this design perfectly matches him. 
Dive Into Another Athelets Tattoos: Brandon Ingram Dating, Family, Salary, Tattoos
This tattoo of his has another meaning to it. Elliott's wolf ink also represents his love for his family. 
As we said earlier, we would be coming to his recent inks. So, back on September 24, 2020, the NFL player made a tattoo on his abdomen (stomach area) with the words, "Feed Me."
His newest ink is at times visible through his crop-top jersey. Elliott had help from his friend Ivan Guzman for the design.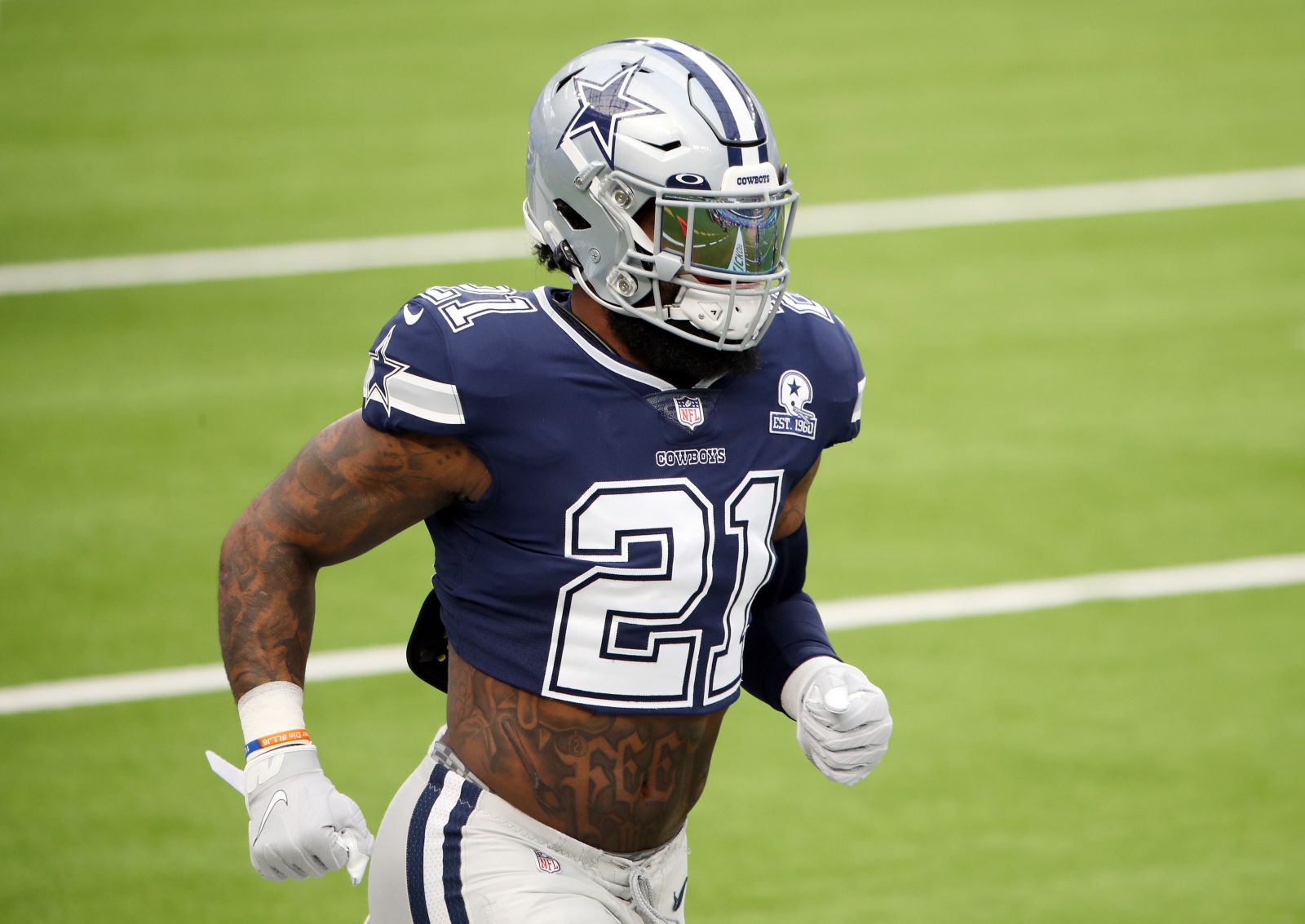 Ezekiel Elliott's Stomach Tattoos(Source Twitter)
"Feed me" is Elliott's mantra that he has attached with himself since his Ohio State days. It basically means that as a leader, he has to be present for his team, and he needs to give off solid energy that his team can feed off. 
"Obviously, the world knows he wants to be fed, and he wants to help the team in any way he can," said one of his teammates, Amari Cooper, about Elliott's newest ink. 
Now, coming back to the tattoos that get massive attention, his arm inks. These are just another bunch that has a different personal significance to the player and represents his journey as a whole.
Ezekiel Elliott's Arm Tattoos
The most noticeable design on his arm is his tattoo containing the letter "O" and the number 15 on his left shoulder and upper left arm, respectively. 
The "O" represents his time and football career in the Ohio State Buckeyes, and the number 15 represents his jersey number. 
Right opposite to his number 15 is a two-hands holding a trophy design that he made in memory of his College Football Playoff National Championship Today win with the Ohio State Buckeyes.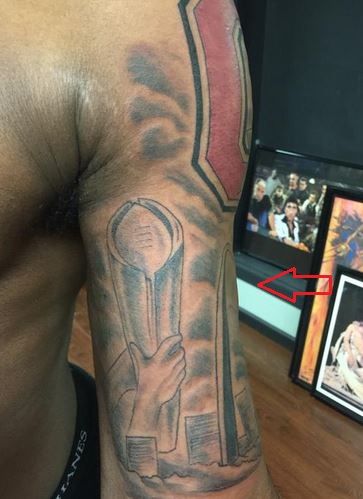 Ezekiel Elliott's Trophy Design (Source Bodyartguru)
As discussed through his Wolf tattoo, it is no doubt that Ezekiel is a family man, and he adores his family very much. However, the person he has carved on his body forever is his mother. 
The outer side of his left forearm has a portrait of his mother, who he loves wholeheartedly. Talking about family, Ezekiel also has a design of his dog Ace, who he adopted, on the inner side of his right forearm. 
Dont Stop Now, Keep Reading: A Look Inside Von Miller's Interesting Tattoos
By the looks of it, Elliott holds memories very dear, and he has found a perfect way to express them through art and keep them close. 
Elliott, 26, has much of a life to live and many memories to make. One thing we know for sure is that the NFL star will be adding more to his list of tattoos, and we are here to keep you updated on it.