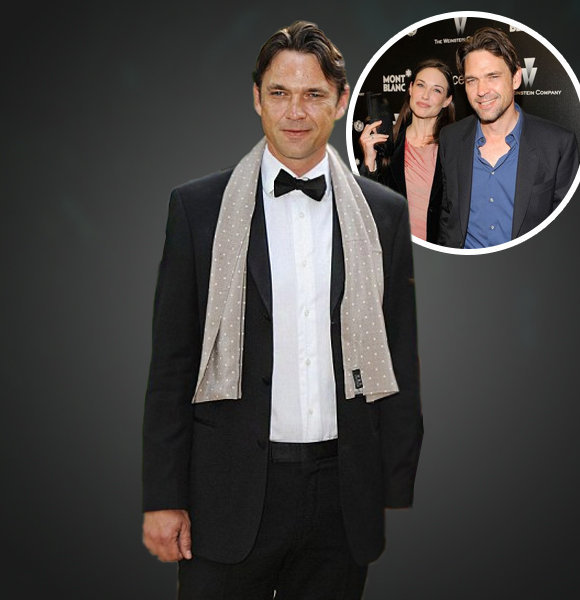 Scottish actor Dougray Scott is a notable name in Hollywood, thanks to his performance in major movies like 'Mission Impossible II' and 'Hitman.'
He has undoubtedly proven his talents with versatile roles, but off-screen, he's a loving husband and father to his wife and children.
Hate to break hearts, but Dougray is, in fact, married. He shares a lovely family with his beloved wife, and we're here to tell you all about them.
Meet Dougray Scott's Wife and Children
Dougray is married to actress Claire Forlani. The two had their wedding in 2007, following a year and a half of dating. 
Both are actors, so they got to know each other through their profession, but what caused the sparks between them? Moreover, how did Dougray Scott and Claire Forlani meet? 
Also see: What Is Betty Gilpin's Net Worth? Age, Height, Dating and More
Dougray and his wife met in 2006 through a mutual friend. Rumors were in the air about them dating, and they had been spotted together several times. 
But the rumors were confirmed when they announced their engagement in the same year. And apparently, the proposal was super romantic!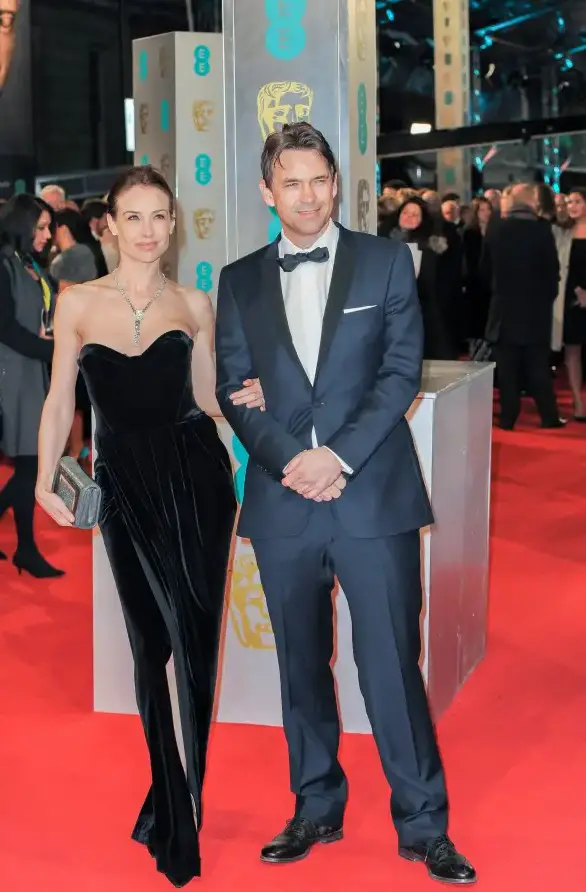 Dougray Scott and His Wife, Claire Forlani (Source: The Sun)
In awe and admiration of his beautiful wife, Scott told People, "I feel so lucky to have met her. She's an amazing actress and human being. I'm very happy."
Then, a year later, wedding bells rang for the couple. They had a private ceremony with their loved ones surrounding them for the auspicious occasion.
Moreover, the bride's father was the head chef for the day. The ceremony took place in Pievebovigliana, and Claire's father, Pierluigi, took the responsibility of catering to the guests.
The magical event was completed with the stunning bride and groom. For the occasion, Claire was clad in a custom-made strapless gown by designer Junko Yoshioka.
After almost 15 years of matrimony, their relationship has gotten nothing but stronger.  They are parents to their one son, Milo Thomas Scott, who was adopted. 
Likewise, Scott has twin boys from his previous marriage. He was married to Sarah Trevis for five years, from 2000 to 2005.
He has two sons, Gabriel Trevis Scott and Eden Trevis Scott, with her. 
More on celebrities and parenthood: Darryl Stephens on Raising a Child Alongside His Partner
Talking about his children, Dougray tends to get a little sensitive. However, he has tried his best to provide his children with the right care and upbringing. 
Moreover, he shares that being a parent has changed him, and he would do anything for them.
He told The Guardian, "Trying not to worry about them is the hardest thing about it. Every day, you worry about them constantly. It makes you wary of everything that's around you. You want to protect them for as long as possible. It is hard to just let go. You can't."
Furthermore, he shared that he sees no difference between his adopted son Milo and the twins. He stated,
I love him just as much as I do my biological children. There is no difference whatsoever. 
"I would put my life on the line for him, as I would for the twins. My whole perception about adoption changed the moment I saw him. He is part of me, 100%." the star added.
Well, it seems like he has it all sorted in the parenting aspect, and his relationship with his wife is as wonderful as it gets, alongside a great career.