Celebs
Eboni Nichols Remembers Her Partner and Kid While Accepting an Award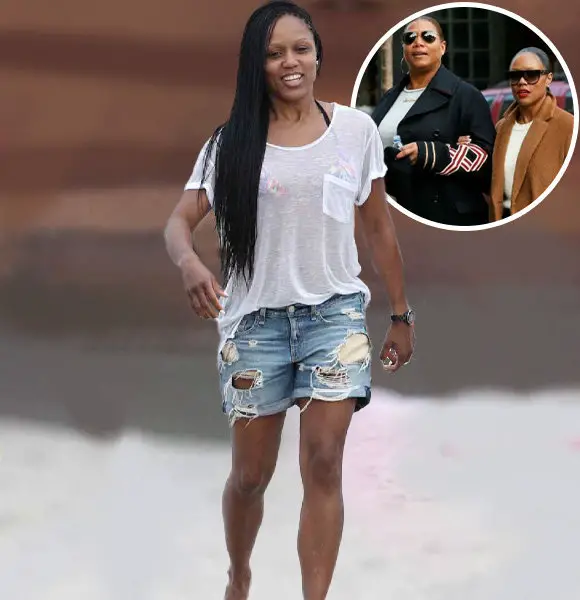 Eboni Nichols is one of the notable choreographers for television and film, best known for her work in 'Dreamgirls' and 'Bedazzled.' 
She has been credited as a choreographer in over two dozen of projects. She balances her busy professional life along with her kid and her partner. 
People have often wondered who Eboni's husband is or who is the father of Eboni Nichols's baby, and every time there has been no answer to the question. 
Well, it is because Nichols does not have a husband. She has been in a relationship with a woman with whom she has been together for almost a decade now and shares her kid. 
Here is a look into their love life which is both magical and heartwarming. 
Eboni Nichols's Kid & Love Life 
Eboni Nichols has been in a relationship with her partner Queen Latifah.
Most people must be familiar with Quee Latifah as she is a very popular American rapper, actress, and singer. 
Well, how did a choreographer and a singer meet? Their odds of meeting each other weren't very less as the two belong to the industries that complement each other. 
Eboni and Queen Latifah met on the set of 'Dancing with the Stars,' which really was the perfect place for the two to meet each other. 
They began their relationship in 2013, and in 2019 (rumored), the two welcomed their first kid, Rebel. 
They have been together for nine years now and are going strong to complete a decade alongside each other, now added with their adorable kid.
Queen Latifah and Eboni's relationship was not confirmed, and people used to feel the two were dating under the radar as they were not open about their relationship. 
However, it changed when Queen Latifah made a very emotional speech while accepting her Lifetime Achievement Award at the  BET Awards. 
The rapper accepted her award and then went on to address her love and her son while concluding her statement.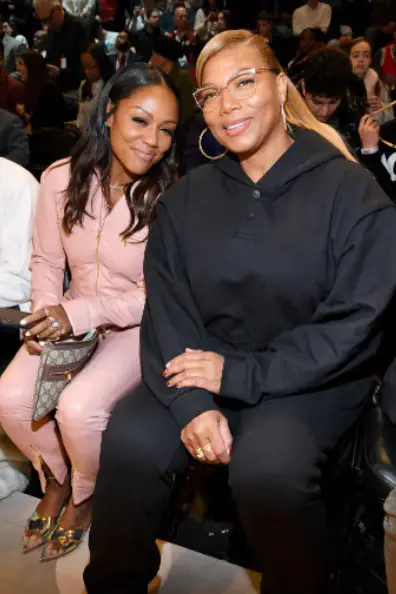 Eboni Nichols with Her Partner Queen Latifah (Source The Sun)
Get to know - LaVan Davis Has a Wife? Who Is She?
She said, "Eboni, my love. Rebel, my love," and ended with, "Happy Pride!"
Their relationship had always been on the down-low as the two never really talked about being together or confirmed anything about their kid. But this statement went on to ensure the relationship between Eboni and Latifah. 
Moreover, people also do not seem to know when their son was born exactly.
Most speculate it was in 2019 as Eboni was spotted with a baby bump around early 2019, sparking questions regarding the baby father.
The two truly have created a wonderful life for each other. Staying true to each other for all these years and raising a family that they built together has to be one of the most precious moments for them.
The busy mothers have a lot on their plate, and it is marvelous to see how the two do it all and manage to raise their kid together. 
Eboni is the most known choreographer who has worked with Beyonce, Jennifer Lopez, etc. She was also the choreographer for all the five seasons of the popular 'Jane the Virgin.' 
Her recent project was 'The Oscars,' and her other project, 'Lyle, Lyle, Crocodile,' is in Post-production and will release in 2022.