Elias Koteas's career and staggering net worth have always been the highlight of his life but what do we know about his family and love life?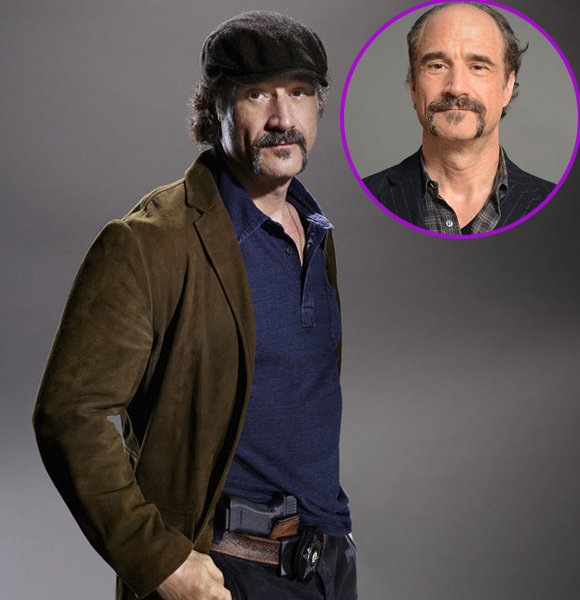 Best known for undertaking the role of Alvin Olinsky in the television series Chicago P.D, the Canadian actor Elias Koteas has been dominating the television screens for quite a long time at the same time, garnering an impressive net worth from his successful acting career.
Blessing his fans with numerous films and television series throughout the years, the star actor is now a renowned globally recognized artist whose impressive career accomplishments and staggering fortune are sure to keep you in awe.
What Is Elias Koteas's Net Worth?
Elias began his career in 1985, making his debut with the film One Magic Christmas and TV series Private Session ever since, he has been prominently working in both American and Canadian films and series.
The Quebec-born actor, stealing the hearts of countless fans with his Greek looks inherited from his Greek descent family, went on to appear on several works later on. But, his breakthrough role happens to be the one from Chicago P.D., where he portrayed the role of Alvin Olinsky.
The American police procedural TV drama, which aired in 2014, has a total of 170 episodes collectively for nine seasons, was a hit. And, the actor appeared as the main cast for 160 episodes.
Given that his co-star Jason Beghe earned over 250 thousand dollars for each episode, including royalties worth 6 million dollars each year as reported by Cheat Sheet, it's assumable that Elias, too, made a hefty salary from his appearance on Chicago P.D.
Besides, one of Elias's most earning works also includes his role in the film Now You See Me. Talking about numbers, the massive hit 2013 crime movie, where the actor portrayed Lionel Shrike, grossed a total of 351.7 million dollars globally as per the report by Box Office Mojo.
As the budget for the movie production was 75 million dollars, the movie sored to an outstanding profit. While the film made big bucks, it's no wonder Elias's also bagged big money from portraying in the movie.
To sum up the net worth Elias Koteas has earned from his successful acting career, and Celebrity Net Worth reported his wealth to be 7 million dollars as of 2021.
Although he does not flex his assets, he once took to his Instagram to show off his Vette that once belonged to his mother. In addition, his recently restored car is now worth over 50 thousand dollars.
Many are pretty much aware of his acclaimed professional life, but what remains a matter of curiosity to his fans is his love life, which is barely known to the public.
More on - The Eye Widening Net Worth of Andre Iguodala & His Family Life
Does Elias Have A Wife?
Despite being open about his profession, he relatively keeps his personal life away from the limelight. The details of his previous wife are somewhat a mystery, but his dating rumors after his divorce have made it into tabloid headlines.
Elias made a big buzz when he was reportedly among the men the Hollywood actress Heather Graham dated. The rumor dates back to the 1990s, but their brief relationship ended shortly.
While his rumor with Heather settled down after she had moved .on with another relationship with Jon Favreau, Elias was rumored to have been in a relationship with a woman named Amy Cruickshank.
Media tagged his name with Amy after he was sighted making a few red carpet appearances, including Across The Wall New York Screening and the after-party hosted for "TWO LOVERS" in 2009.
Besides their public appearance, no confirming news has ever surfaced of them involved in a romantic relationship except for their dating speculations.
As of now, the actor does not seem to have a wife as per his public and social media appearances. However, he is recently busy with his ongoing project, preparing to hit screens with his new works.
Get to know - What Is Kirk Gibson's Three Decades of Married Life Like?
What Is Elias Koteas Doing Now?
As he is most known for Chicago P.D., his enthusiastic fans flooded the internet asking the question ' Is Elias Koteas dead?' after his character was killed off on its fifth season. Well, he is clearly now dead and is currently involved in his upcoming projects.
After he left the Chicago P.D., another one of his long-reigning series happens to be Goliath, where he has been portraying the character Tom True since 2014.
As for his movie, his last one was My Days of Mercy in 2017, while as per Deadline, his upcoming movie is said to be The Baker, starring alongside Ron Perlman, Harvey Keith, Emma Ho, and Joel David Moore.
The producer of The Baker made a statement about working with Elias, along with other star casts, in the film as such,
I've had the great fortune of working with Harvey Keitel and Elias Koteas previously, and bringing them together on-screen with the great Ron Perlman couldn't be more exciting to me. Round that out with a talent like Joel David Moore, and adding this incredible natural young phenom Emma Ho, makes this a world-class cast!
So Elias's fans, keep your eyes wide open for his newest release.