Sports
Feleipe Franks- His Parents' Pride
Feleipe Franks's aspiring journey to making his place in the NFL team Atlanta Falcons was only possible with his constant diligence and commitment to the sport.
But, behind all his hard work, his biggest inspiration and cheerleaders have been his parents, who are more than proud of his accomplishment. 
"We support Feleipe. Whatever his decision was, we support him," are the words of his father, who is always there for his son in his endeavor to greater accomplishments.
Feleipe Franks Making His Parents Proud
Given Feleipe's astounding gameplay, it's no wonder his parents already knew he was going miles with his football career.
Feleipe, who embraces a mixed ethnicity as a result of his diverse parent's race, quickly grabbed attention for his brilliance in the arena since high school when he attended Wakulla High School.  
After high school, he continued his college football career with the University of Florida, setting his mark as one of the sought-after college footballers. 
Likewise, his transfer to Arkansas in 2020 made for other striking headlines, which were soon followed by his commitment to the Atlanta Falcons in 2021. 
Although Feleipe saw many changes in his journey to reach the place he is today, one thing that has not changed by a bit is the undying support of his parents.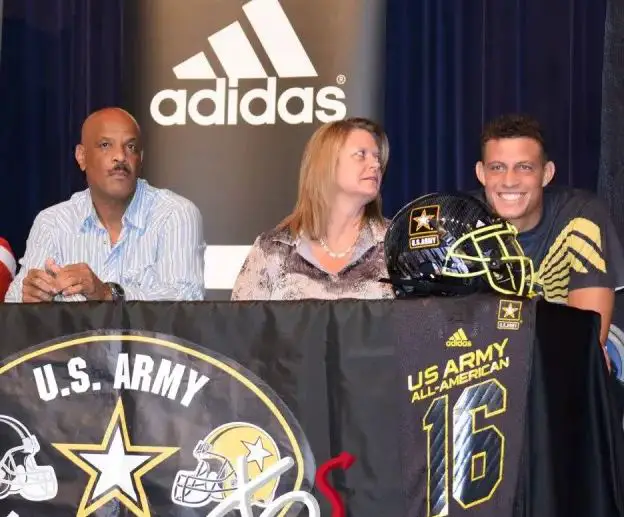 Feleipe Franks pictured with his family(Source: USA Today)
Get to know - Footballer Zack Moss Says He Plays For His Mother
Talking to Pig Trail Nation, Feleipe's mother, Ginger Franks, shared about his incredible journey as a footballer and what it was like for her to see her son achieve milestones. 
Feleipe's parents have always been closely involved in any significant decisions regarding Feleipe's football career. Their support and motivation never left his side. 
Elaborating on being a part of the major 'big transition' in his career, Ginger shared that she was very involved in the process when Feleipe made a transition from high school to college, joining Florida. 
But later, when he decided to leave Florida to join Arkansas, Ginger said that her involvement was scarce, allowing him to decide for himself. And, the proud mother agreed that his move to Arkansas was a 'really good move for him.' 
"I never wanted to keep my kids at home. I wanted them to go out and experience different places. So I was pretty excited," said Feleipe's mother commenting on the transition he made with his involvement with Arkansas. 
Now that Feleipe, an American nationality holder, has grown into a responsible person capable of making major decisions on his own, Feleipe's mom and dad are relieved and immensely proud to see him grow in every way. 
While Feleipe's performance in the arena is pretty well-known to all, Ginger shed light on what he is like outside the game. On that note, she described him as a competitive person and added that being brought up with his older brothers helped him acquire a competitive nature. 
Regardless, his humbleness is what makes Feleipe's even more special, and that can be witnessed through his team player attitude in the arena. 
As lucky Feleipe is to have such supportive parents, his parents can not help but rave about their proud moments of having a son like Feleipe.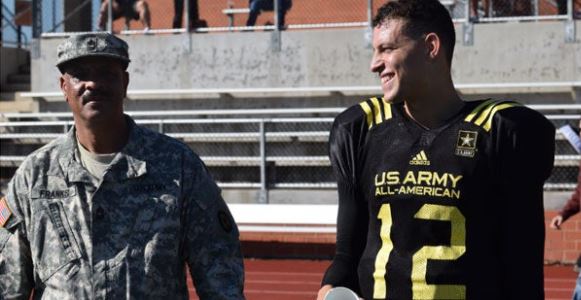 Feleipe Franks with his father at the US Army All-American Game (Source: 247 Sports)
One of such proud moments for his father, Master Sgt. Don Franks happens to be when Feleipe participated in the Army All-American Game back in 2016.
Regarding his participation in the honorable event, Feleipe's father commented how his son put himself out there as a disciplined athlete and took time to connect with people and have fun. 
Although Feleipe holds a tremendous responsibility on his part to take his team to the next level, his parents have been nothing but supportive of him through whatever journey he takes.