Francis Ngannou does not really open up about his girlfriend or family but recently he showed a different side of him while mentioning his father.
" He has always been the kindest, most humble human being."  Wrote the UFC Athlete while dedicating a post for Francis Ngannou. Meisha Tate, who has occasionally been speculated to date Ngannou, wrote a sweet post for the martial artist. 
Francis Ngannou's Girlfriend Revealed? 
In March 2021, Tate reflected upon her relationship with the athlete. Reminiscing her first meet with Francis, she revealed that she helped him set up his first LLC, a legal entity that is used when starting a business. 
Francis Ngannou And Meisha Tate (Source Instagram)
She also shared that he has been her friend since he came to Las Vegas. 
Yes, a friend!
Tate is not his girlfriend but is rather his good friend. The two have many memories together and one of which Tate further shared in her post. She wrote, 
 "I had no idea he had to endure so much just to get to America but it's these stories that move me. He is the example that anything is possible and I believe he will accomplish another dream this weekend of becoming a world champion!"
Well, guess her good wish actually worked as Ngannou won the UFC Heavyweight Championship against Miocic on March 27, 2021.  Reading such sweet texts from a dear friend might have uplifted Ngannou's spirit by a lot, which is clearly evident. 
More On UFC Athlete: UFC's "Rush", Georges St-Pierre wants next fight with "Bigger Names": Career History, Girlfriend Rumors?
Standing at the height of 6'4, the 35-year-old UFC Heavyweight Champion appears to be single and touching on the private life of Tate; she has her own happy family with her partner, Johnny Nunez, who is a fighter as well. 
Accomplishing much success during the course of his almost a decade-long career, Francis, age 35, had to work extensively and pass through unknown hurdles to get to where he is today. 
A Missing Family 
"Wish he was still among us, but it's been 20 years now that he left. "
As the fighter made a heartfelt fathers day wish to all the fathers out there, he followed the caption with this line. On June 20, the tough and muscular Francis showed a different side of him, one unknown to many, when he revealed how much he still misses his father. 
Although Francis wishes his father was around him now, there was a time when Ngannou had to go through a lot because of him. 
As per Sports news, his father used to fight on stress and land himself in legal troubles. He also revealed that his father used to beat his mother. He said, 
"The fact was my dad was very violent, beating up my mom, beating us up. When my parents got divorced, I was six years old at the time, and I had to go to my aunt to live there. That's where I found out about my dad's reputation"
The family broke apart when his parents got divorced when he was at the age of 6. 
The 35-year-old now shares his successful life with his mother, whom he loves dearly. 
Female Athlete: Arianny Celeste Dating Status Now; UFC Diva Well Over Abusive Boyfriend?
He featured his gorgeous mother on his Twitter on the occasion of mothers day and wrote, 
"Happy #MothersDay to all the Moms out there, but especially my Mom"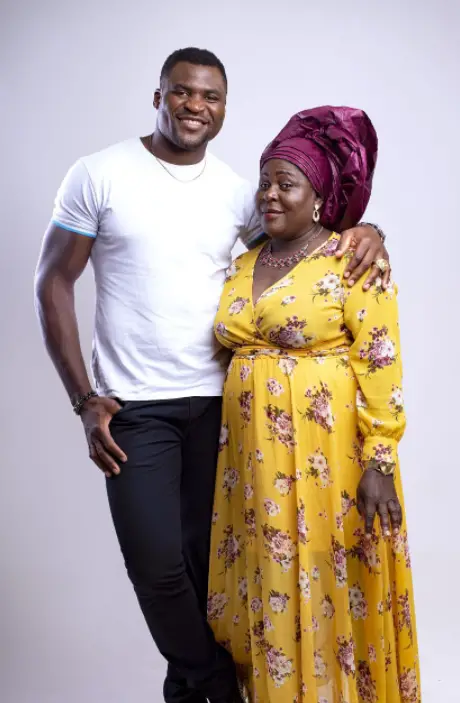 Francis Ngannou With His Mother (Source Twitter)
The two look absolutely adorable together, don't they?
Sure do!
Alongside his mother, he also has siblings. These were the same people of his life from whom he channeled the motivation to become a professional fighter as he had to see his family struggle a lot those years. 
Starting his journey at the age of 22, coming to age 35, Ngannou has undoubtedly made his past self incredibly proud of himself and has successfully provided him and his family with everything they longed for during harsh times.