Entertainment
'I was a jackass' Gene Simmons Admitted To have Made Several Mistakes In His Relationship With Beloved Wife Shannon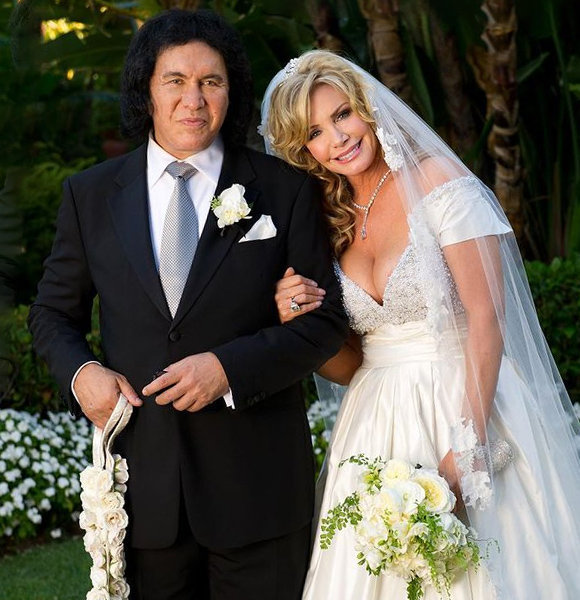 "Happy 9 year anniversary to my beautiful wife Shannon! Here's to 100 more," the singer of the rock band Kiss, Gene Simmons wrote, wishing his wife on their ninth year of the blissful wedding.
The rocker shared his happiness of getting to spend nine wonderful years as a married couple with his love of over three decades. He shared the news through his Instagram account on October 2, 2020, with a picture of him and his wife from the day of their wedding.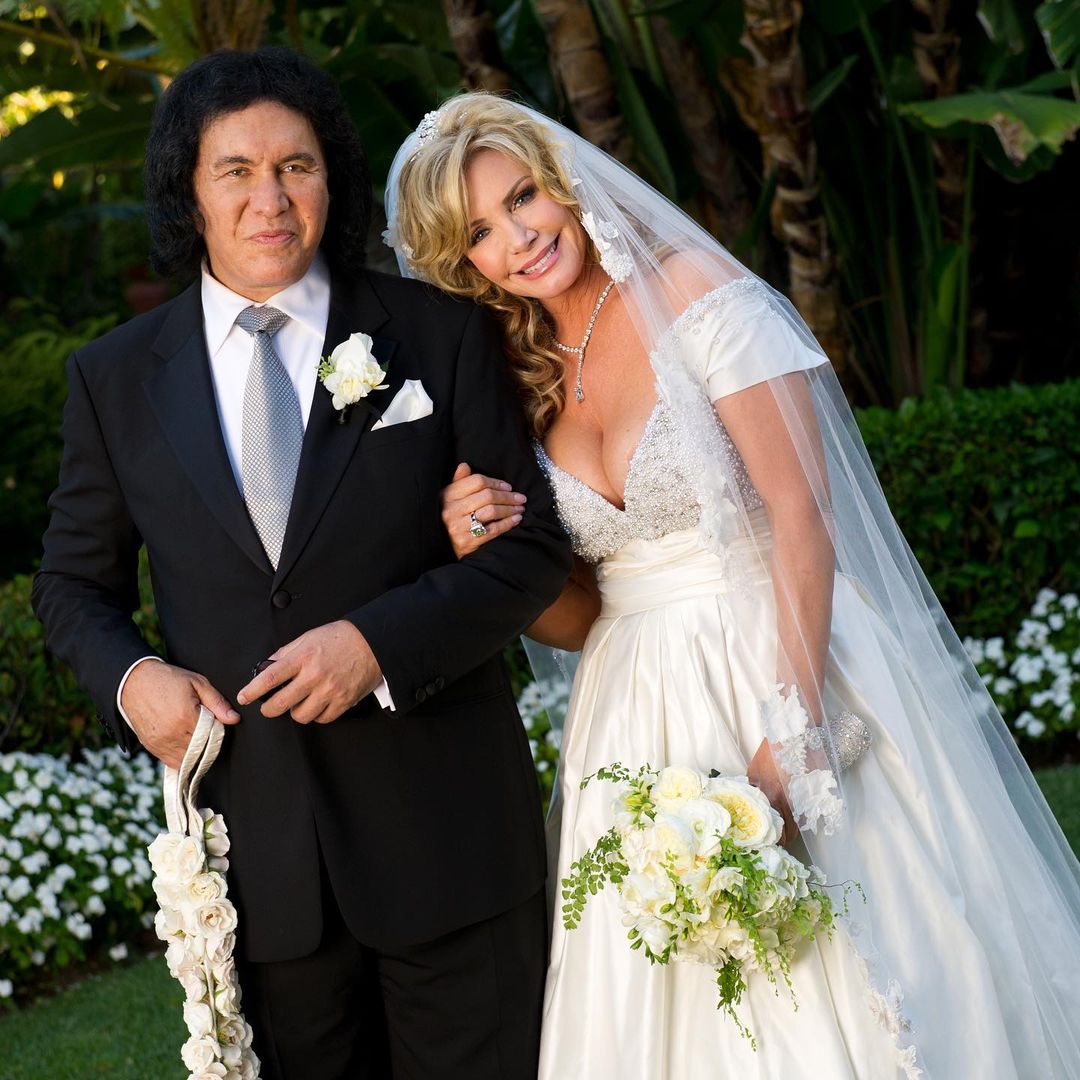 Picture of Gene Simmons and his wife, Shannon Tweed, from their wedding day (Source: Instagram)
Two kids and several mistakes later, Gene and his wife, Shannon Tweed, are still together and going strong.
Well, his love life has not always been a smooth ride, as he admits to having made many mistakes in the past.
Speaking to Us Weekly in 2018, the Kiss band member talked about his wife's resilience and never-give-up spirit that saved their relationship despite Gene's actions that could have killed their relationship long ago. He said,
In the interest of full disclosure, I have been married for more than five or six years. For 29 years … I was a jackass.
Indeed, Gene is utterly grateful for her presence in his life and cherishes every moment they get to be together, which reflects through his social handles with several adorable posts dedicated to his wife.
Most recently, he made an Instagram post reminiscing about his old days with his wife. In the 'gram post, he uploaded an old picture with his wife, along with their son and daughter, seemingly enjoying their family time watching a game at a stadium.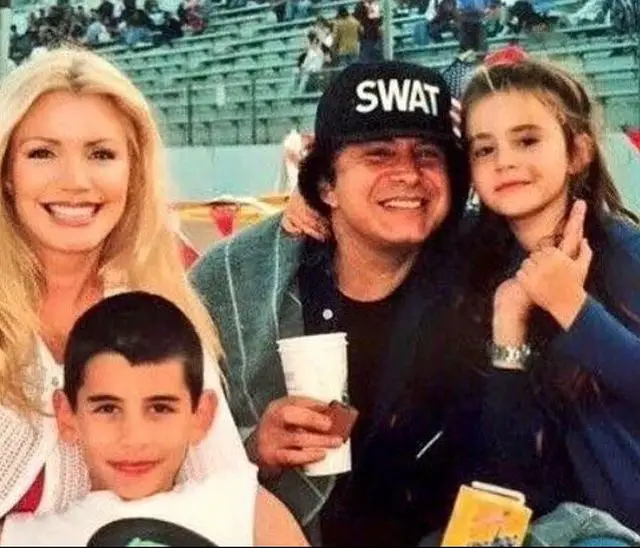 Gene's family picture with his wife, son, and daughter from several years ago (Source: Instagram)
Likewise, praising his wife in another of his 'gram posts, the singer wrote,
My beautiful wife the best mother to our children. A strong independent woman. I love you. Thank you for raising our children.
Not to mention, his wife also reciprocates the same love for him, as evident on her Instagram, where she recently wished her husband on their tenth wedding anniversary as of 2021. Having been through many ups and downs, the couple now leads an exemplary married life with a commitment to be together for the rest of their lives.
Love life of - Annie Martell's Love Story With John Denver Still Echos Through the Celebrated Ballad 'Annie's Song'
A Look Into Wedding of Gene and His Beloved Wife
The music sensation Gene and his longtime girlfriend Shannon exchanged their vows on October 2, 2011, in Beverly Hills.
The star-studded wedding ceremony was attended by four hundred guests, including star guests such as the Kiss band members, Bill Mahar, Hugh Hefner, and many more.
Millions witnessed the most anticipated marriage of Gene and Shannon on one of the episodes of their family reality show Gene Simmons Family Jewel.
As Gene walked down the aisle with excitement on his face, fist-bumping the guests, his wife soon followed, looking gorgeous in her Priscilla of Boston gown holding a bouquet of ivory roses.
The stunning celebration held at The Beverly Hills Hotel remained the talk of the town for several days after the two eventually said 'I do' after twenty-eight years together.
Soon after they shared a kiss sealing their marriage, an emotional moment followed as the pastor called in their kids, Nick Simmons, 32, and Sophie Simmons, 29, to deliver a special blessing to the family of four.
Speaking of their kids, both their son and daughter followed Gene's career path. Nichole is a writer and musician, while Sophie is a singer and an advocate for children. 
A clip from Gene Simmons Family Jewels (Source: YouTube)
Appearing on the Simmons family reality show, the kids have also earned the title of a television personality. Indeed, the proud parents raised their kids well, who are now well settled in their professional lives with a seemingly brighter future awaiting them.
More on - Inside Elijah Blue Allman's Romeo-Juliet Fashioned Love Story & His Troubled Relationship With His Mother
How Much Is Gene Simmons Worth?
Whoever is familiar with the super-successful career of Gene Simmons, age 72, must already have guessed his net worth to be in the millions.
Well, his wealth is, in fact, in 400 million dollars, as reported by Celebrity Net Worth. 
Having been in the music industry since 1970 as the band member of the leading rock band Kiss, his major source of wealth seems to have come from his band tours and music royalties.
Besides, his family reality show, which aired from 2006 to 2012 with a total of seven seasons, also adds generously to his startling wealth.
Moreover, he has invested his hefty fortune in accumulating valuable assets. One of his most prized assets included the lavish California house with its compound spread in a massive area of over thirteen thousand square feet, which was also the primary setting for his reality show.
In 2021, the rocker sold the gigantic house for sixteen million dollars, as reported by Los Angeles Times. Likewise, his kids have also recently upgraded to a Hollywood Hills house worth 2.3 million dollars.