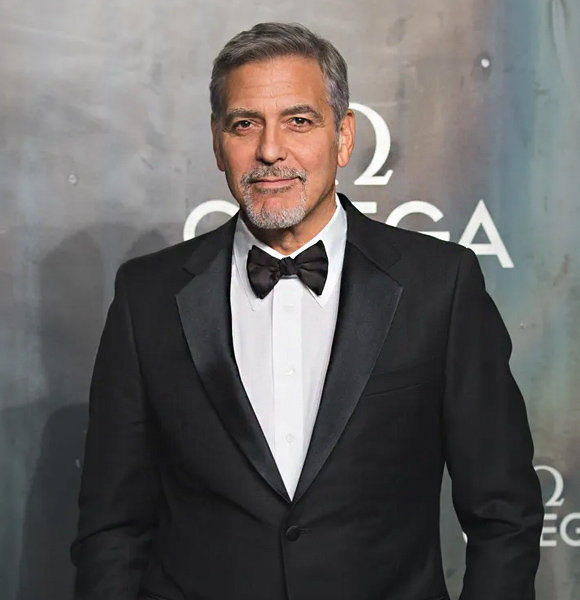 Ask any 90s teen about her celebrity crush, and you'll most likely get George Clooney's name as the answer. The hunk has gained massive popularity with his 'gentleman' look, and he still has it after all these years.
Of course, die-hard fans can never know enough, so they are ever so curious about Clooney's ethnicity and background. Don't worry, because we're here to shed some light on it.
What Is George Clooney's Ethnicity?
George was born in Lexington, Kentucky. He is of American nationality but has a mixed ethnicity background.
George and his family have ethnicity extended across the diverse background in Europe. He is of European American ethnicity with German, Irish, and English roots. 
He was born as the youngest child in the Clooney family to his parents. His mother, Nina Bruce, was a city councilwoman, whereas his father, Nick Clooney, was a television host.
Moreover, Clooney was raised in a strict Roman Catholic household. But some speculations are going around for some reason that he is Jewish.
The reason in question might be due to his wife's ethnicity, to more accurately, ex-wife's ethnicity. His ex-wife, actress Talia Balsam is Jewish.
Talia sure has a special place in George's life as she's his first wife. The two tied the knot in 1989. They spent four years on matrimony before splitting up in 1993.
However, his current wife, lawyer Amal Clooney comes from a different background. Amal was born in Lebanon but moved to the UK when she was two years old.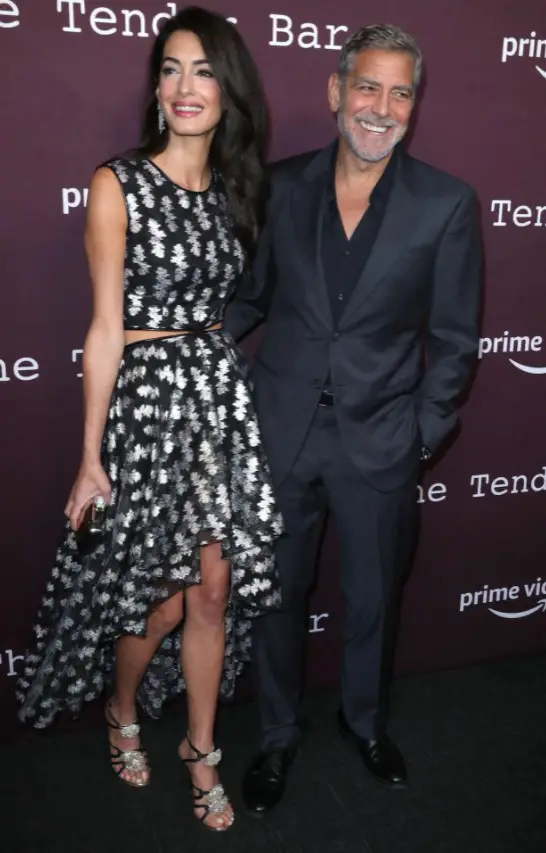 George Clooney with his wife, Amal Clooney (Source: US Weekly)
Amal and George got married in 2014 and have forged an inseparable bond together. The dashing couple has twins, a son, and a daughter together.
A dashing man and a gorgeous lady- they truly make the picture-perfect couple, and it's not just based on looks.
Amal and George have had their share of ups and downs in their relationship, just like any other married couple.
But what makes them stand strong is their willingness to compromise and stay patient. As a result, the two have stood the test of time, making a great duo.
Clooney has gone from heart-stealing hunk to Mr. Family man over the years, and we must say, he fits both personas perfectly.
His compassionate nature is well-observed by his family, but his expression of love is not only limited to his family.
Also check out: Gary Gulman Can't Stop Being Thankful to His Wife
Indeed, George is a man with a big heart. He has been involved with many humanitarian and philanthropic works.
His projects have touched many people's lives across countries, races, religions, ethnicities, and cultures.
He has been a part of many charities and fundraising campaigns. For example, he has raised funds for the victims of the Haiti earthquake, donated thousands to Lebanese charities, and aided refugees from war-ridden countries.
His documentary, covering the Darfur conflict, was widely appreciated, and it led him to the title of UN messenger of peace in 2008.
Likewise, he is also an open advocate and supporter of gay rights.
George Clooney is a lover of all cultures and people from all around the world. Such qualities and his excellent acting skills make him one of the most loved actors today.