Entertainment
Know Gino Jennings Beliefs On Women, Homosexuality & More
Pastor Gino Jennings at the age of modern pastors has his own take on raising a family and children.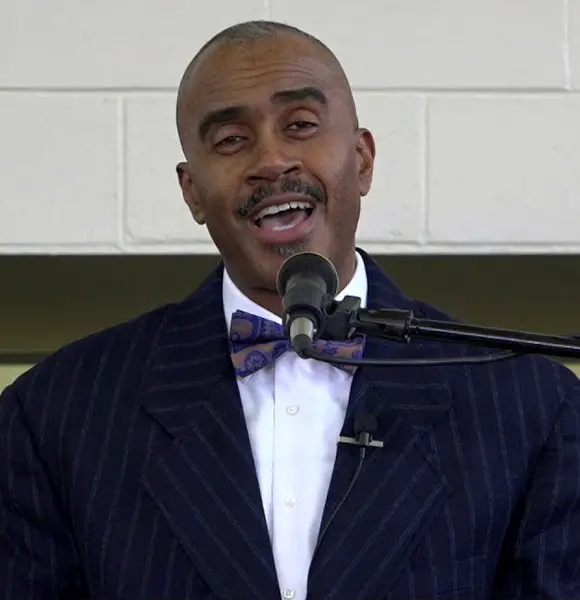 American Oneness Pentecostal Pastor, Gino Jennings takes his duty as a parent very seriously and does not rely on the church to provide for his children's necessities. 
"My wife and I have seven kids, so I work. We didn't have kids for the church to take care of them. It is not the church's responsibility to send my kids to school or raise my kids. It is the responsibility of my wife and I as parents."
The pastor stands by his statement while explaining how the true prosperity in life is not money or lands; instead, it is "the wisdom, knowledge and understanding of who God is."
Jennings, who has a family life outside his life as a preacher, seems very well maintained and has shed his share of beliefs regarding the work culture in women and what it means for his own wife. 
Gino Jennings Wife And Children
Gino has been married to his wife for over three decades now. He married Darlene Gayman Jennings on April 15, 1990, with whom he shares seven children, a total of four sons and three daughters. 
Gayman, who was a fellow member of the church, was courting with Gino when he fell in love with her, and they decided to start a chapter of marriage in each other's life. 
The pastor is strict on beliefs on what he thinks is right and what isn't.
While the article will touch upon his other controversial beliefs later, he had expressed that he strongly feels that a woman should not have to work. 
Personal Life Of Another Pastor: Andy Stanley - A Family Man Who Knows How To Make Them Feel Special!
On a YouTube video posted on May 17, 2021, Pastor Gino can be seen giving a speech on how the marriage now has changed, and men have changed overall. 
He reflects on how a man needs to take care of the family, and dividing finances and taking care of mortgage together are the things that a man should not do. Talking further, he says, 
"If the woman, you working and you're saving your money good save your money don't get in involved with some man you ain't married and you giving this guy all your cash"
However, most people do not side with most of the pastor's opinion, which has sometimes landed him into trouble. 
Pastor Gino Jennings Speech On Women, Homosexuality & More
In the same video, he also explains his disagreement with a homosexual couple being together. Talking about his interaction with what appears to be a gay man, he says, 
"I see brothers following me looking at me up and down. I have no type of gay character what you want from me ... what you want from me you ain't getting nothing from me man ain't got nothing off of me"
This is not the first instance where he talks about how he disagrees with same-sex relationships. 
Although being a pastor that preaches goodwill, he at times seems to be angry with homosexuality. He once quoted, 
"So the homosexuality has polluted the churches like an overstock of bees coming to one place to collect pollen,"
He feels that homosexuality is a "virus sent by Satan" and that god made "woman for a man."
In an era of new-age pastors who have started believing in equality, modernity, and inclusivity in various aspects of society and culture, Pastor Gino rather seems to stay behind. 
Well, that's not what we are telling; that's what most seem to believe, as he has been openly called out at times for his statements made to the woman and gay people.
This also has led an array of people to rise against him in America, including pastors from America and Europe, leading his life to the threatened as well.  
Recently in 2018, Pastor Gino, age 58, was again wrapped up in controversy when he made a statement against women wearing excessive makeup, fake hair, wigs, and jewelry in the church. 
Personal Life of Another Pastor: Did Pastor Troy Impregnate Minnie Ross? Revealed She Was Not The Girlfriend And Also Denied Dating Rumors
More On Gino Jennings
Gono N. Jennings is a current general overseer of the First Church of our Lord Jesus Christ (FCOOLJC) based in Philadelphia, Pennsylvania. 
His father was a bishop, and he started preaching at the age of thirteen and was later appointed as an assistant pastor in 1975. 
He started the FCOOLJC at the basement of his house, and now he travels to other states of the country, establishing branches of his church and preaching his beliefs. 
His church was started as a fellowship of branch churches in 1984, and now his organization branches out to over 20 states in the USA. 
The 58-year-old has his own television broadcasting station in Philadelphia named The Truth of God Broadcasting Network. 
As per Salary, an average pastor takes home a salary of $482,132 to $113,270. With the salary he gets and considering that he has been in the career for over four decades, it won't be much to assume that his net worth is in millions.