Music
Gladys Knight Finally Found the One for Her
Award-winning singer Gladys Knight has been greatly appreciated by music fans, and she has rightfully received the title "Empress of Soul."
Her career has always been stable and on the rise, but the same cannot be said for her personal life with her husband. She has gone through many ups and downs in her relationships, most of which were known to the public. 
But, has the star found the one for now? Is Gladys Knight married? And if so, who is Gladys Knight married to? Keep reading to get all the details.
Who Is Gladys Knight's Husband?
Gladys is happily married as of now. Her spouse is William McDowell, whom she married in 2001. 
Their ship has been sailing happily for the past two decades. Gladys and her husband have an age difference of 14 years, but that has not affected their relationship at all. 
In fact, she claims that it's the best one she's ever had! She lovingly shared a post on Instagram on their anniversary, announcing her love for her husband that read,
My life is so much better with you in it. "You're the best thing that ever happened to me." Happy Anniversary babe!
After a tumultuous past with previous partners, Gladys has finally found the perfect man for her and is living the life full of happiness and love that she deserves.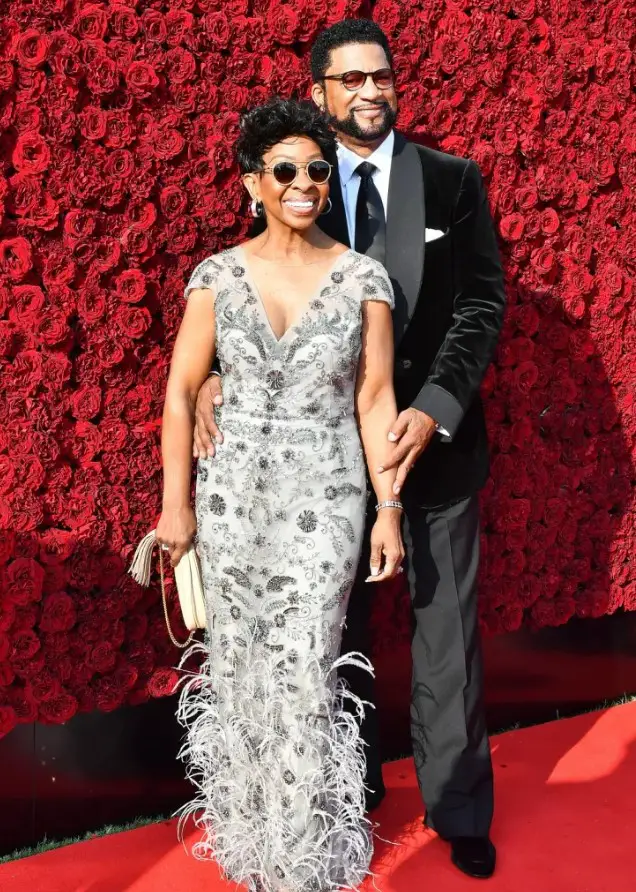 Gladys and Her Husband, William McDowell (Source: Amo Mama)
Knight has been married thrice in the past, and William is her fourth husband. 
Her first husband was James Newman. She married him in 1960 and has two children with him, daughter Kenya Maria Newman and son James Gaston Newman III.
More on musicians; K. Michelle Says She Feels Like a Wife to Her Boyfriend- Is There Going to Be a Wedding Soon? 
She was young when she got married, and it did not end well. Newman struggled with drug abuse during the marriage and apparently abandoned the family a few years in. 
Gladys raised the kids on her own but did not divorce him until later. They separated after a decade in 1973.
Then, she married music producer and label manager Barry Hankerson in 1974. They share one son, Shanga Ali Hankerson. However, things didn't work out with Barry either, and they eventually divorced in 1979. 
Her divorce from Barry was even uglier because of the custody battle over their son. 
You might like: Bobby Brown's Net Worth, Married Life and the Tragic Loss of His Kids
Nevertheless, she did not lose hope and gave marriage another chance with motivational speaker Les Brown. They tied the knot in 1995 but ended shortly with a divorce in 1997.
After three unsuccessful marriages, you'd think Gladys would be hesitant about opening up her heart again. But, she stood fearless with her force of love and found the one meant to be. 
She had a heart full of love and wasn't ready to give up just yet. She told SF Gate in an interview,
Love is what makes the world go around. I know it's a big cliche to use, but it is the absolute truth. There is nothing else like it.
"I know that is what everybody is striving to feel, in relationships, in brother- and sisterhood and in all of the things that we aspire to have in our lives," she added.
Moreover, she has recovered and moved on from her past and has found the silver lining in it. She said,
I know those challenges that come up from time to time in life are our little learning tools, our little steppingstones. If we didn't have those things in our life, how would we learn anything?
Adding on, she stated, "We need those obstacles in our life because I know one thing -- I'm a much better person for them. And I ain't even mad at nobody."
No problem seems too big for the bold and courageous singer. As a result, she now happily resides with the man she loves and sits atop a glorious career and net worth. 
What Is Gladys Knight's Net Worth?
Gladys began her musical career in the 60s. She was a member of the band The Pips and gained widespread popularity. 
Likewise, her solo career that began in the 90s was equally successful. She's still active in the industry now and is frequently performing live. 
Moreover, she has also published two books. 
According to Celebrity Net Worth, Gladys has accumulated a substantial net worth of $28 million from her successful tenure in music.